Waziper is WhatsApp Marketing Software based on PHP Script. It is the best solution for Small or Large Companies, Software Companies, Digital Marketers as well as you can use it as the software-as-a-service (SaaS).
Demo : https://bit.ly/43Zwgse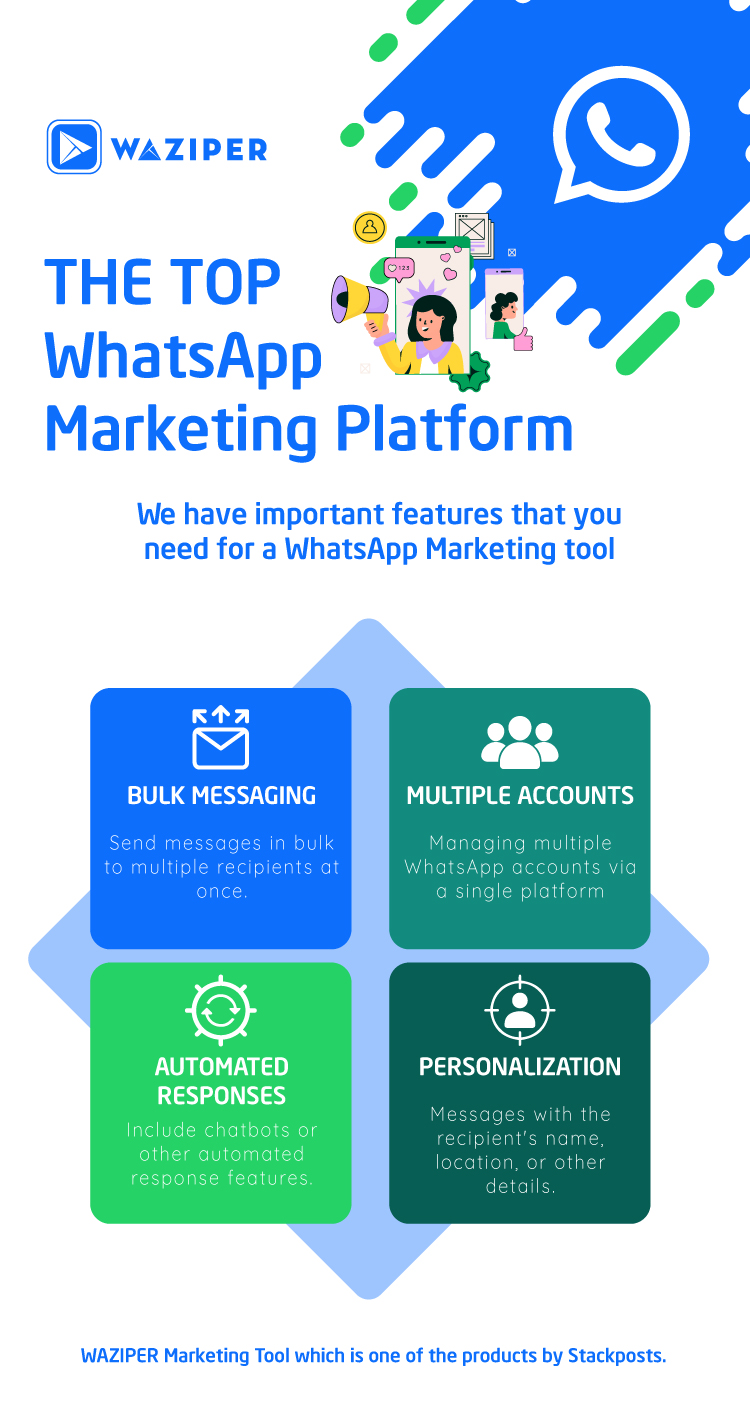 Waziper is Standalone. The Powerful WhatsApp Marketing Solution
Waziper is one of the products by Stackposts. You can use many of its features such as allowing you to automatically Bulk WhatsApp Sender by seconds to millions of customers, Auto Reply for a first message, Chatbot System with keywords or sentences, Sending all types of file like text, image, video. Additional, exporting contacts are from groups. It's not only WhatsApp Marketing Software but also help your business keep and reach more customers.
Waziper helps you send out messages 24-hour on 7 days send out messages 24-hour on 7 days. It not only allows you to send relevant notifications such as appointments, orders, etc. but also interacts with your potential clients as your real person. You just need to purchase one time to get Lifetime Updates. Moreover, you also have 06 free months for support. Don't Wait! Get it right now!
We have important features that you need for a Waziper – WhatsApp Marketing tool
Bulk messaging
Send messages in bulk to multiple recipients at once. This can be useful for sending promotions, announcements, or updates to a large group of customers.
Message scheduling
Schedule messages to be sent at a specific time and date
Automated responses
Include chatbots or other automated response features that can respond to customer messages automatically. This can help businesses provide quick and efficient customer support.
Personalization
Messages with the recipient's name, location, or other details
Multiple Accounts:
Managing multiple WhatsApp accounts via a single platformBulk WhatsApp MessagesSend messages in bulk to multiple recipients at once. This can be useful for sending promotions, announcements, or updates to a large group of customers.1. Rotate between Multi-AccountsReduce the risk of account suspension, increase message limits, and test message effectiveness2. Simple to add a new contactIt can be added manually by entering phone numbers, or it can be imported from a CSV file. It is organized into groups to make it easier to send targeted messages to specific groups of people.3. Variables in the messageImprove personalization, and relevance, avoid spam filters and increase efficiency.4. Variety of message typesIt's supported by various media types, such as images, audio, and text. Especially, you can use the Button and List Templates.5. SpinTax capabilityUtilize the SpinTax function to create a list of synonymous words.6. Random time delays in message deliveryReduce the risk of being flagged as spam or causing network congestion.7. Specific days and timesIncrease the chances of a message being opened, read, and acted upon by the intended audience.8. Save & Schedule campaigns for future deliveryManage time more efficiently, send messages at targeted times, and maintain consistency in messaging frequency9. Bulk Message ReportIf you are looking to conduct a marketing campaign using messaging, Waziper is one of the best platforms.It provides all campaign statistics such as Campaign name, Contact name, min and max second delay, Phone number and the status of them which can help you measure the effectiveness of your campaign.10. Single Campaign ReportHelping you understand a summary of the campaign report detailing a specified time period, such as start and end time. It supports you make data-driven decisions to drive conversions.AutoResponderSend a pre-written message to incoming messagesAutoreply messages can help to improve customer service, maintain a professional image, manage expectations, and increase efficiency in messaging systems.ChatbotsCommunicate with users in a conversational mannerChatbots can help to improve customer service, reduce costs, maintain consistency, increase engagement and conversion rates, and collect valuable data in messaging systems.Button TemplateCreate interactive messages with buttonsProvide interactive buttons for recipients to click on. The buttons can be customized with different text or URLs and can be used to offer a range of actions or options for the recipients to choose from.NOTE: Button function currently does not work with android devicesList Message TemplateCreate a list of items or options for customersQuickly send a list of items to customers without having to type out each item individually. The template can be customized to include relevant information such as product images, descriptions, and prices.NOTE: List Message function currently does not work with android devicesExport ParticipantsExport a list of all the participants in a specific groupIt allows you to download a list of all the participants in a group chat or a broadcast list. This feature is particularly useful for businesses and organizations.Key Features

Easy to install and use, mobile responsive UI
Multiple Whatsapp Accounts at one place
Send message to number not in contacts
Send Bulk Messages

Rotate between Multi-Accounts
Upload group contact with CSV file
Variables in the message
Variety of message types
SpinTax capability
Random time delays in message delivery
Specific days and times
Save & Schedule campaigns for future delivery
Bulk Message Report
Single Campaign Report

Send media messages (videos, images, pdf, hyperlinks…)
Chatbots by keywords (Spintax option)
Auto reply messages (Spintax, Except contacts)
Export WhatsApp Group Contacts
Increase message interaction with buttons and list message.
File Manager: file and folder management. Manage all media for user (Google, Dropbox, OneDrive, Image Editor)
Save and get caption: Save all your contents
Emoji Support
Login & Signup with Facebook, Google, Twitter
Secure Password Hashing
Dashboard: Report sent successfully or error
Manage account groups
Supported SSL
Automatic timezone
Multilingual ready
Statistics
Website info
Change logo for script
Change Date and Time Formats
Change the Backend and Frontend interface
Adobe Express – Image editor
Payment configuration: Paypal, Stripe, Coinpayment
OpenAI
Beamer notification
Notification: Backend and Frontend
Email contents
Login & Auth: Google reCaptcha V2, Facebook login, Google login, Twitter login
Shortlink (Bitly)
Social pages
Proxy system
MultiLanguage: You can import your language
WhatsApp API Configuration
Facebook API Configuration
Callback Permissions: Facebook pages, Facebook groups, Facebook profiles, Google Business Profiles, Instagram API Official, Twitter API, Youtube API, Google Business Profiles, Linkedin API, Pinterest API Use for profiles, Pinterest API Use for pinterest boards, Reddit API, Tumblr API, Odnoklassniki API, Vk API
GDPR Cookie Consent
Embed code
Terms of Use
Privacy Policy
and more…