InfyJobs is a complete Job Portal solution build on PHP Laravel Framework. It's a complete script that is looking for building Job Portal websites or Recruitment websites for Job Seekers, Employers, Job Search, Candidate Resumes, and Profiles.
Demo: http://bit.ly/3Xb6g9S
Features:
It enables Employers to create their company profile, post jobs, filter candidates, and finally, hire the right candidates. It also enables Job Seekers to create their profiles, upload resumes, search for jobs, apply for the job, and get hired.
It also includes the powerful admin panel with over 30+ modules, so the portal owner can always be in control of what's happening in his portal.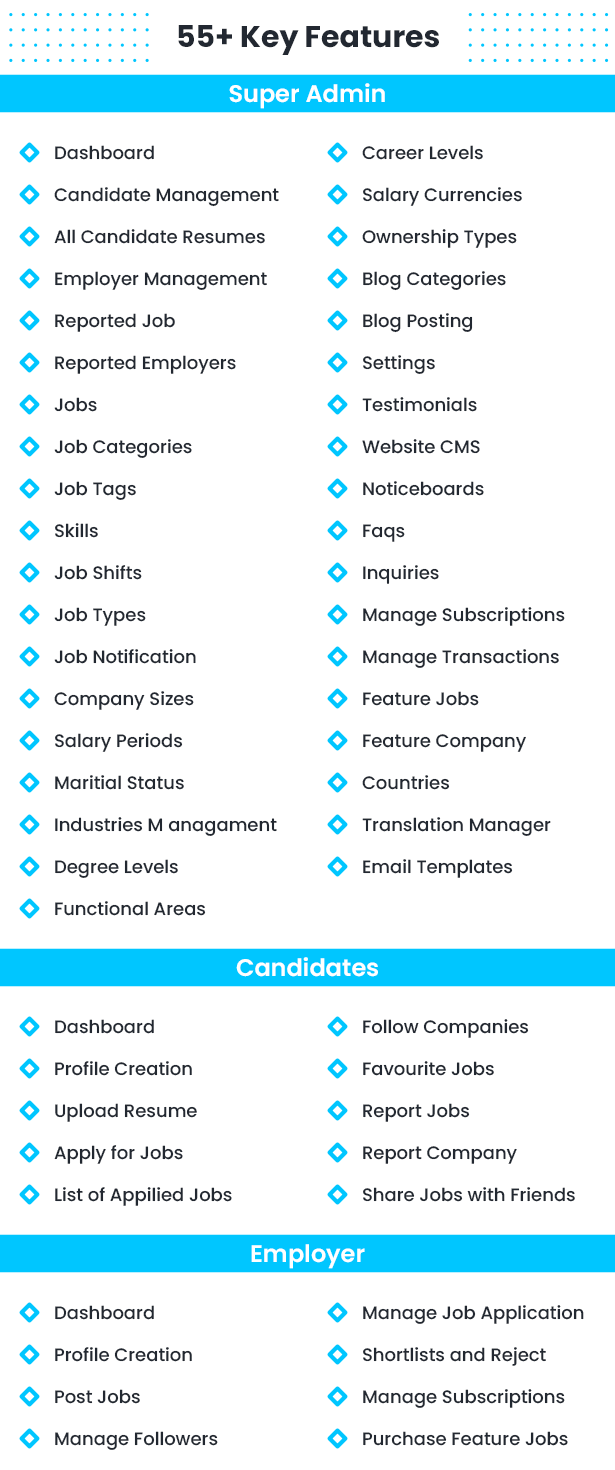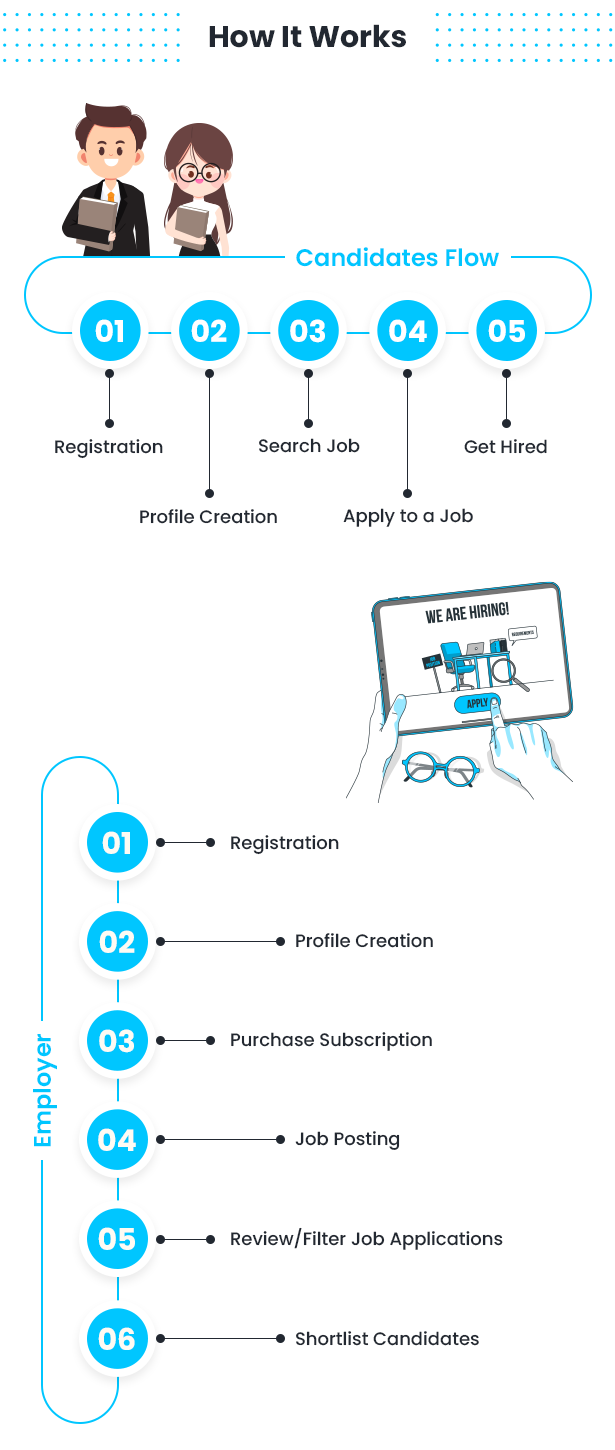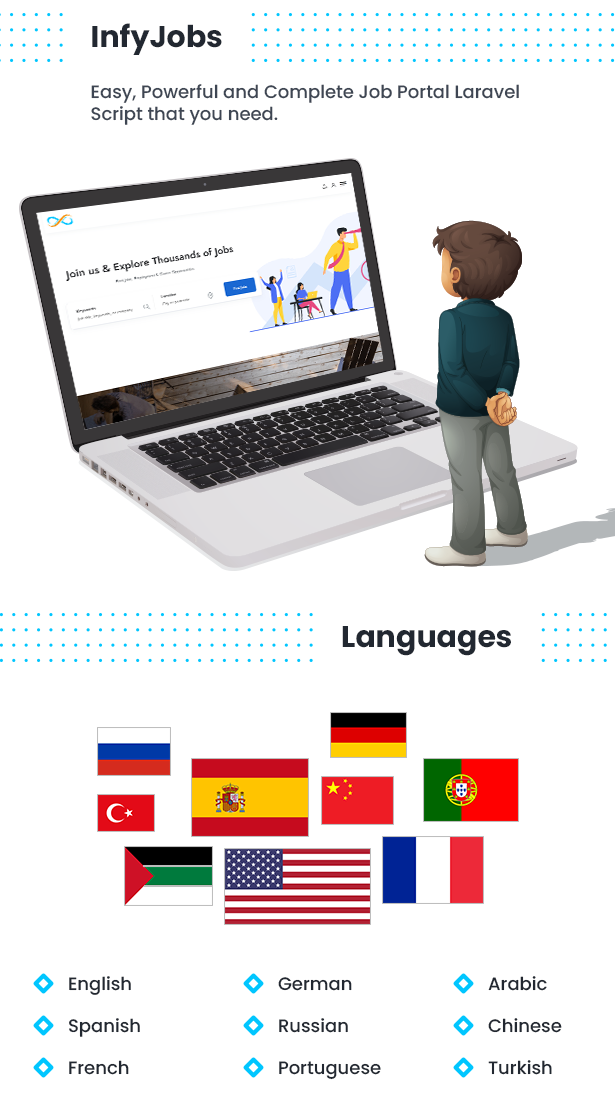 Features Description:
InfyJobs comes with 3 different login panel each for Admin, Job Seeker and Employer with a different set of features and controls.
Portal Admin Panel:
DASHBOARD
All the information at a glance about what's happening in the job portal. How many candidates & employers registered so far. How many jobs are posted and active and more. It is the place where portal admin can have a complete idea about the website.
CANDIDATES MANAGEMENT
Manage all candidates from here. See their profile information and make edits if needed. Even you can create and delete or suspend the candidates.
EMPLOYERS MANAGEMENT
Manage all employers from this module. Review their company profile. Create/Edit/Delete and activate/deactivate company accounts.
REPORTED JOBS
Anyone can report a job if they find something wrong in that. Those reported jobs will be displayed in this section and portal admin can take appropriate action.
REPORTED EMPLOYERS
If any company is violating the terms and usage of the website then it can be reported as well and portal admin can disable/delete their accounts.
JOBS
Job is the key and most important feature of a job portal. Portal admin can see all the posted jobs by all the employers. He can manage jobs and make edits if needed.
JOB CATEGORIES
Every job can be categorized into a different category based on its purpose. so it can be easy for candidates to find the right job that fits them.
SKILLS
Every job can have mentioned skills that are required to complete this job. Different skills are managed here. so employers can mention it while posting jobs and candidates can list these skills in their profile in which they are experts. so candidate shortlisting can be made easy.
JOB TAGS
Jobs can be also tagged with a totally custom tag that makes sense to the job.
JOB TYPES
All job types can be managed here. Employers can use them while creating jobs.
JOB SHIFTS
Portal admin can manage job shifts here. so the employer can specify in which shift this job needs to be done.
COMPANY SIZES
Portal admin can define different company size here that employers can mention while creating their profile.
SALARY PERIODS
Salary periods are the frequency at which Job will be paid and the employer will pay to the hired candidate. Portal admin can manage all salary periods here.
MARITAL STATUS
All possible marital status of candidates can be managed in this module by portal admin which candidates can mention in their profile.
INDUSTRIES MANAGEMENT
All industries to which jobs belong can be managed into this module.
DEGREE LEVELS
Jobs may require certain degree levels in candidates to be completed. Portal admin can manage different possible degree levels here.
FUNCTIONAL AREAS
Different functional areas of Job can be managed in this module.
CAREER LEVELS
Career levels of candidates can be managed in this module which candidates can use in their profile.
SALARY CURRENCIES
Portal admin can manage different currencies of salary in this section. The salary currency will be specified while creating a job.
OWNERSHIP TYPES
Employers can have different ownership types. Portal admin can define them here that employers can use in their profiles.
BLOG POST CATEGORIES
The blog post can belong to different categories and portal admin can define them here which can be associated later while creating job posts.
BLOG POSTS
Portal admin can write blog posts from this section which can help in explaining certain articles about the portal and help to gain the traffic via SEO.
SUBSCRIPTION PLANS
Admin can create a different kind of plans for employers. we are giving default trial plan which will be not deleted. by default employer will get trial plan with 1 allowed jobs, admin can change the allowed jobs count for trial plan.
For new plan creation you have to give details of plan name, allowed jobs for that plan and the plan price.
TRANSACTIONS
Admin can see list of transactions created from subscriptions and from the featured jobs and featured companies charges. admin can also able to see the invoice receipt for subscription transactions.
SETTINGS
Various settings related to Job portal branding like, name, logo, footer, etc. can be managed from this section.
FRONT SETTINGS
In front setting admin can add prices for featured jobs and companies. he can also define the featured jobs/companies quota limit. how many jobs should be featured at a time.
Admin can disable the featured jobs and companies feature by using this setting.
TESTIMONIALS
Frontend website home page testimonials can be managed from this section.
WEBSITE CMS
Portal admin can change and manage the content of the website from this section of different pages.
NOTICEBOARDS
Portal can create global notices to display some critical notices and announcements on the website.
FAQS
Manage your website FAQs in this module to answer users' frequently asked questions.
INQUIRES
The website's contact us form submission is converted to an inquiry which portal admin can see in the admin panel and response them.
Employer Panel:
SUBSCRIPTION
By Default when employer registered to system he will get free trial plan with 1 trial job. trial job count depend on admin, how many he allows for free plan.
After that when you exceed your limit you will not be able to add more jobs, means Active Jobs. you can add job but as draft. you cannot allow to publish it until and unless you have active subscription with valid job limit.
So employer can upgrade their subscription by purchasing new plan. we are supporting stripe payment gatway for payment as of now.
DASHBOARD
This is where an employer can see statistics of his account about currently open jobs, job applications, etc.
PROFILE CREATION
The employer can manage his company profile from here.
POST JOBS
The employer can post jobs from this section. He can manage and change job status and also edit the job. He can pause or close the job as well.
FEATURED JOBS
You can make your job featured by paying the charge for it. featured job charge will be added by admin. featured job will be display on landing page for specific time of period, whatever admin has decided.
FEATURED COMPANY
You can mark you company as featured to display it into landing page. you have to pay charge to make your job featured.
MANAGE JOB APPLICATIONS
In this section, the employer can manage all the job applications of candidates that he received on a particular job.
SHORTLIST OR REJECT CANDIDATES
The employer can shortlist to reject candidates who applied to a job from this section. After shortlisting, he/she can talk with the candidate and finally either select or reject.
MANAGE FOLLOWERS
Candidates can follow the companies that he/she wants and employers can see those all followers here.
JOB SEEKERS (ON LANDING PAGE)
Employer can use this for searching the candidate that which candidates are looking for jos. you can search job seekers by name and by job title.
There is a filter for a gender too. its supporting pagination and you can reset filter by hitting the reset button.
Candidate Panel:
DASHBOARD
Candidate can see his/her dashboard here which displays his profile with contact and location information.
PROFILE CREATION
Candidate can create his profile and provide his information here about his expertise and experiences.
UPLOAD RESUMES
Candidate can upload multiple resumes based on different skills and experiences in his/her profile which can be used while applying for a job.
SEARCH & APPLY FOR JOB
Candidate can search for a job that fits his expertise and abilities and then apply to that job by mentioning his ability to complete that job.
LIST OF APPLIED JOBS
Candidate can also see the list of jobs where he/she applied. He can also see the status of his job application and get updated when the status of the job application is updated by the employer to shortlisted, rejected, selected, etc.
CV/RESUME BUILDER
Here candidate can add his details like skills, educations, experiences, social profiles, etc. candidate can also remove the details if they don't want it.
The interesting feature is export, we are supporting the resume export from the details you entered. you can just print it out or export the resume as a pdf file.
FOLLOW COMPANIES
Candidate can follow the company that he/she wants. so at any point in the future, he can see the jobs of that company.
FAVORITE JOBS
Candidate can also mark a job as a favorite so he can later on come and apply to that job.
REPORT JOB
If something is wrong about the job then he/she can report the job to the portal admin, so he can take appropriate action.
REPORT COMPANY
Candidate can also report a company if he feels something unusual about the employer and can send his note while reporting a company.
SHARE JOB WITH FRIENDS
Candidate can also share a job with his/her friends if he feels that this job can be useful to his/her friends.
Upcoming Features:
Social Authentication
Paypal Integration
Admin can featured jobs and companies
Job Alerts by Email for Candidates for Categories
Tags:
online job portal
job board script
job posting
featured jobs
featured companies
job management
recruitment script
employer subscriptions
job hunt
hiring solution
job search
job seeker
jobs system
naukri portal
career portal
resume portal
employer
job classifieds