FooEvents adds seamless event and ticketing functionality to WooCommerce .
Sell tickets for a concert, church event, school function, fund raiser, conference, or sporting event, FooEvents will have you up and running within minutes with this woocommerce plugin .
Demo: https://bit.ly/3P5Vjos
EVENTS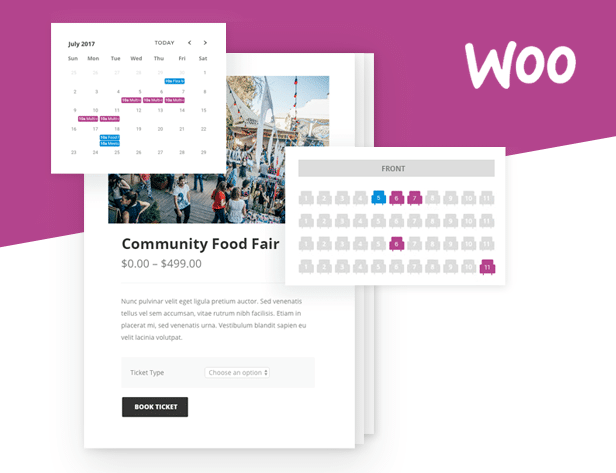 Manage events and sell tickets on your own terms
FooEvents removes the middle man and makes it possible to sell an unlimited number of custom branded tickets from your own WordPress website without having to pay any ticket fees or commission. FooEvents ensures that you have full control over the ticket sales process and customer data, making it the safest and most flexible event and ticketing solution available.
Built for WooCommerce
FooEvents is designed to work natively with WooCommerce. This means that you can take advantage of the security and power of the world's most popular eCommerce platform.
Unlimited Tickets and Events
All FooEvents licenses let you create an unlimited number of events and tickets at no additional cost! Licenses are only limited by the number of websites on which FooEvents can be installed.
Sell Digital and Physical Products
You can sell tickets, physical goods and digital products all from the same website using the powerful combination of FooEvents and WooCommerce.
WordPress Theme-Friendly
FooEvents works seamlessly with the majority WooCommerce compatible themes, meaning you have countless options to choose from when jazzing up your store and marketing your events to customers.
Detailed Event Information
Each event page has a unique URL that includes the event description, summary, image gallery, Google Map, event information, variation drop-downs and related products.
Customizable Wording
Override the use of the FooEvents default terminology with your own wording that is more appropriate for your event. For example you could change 'Attendees' to 'Participants', 'Students' or 'Customers'.
Free or Paid Events
Sell tickets or register attendees for free events. Attendees will be issued tickets and registered in your WooCommerce database which is great for building a CRM database and managing event access.
Automatically Expire Events
Set your events to expire on a specified date. You can either choose to disable sales for the event or hide the event from your website on the specified date.
No External Dependencies
FooEvents is designed to run on your own WooCommerce website and is not dependent on any third-party plugins or external services. Simply install the FooEvents plugin, configure and start selling.
Translation Ready
Use WordPress localization files (.PO/.MO) to change all FooEvents text outputs into your website's default language.
WP Multisite Support
FooEvents supports WordPress Multisite which gives your clients the ability to create and manage their own events and sell tickets in a WordPress Multisite "network".
WPML Compatible
FooEvents is fully compatible with the popular WordPress Multilingual (WPML) plugin. WPML lets you translate website content into different languages.
Eventbrite Integration
Import events from Eventbrite to FooEvents or automatically send the events you create in FooEvents to your Eventbrite page.
Mailchimp Integration
Automatically add your attendees to a Mailchimp audience list when tickets are generated. You can also specify default tags or event-specific tags that can be used to segment your Mailchimp list.
WooCommerce Follow-ups Integration
Send automated alerts and reminders to attendees using the event date, booking date and check-in time as triggers along with many other features.
WooCommerce Follow-ups Integration
FooEvents is fully compatible with WooCommerce Subscriptions and it's possible to prevent new tickets from being created each time a subscription is renewed through a setting.
TICKETS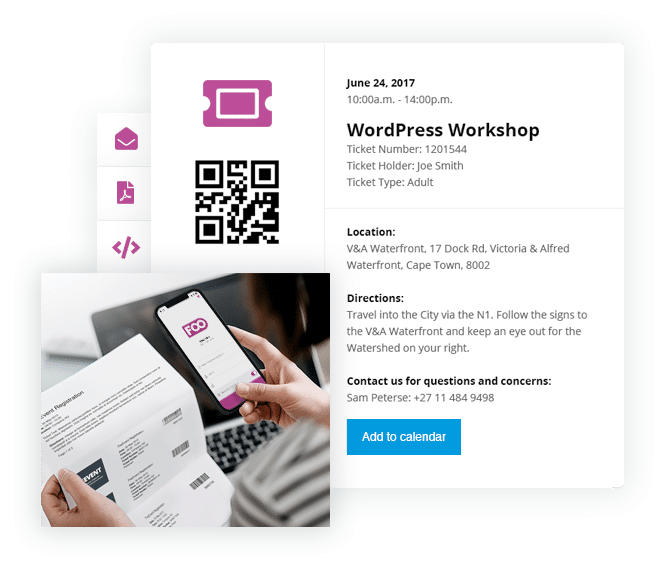 Send professional-looking tickets that make your events stand out from the crowd
FooEvents is designed to ensure that you have complete control over what your tickets look like, how they are sent, the format they are sent in and how they are used by your team and customers or attendees. You can take your pick from over 20 free Ticket Themes or design your own using the starter theme as a guide.
Manage Ticket Inventory
FooEvents leverages powerful order and stock management functionality that is native to WooCommerce so that you can specify the number of tickets available to prevent overselling.
Manually Create Tickets
Manually create tickets for existing customers on your website or create a new user on the fly from your WordPress admin area.
Different Ticket Types
Create different ticket types that have their own stock count, price, discount etc. This is ideal for events where access is based on the type of ticket that your customer purchased.
Send Tickets on Custom Order Statuses
By default, FooEvents generates a ticket for each attendee when the order status in WooCommerce is changed to "Completed". FooEvents also allows you to select a different order status/es or even a custom one which gives you added flexibility.
Free Ticket Themes
Transform the appearance of your tickets and make your event stand out with over 20 professionally designed Ticket Themes that cover almost any occasion.
Branded Ticket Emails
Send customizable ticket emails to attendees or ticket purchasers. Tickets include the event logo, attendee and event details and a unique 1D barcode or QR code.
Customize Ticket Templates
With very little HTML knowledge, you can easily customize the layout and design of both HTML and PDF tickets to match the unique identity and requirements of your event.
Scan Tickets Using Barcodes or QR Codes
All tickets include a unique 1D barcode or QR code which can be scanned using a handheld barcode scanner or with the free FooEvents Check-ins app.
Bulk Resend Tickets
Manually resend individual tickets or a bulk group of tickets to the purchasers or attendees at any time from your WordPress admin area.
Automatically Expire Tickets
Set your tickets to expire on a fixed date or after a specific amount of time has elapsed since the ticket was purchased.
ATTENDEES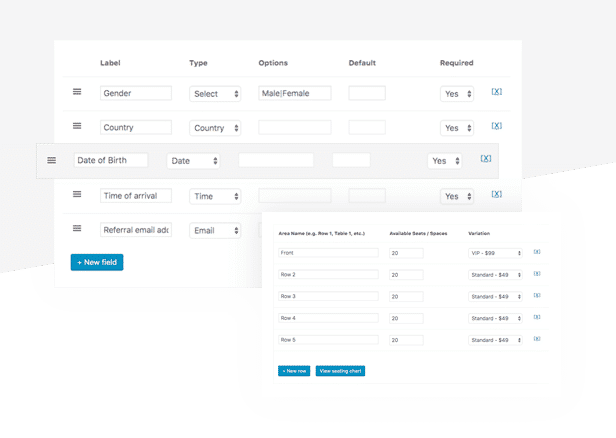 Capture and export critical attendee information with ease
Organize your events and engage better with your attendees by capturing detailed attendee information and exporting it to your preferred CRM, marketing, reporting, webinar or other business tools.
Capture Standard Attendee Fields
Capture common information when attendees purchase a ticket. The standard fields include first name, last name, phone number, email address, company and designation.
Capture Custom Attendee Fields
Create and capture your own custom attendee input fields through an easy to use drag and drop form builder interface (This feature requires the FooEvents Custom Attendee Fields extension).
Allow Attendees to Reserve Seating
Allow attendees to choose their own seats based on the layout of your venue. Specify rows and seats or tables and chairs (This feature requires the FooEvents Seating extension).
Manage Event Access
Manage access to your event like a pro with the free FooEvents Check-ins app or the FooEvents Express Check-ins plugin.
CSV Export
Export a CSV file containing all attendees for a specific event which you can open in a spreadsheet or upload to another database.
Design & Print Stationery
Design and print custom name tags, wristbands, tickets, badges and personalized labels through an intuitive drag & drop interface.
POINT OF SALE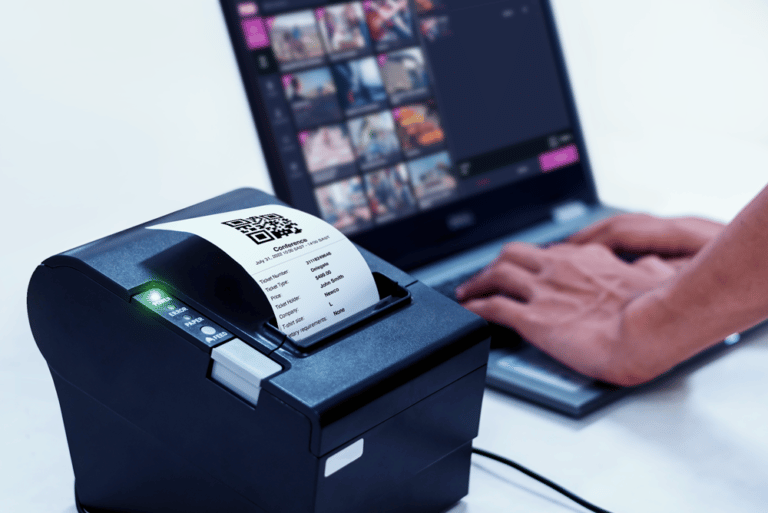 Take your ticket sales from online to the front line
Use FooEvents POS (required plugin extension) to sell tickets and passes to theater shows, concerts, conferences, sporting events, theme parks, sports facilities, movie theaters, food fairs, waterparks, bus tours, sports races, scooter hire, museums, boat rides, aquariums, kayak tours, tourist activities, carnivals, party venues and much more!
Sell both tickets and physical products
FooEvents POS fully integrates with WooCommerce and uses your existing products, variations, stock, customers, and tax settings in real-time. This means that in addition to selling access to your events and services, you can also sell traditional physical products.
More than just a POS, it's a ticket sales platform too
FooEvents POS turns your WordPress website into a powerful ticketing platform which effortlessly bridges the gap between online and in-person sales.
Accept card payments with Stripe™ & Square™
Process payments directly within the FooEvents POS system using certain Stripe & Square card readers. You can also enter a customer's card details manually which is perfect for taking orders over the phone or if the hardware is not available in your country.
Print tickets and receipts
Print custom tickets at your event directly from FooEvents POS using most thermal receipt and standard desktop printers.
Keep track of online and in-person sales
FooEvents POS integrates with WooCommerce Analytics and has the ability to filter order reports by online or POS orders. You can also use built-in WooCommerce filters to further segment results and export all data as a CSV file.
Multiple display modes
Save battery life, reduce eye strain and screen glare using dark mode. Of course, if you prefer to keep things light, you can switch to light mode or just use the system default. FooEvents POS also offers two product display modes – grid and list view.
VIRTUAL EVENTS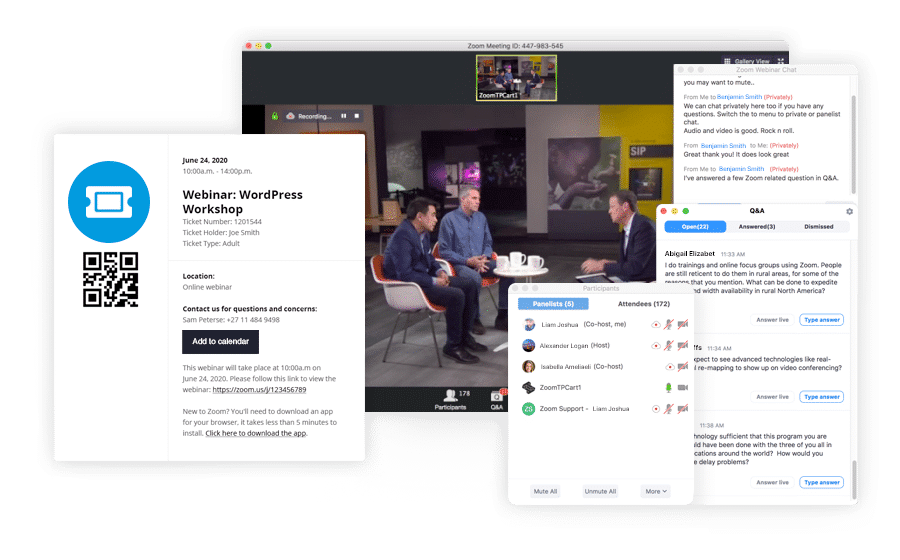 Seamless integration with Zoom
Sell tickets to virtual events such as conferences, meetings and webinars using FooEvents and Zoom.
Sell tickets to virtual conferences, meetings and webinars
Seamless integration with Zoom means you can take advantage of all the monetization benefits and functionality provided by FooEvents and WooCommerce, while world class video streaming of your live virtual event is taken care of by Zoom.
Create bookable Zoom meetings
Automatically generate Zoom meetings when attendees book slots for specific dates and times (This feature requires the FooEvents Bookings extension).
Automatic attendee registration
Sell access to virtual events directly from your WordPress website. FooEvents connects securely to your Zoom account and can automatically pre-register attendees for once-off or recurring Zoom meetings and webinars when they purchase tickets on your website.
Give attendees access to once-off or recurring virtual events
Sell multi-day tickets for virtual events that run over multiple days or sessions such as conferences, classes and workshops. The options are endless! ((This feature requires the FooEvents Bookings extension))
Own the customer relationship and your data
By selling tickets to your virtual event directly from your own website, you maintain complete control over your sales funnel and can build your customer database which will allow you to optimize conversions and adapt your event and marketing strategies.
Video conferencing technology trusted by millions
Zoom is the leader in modern enterprise video communications, with an easy, reliable cloud platform for video and audio conferencing, chat and webinars. No matter where you are in the world, Zoom has you covered.
MOBILE APPS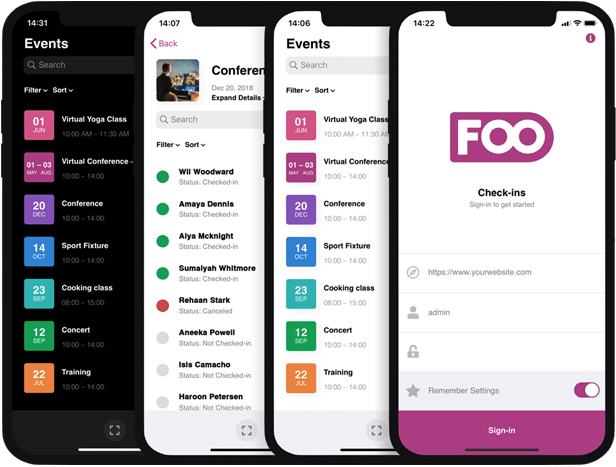 Manage access with our FREE mobile Check-ins apps
There's no need to carry around a clumsy clipboard or kill trees when you can elegantly manage check-ins with our free, easy to use iOS and Android apps. The FooEvents Check-ins app gives you the tools to manage access to your event like a pro and it even works when the internet goes down!
Attendee Search
Easily find attendees that are registered for your event and view their information by searching for them by name or ticket ID.
Barcode and QR Code Support
All tickets include a unique 1D barcode or QR code which can be scanned with a handheld barcode scanner or with the free FooEvents Check-ins app.
Customizable Branding
Make the FooEvents Check-ins app your own by changing the logo and color scheme directly from the plugin settings screen to match your website.
Custom Terminology
Customize various terms used within the app including 'Events', 'Attendees' and 'Check-ins' to suit your needs.
Restricted Event Display
Manage which events are displayed in the app. By default, the Check-ins app displays all published events but you also have the option to display only the events that were created by the signed-in user or you can pre-select which events to display.
Manage Bookings
You can manage booking attendance using the free FooEvents Check-ins app. Bookable events function differently to other events when viewed in the app and make use of custom screens that make managing bookings a breeze. Tickets can also be scanned within the app to speed up the check-in process.
Real Time Check-ins
The Check-ins app connects directly to your WordPress website via a secure API which ensures that attendee check-ins reflect in real time.
Auto Check-ins
Speed up check-ins by enabling the auto check-ins option which will automatically check-in an attendee and return to the scanning screen once their ticket has been successfully scanned.
Flexible Event Scanning
Scan tickets for a specific event or use the global scan option to scan tickets from any screen.
Offline Mode
Don't stress if the power goes out or the internet connection drops as you can still do check-ins with the built-in offline mode until your connection is reestablished and the data automatically syncs.
Bulk Status Updates
Change the check-in status of multiple attendees using the built-in Bulk Update option. Simply select the tickets and mark them as checked-in, checked-out or canceled.
View Attendee Information
View information for attendees as well as any custom attendee fields that were captured when the ticket was purchased.
Multi-day Support
Check-in attendees over multiple days when the FooEvents Multi-day plugin is activated.
Filters and Sorting
Filter and sorting options are available for both events and attendees which helps to keep things organized and makes information easier to find, especially for large events.
Bluetooth Scanner Integration
Scan tickets using your mobile device's built-in camera or pair your device to any handheld Bluetooth barcode scanner.
Privacy Mode
Hide all personal information for attendees and/or ticket purchasers in the app. Only attendee names will be visible for check-in purposes.
Multi-language Support
The Check-ins app supports 17 different languages! Change your language preferences at any time from your device settings.
Dark Mode
The Check-ins app supports dark mode so you can save battery life and reduce eye strain and screen glare.
CHECKOUT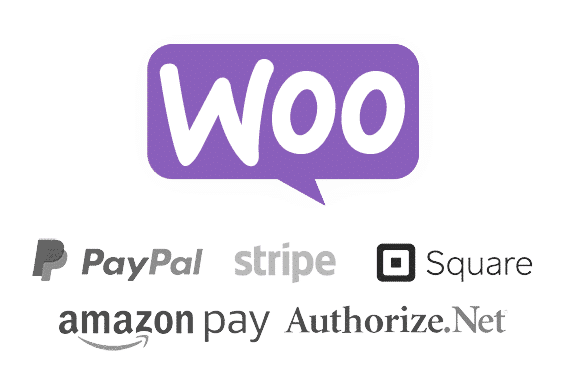 You can't go wrong with the world's most popular eCommerce platform
FooEvents is designed to work natively with WooCommerce. This means that you can take advantage of the security and power of the world's most popular eCommerce platform as well as 100+ payment gateways that it supports.
100+ Secure Payment Methods
Sell tickets and process payments via Stripe, PayPal, credit cards, direct bank transfer or cash on delivery. Choose from over 100 popular payment gateways for WooCommerce.
Bulletproof Checkout
FooEvents piggy backs on the WooCommerce checkout process so your attendees are guaranteed a safe and familiar checkout experience.
Discount Coupons
Promote your event through fixed and percentage based discount coupons. Track and manage coupon usage directly from your WooCommerce dashboard.
Local Currency and Taxes
Set your local currency and display taxes based on the ticket purchaser's billing address or your store's location.
Data Remains Safe and Private
FooEvents does not access or store any of your data. All customer and ticket data is archived in your website database and never leaves your site.
GDPR Compliance
We are proudly GDPR compliant and completely respect your privacy. We do not sell or share customer data with any third-parties.
INSIGHTS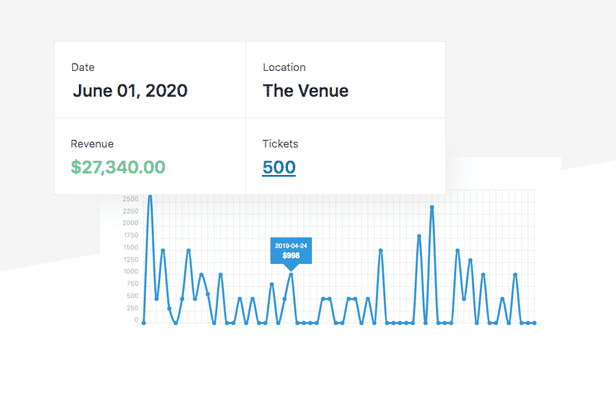 Make informed decisions based on event and ticket reports
Good decisions are based on good data. FooEvents provides real-time event and ticket reports which integrate seamlessly with your WooCommerce sales reports so you always know how your events are performing and can make informed business decisions based on this data.
Event Reports
Get a better understanding of your ticket sales and event performance. View event revenue, tickets sold, check-ins, available tickets and more.
Sales Reports
With WooCommerce Reports, you can view your store's detailed sales performance from month-to-month using various graphs and stats.
Order Management
WooCommerce orders are generated each time a ticket is sold. Orders are linked to your tickets and contain billing information and product data.