Bookly — awesome appointment booking and scheduling solution, 9000+ satisfied business owners agree. Simple setup & mobile device friendly, excellent support!
Demo: https://bit.ly/3BKVzRT
Automated online booking & scheduling for WordPress: fully customizable booking form with online payments, notifications, and Google Calendar sync.
Bookly Pro add-on enables advanced features of Bookly online appointment scheduling plugin. With Bookly Pro, you can remove all the limitations of the free version of Bookly WordPress booking plugin.
The default configuration of Bookly Pro includes:
Fully-customizable booking form that can be used on any device;
Filterable, sortable and searchable booking list that you can print or export to CSV;
Unlimited number of Staff Members with individual working schedules, prices, and ability to manage their profiles and online booking calendar;
Unlimited number of Services which you can group into categories and set unique colors for easier viewing in Bookly Calendar;
Importable and exportable customer base with unlimited clients list which displays payments stats and internal notes about the client;
Various templates for customizable Email and SMS notifications;
2-way synchronization between Bookly Calendar and Google Calendar which automatically reflects all updates in Bookly in your Google Calendar;
Integration with PayPal Express Checkout (note that this method is deprecated as of January 1, 2017 and no longer serviced by PayPal for new customers), the list of completed and pending payments;
Built-in analytics with booking statistics;
WooCommerce compatibility;
Multi-language support – 9 languages included;
Six months of 24/7 online customer support.
Once you purchase and install Bookly Pro, you will have Bookly plugin and Bookly Pro (Add-on) activated. You are free to add more advanced functionality to your default configuration with various Bookly add-ons for automating your online booking system.
If you use the legacy version of paid Bookly, please update to the latest version. Follow the instructions on the migrator page to switch to the new Bookly Pro with ease and for free.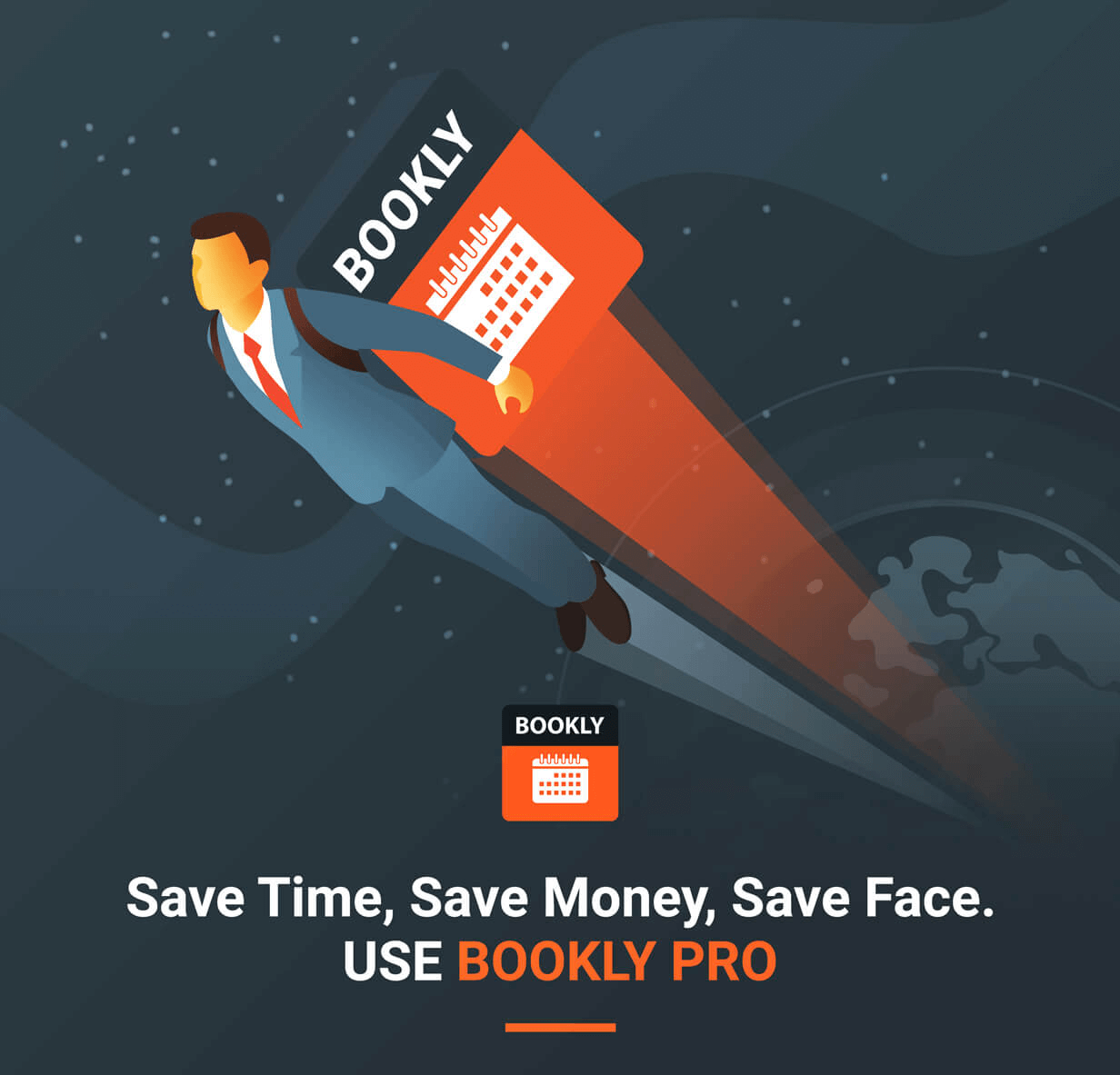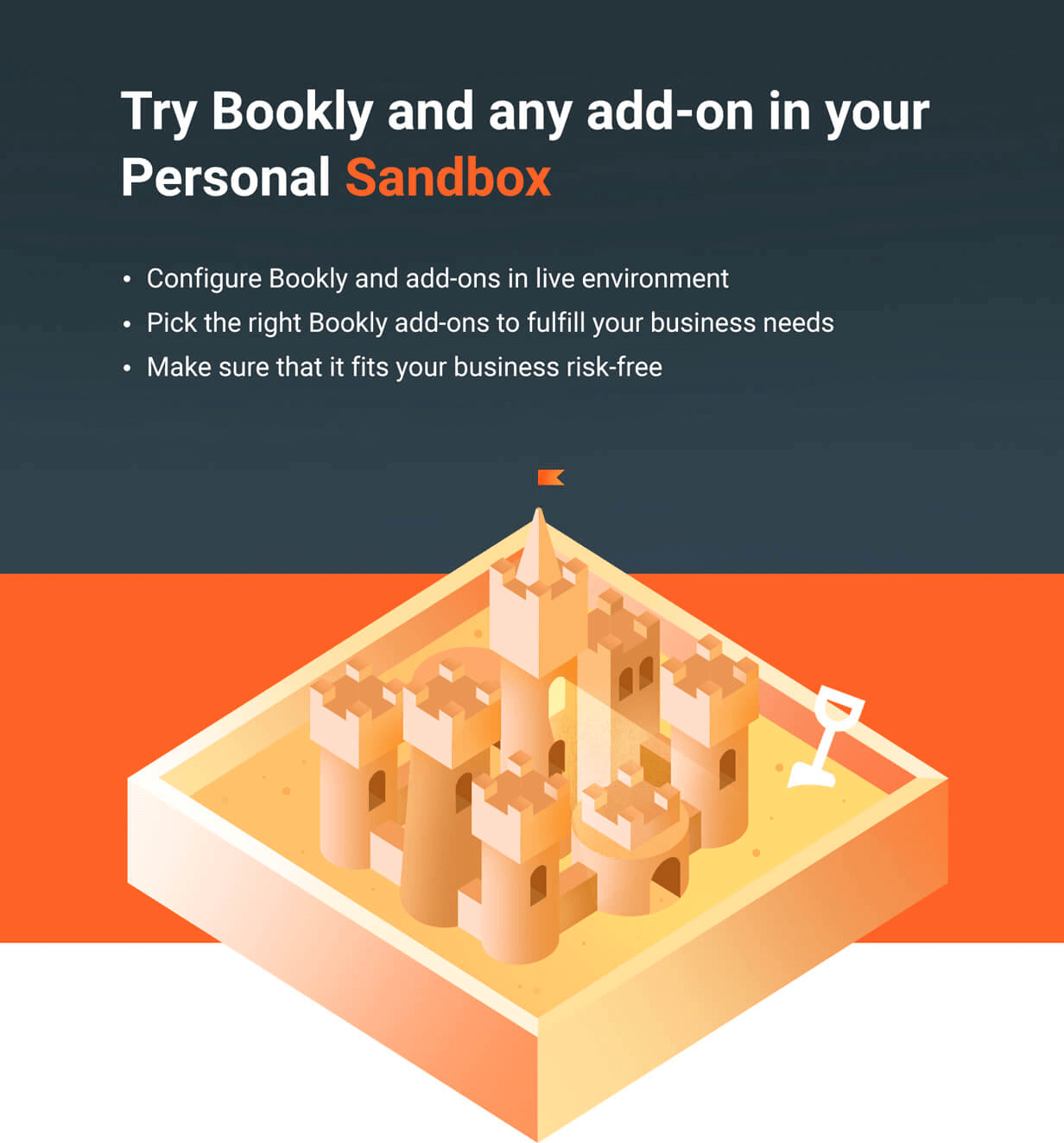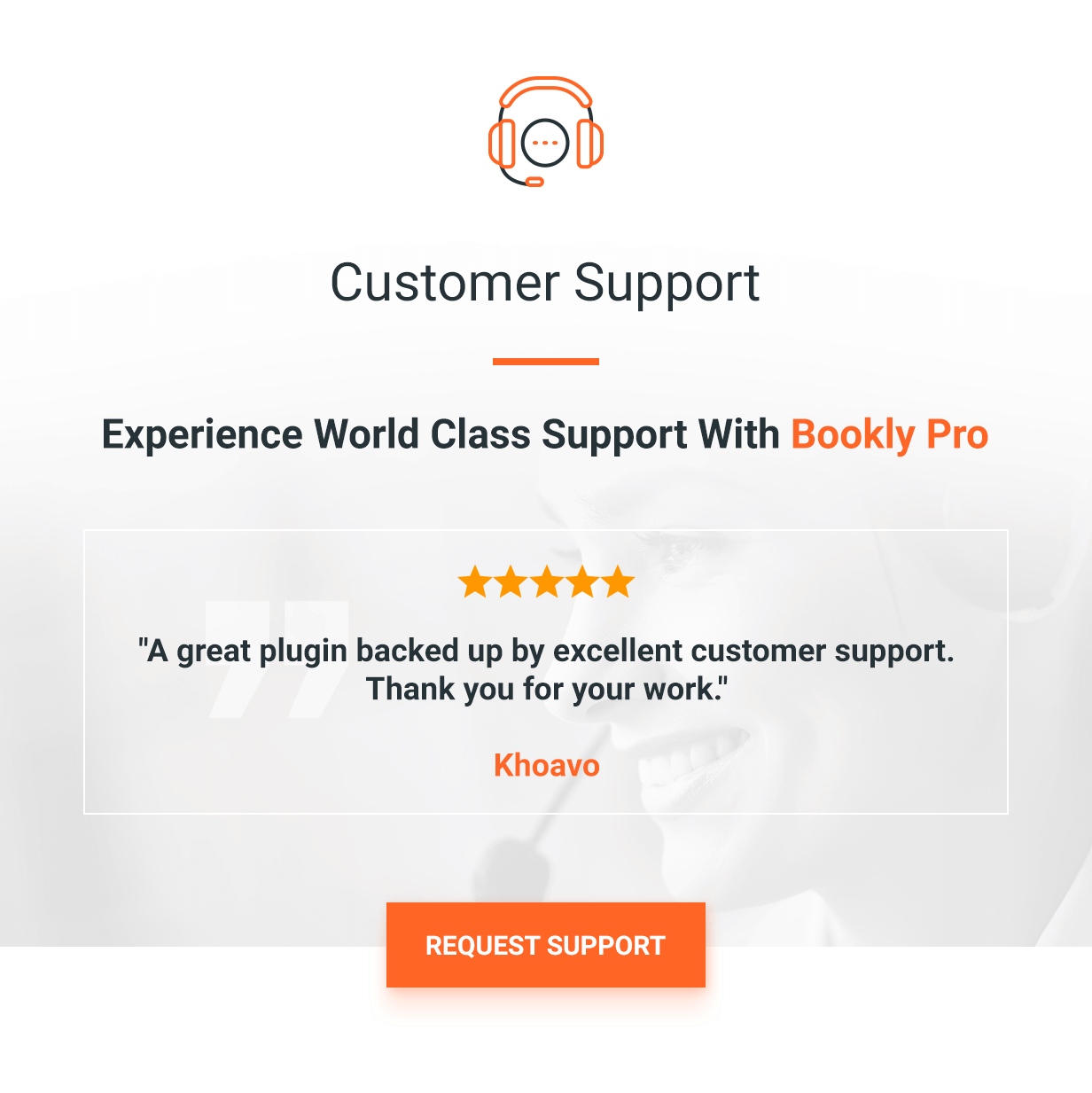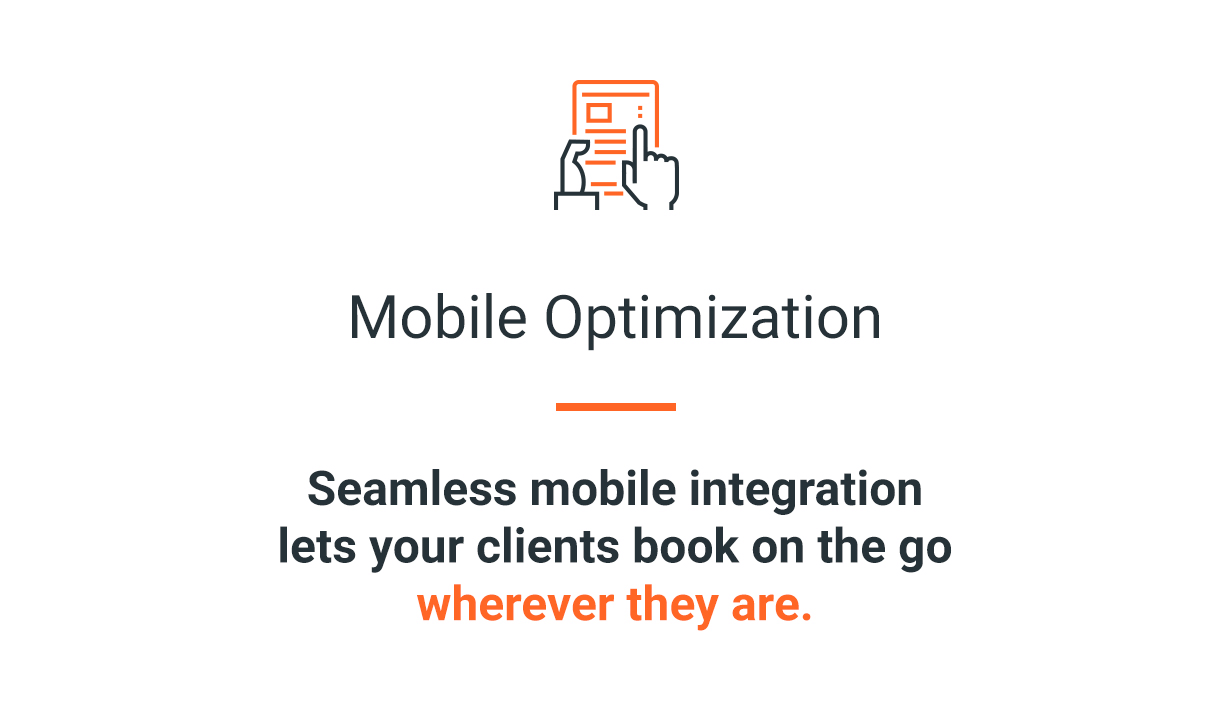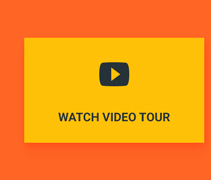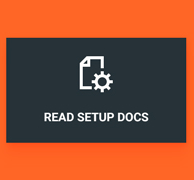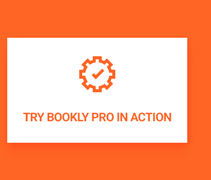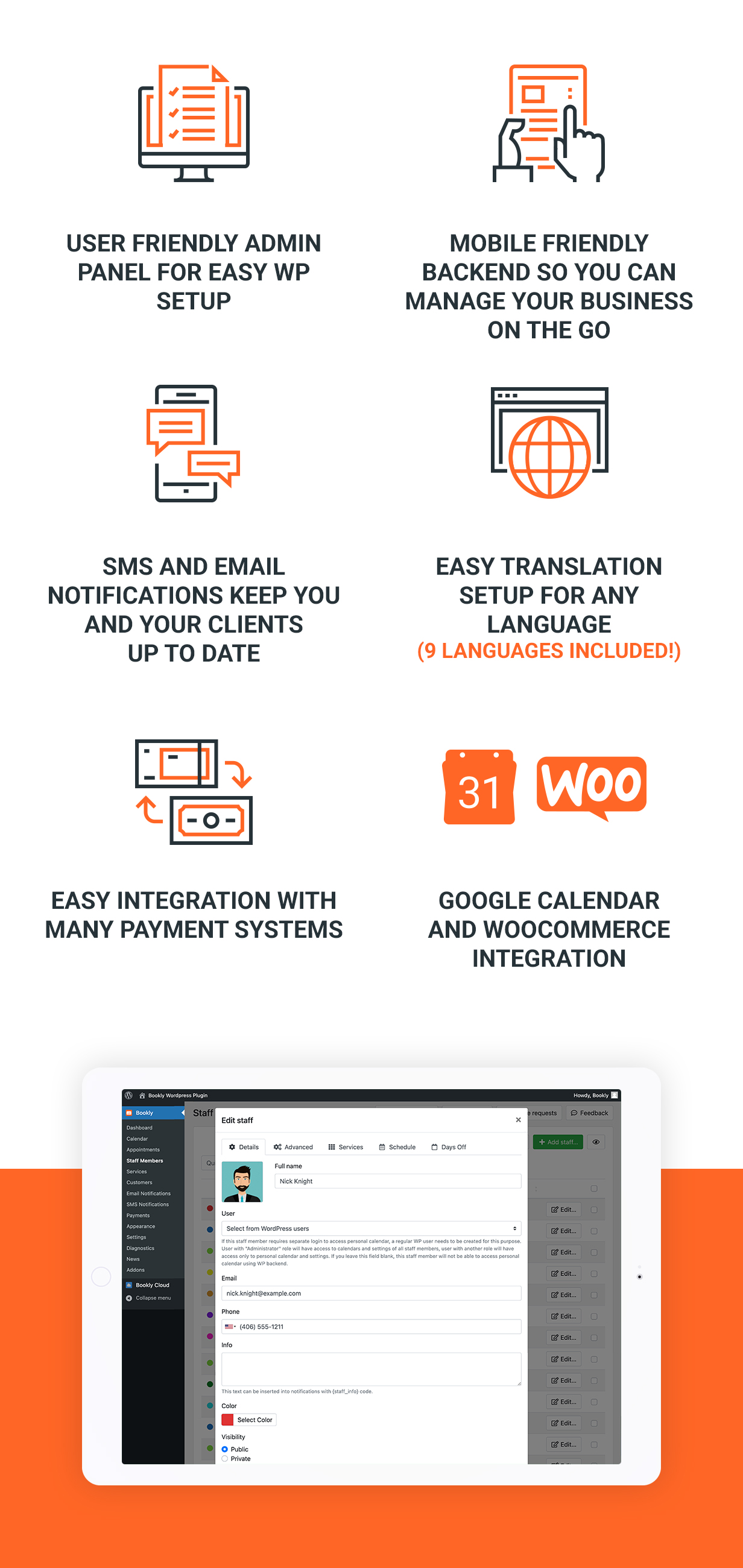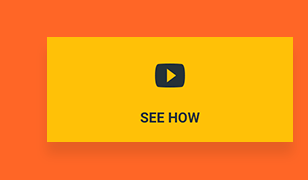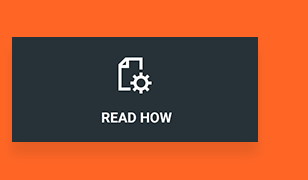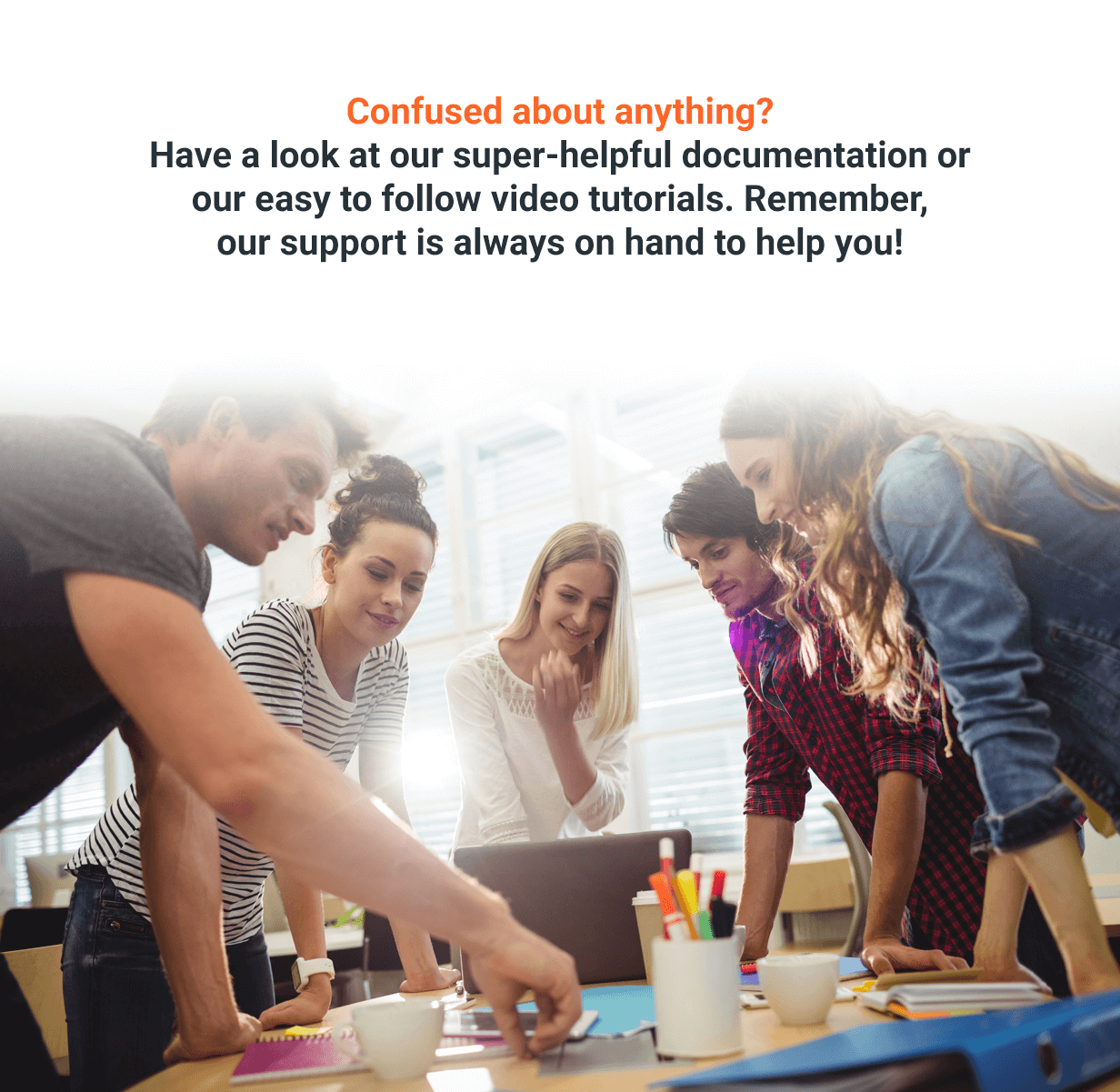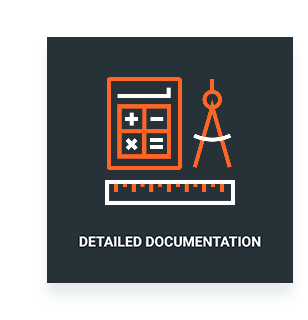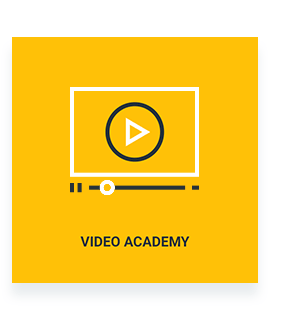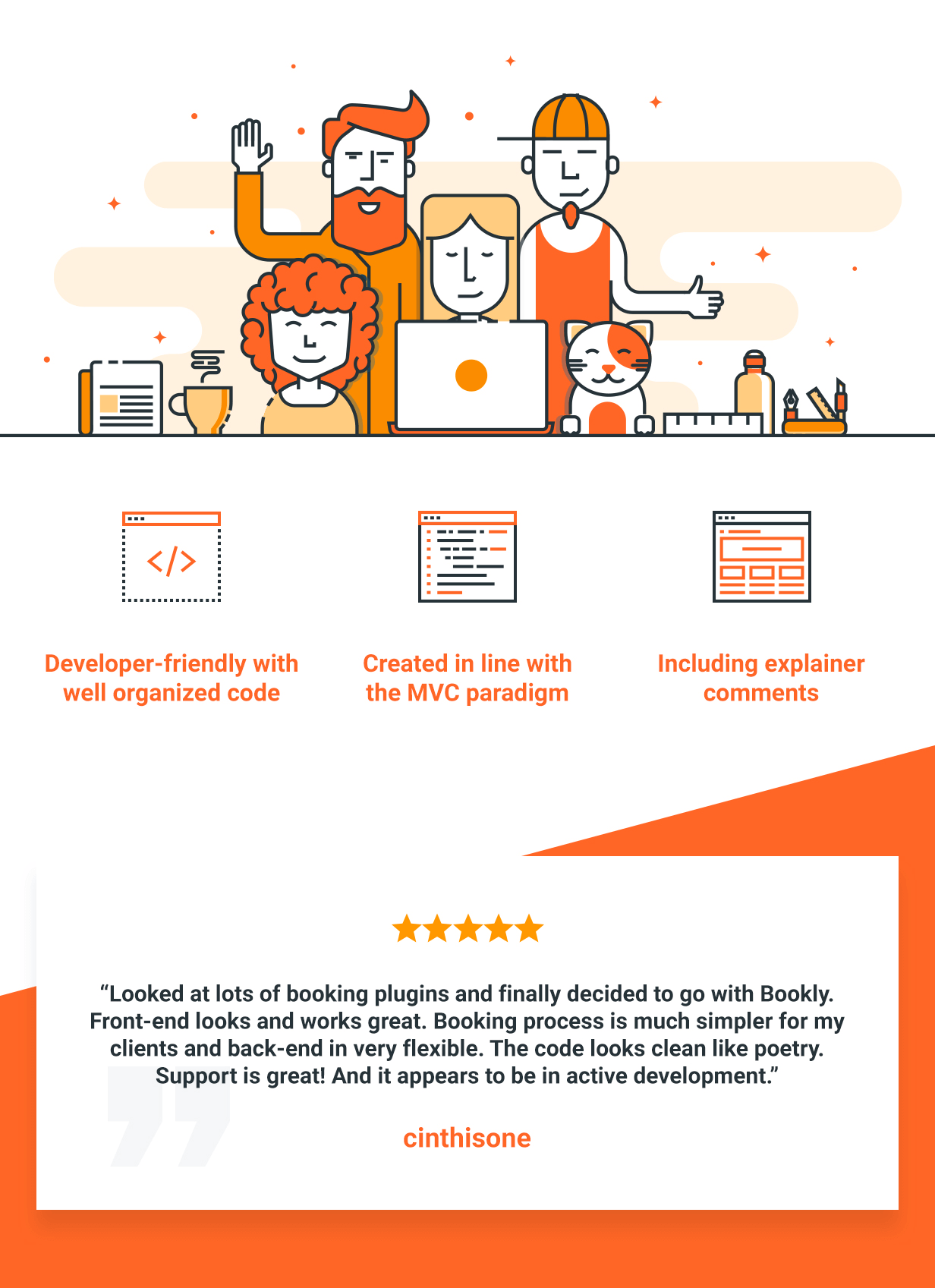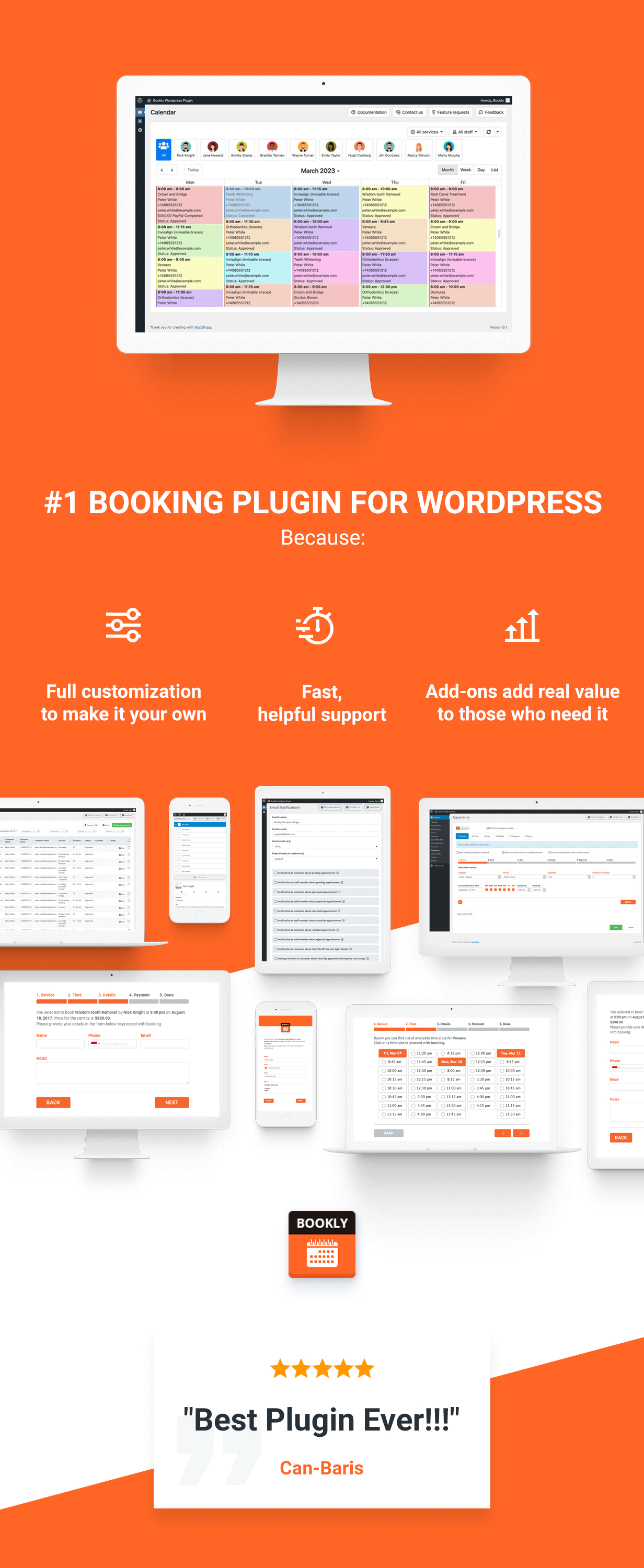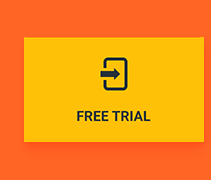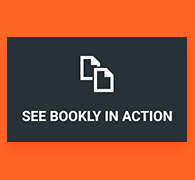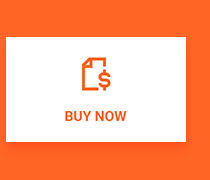 * Please note that the free version of Bookly may have limited functionality.
Simplify Appointment Scheduling Process with Bookly Pro
Bookly Pro is the best booking plugin for WordPress websites (customer's words – not ours). The process of booking appointments is fully customizable for your clients. It's anywhere from 2 to 6 easy Steps. Here's a walkthrough of the user experience in the standard 6-Step scheduling process.
This piece touches on add-ons, and focuses more on the standard booking plugin. Check out our add-ons and the deeper customization options they provide.
Step 1: Choose Service
Upon arrival at the page containing the booking plugin, the client enters the following information:
Desired service
Desired staff member
Desired date and time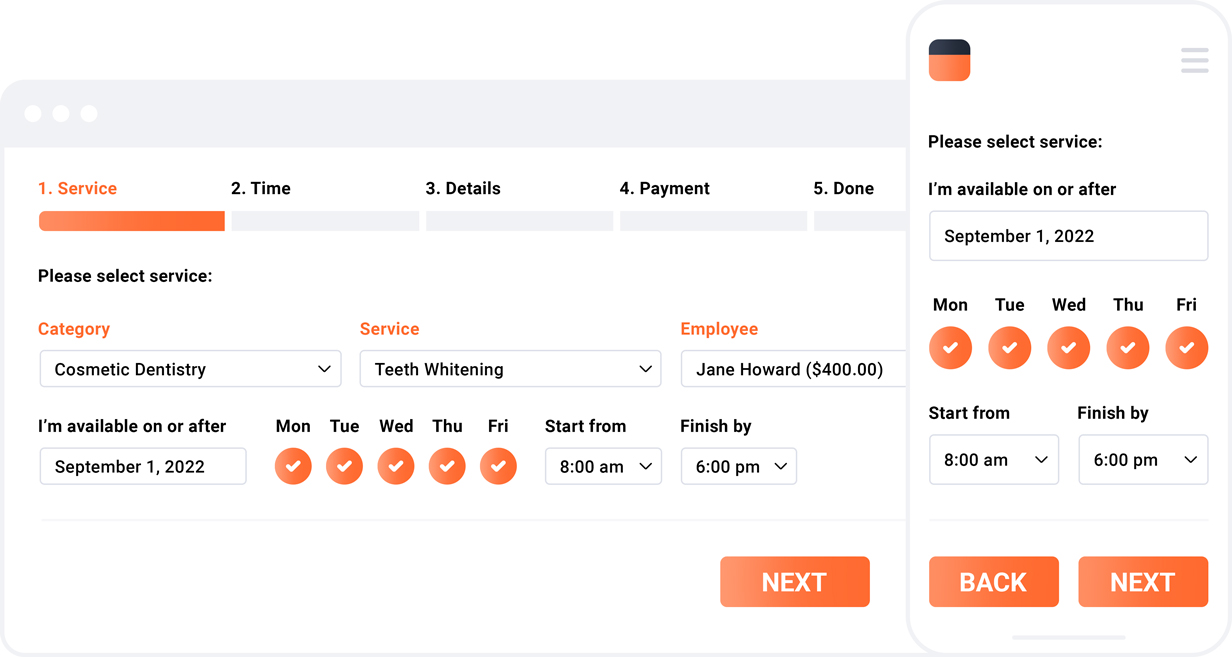 Note: Let customers decide on the number of people they wish to book. How: With Group Booking add-on, increase the capacity of a service in the Services tab and untick the 'Number of Persons' checkbox while integrating the plugin with your pages.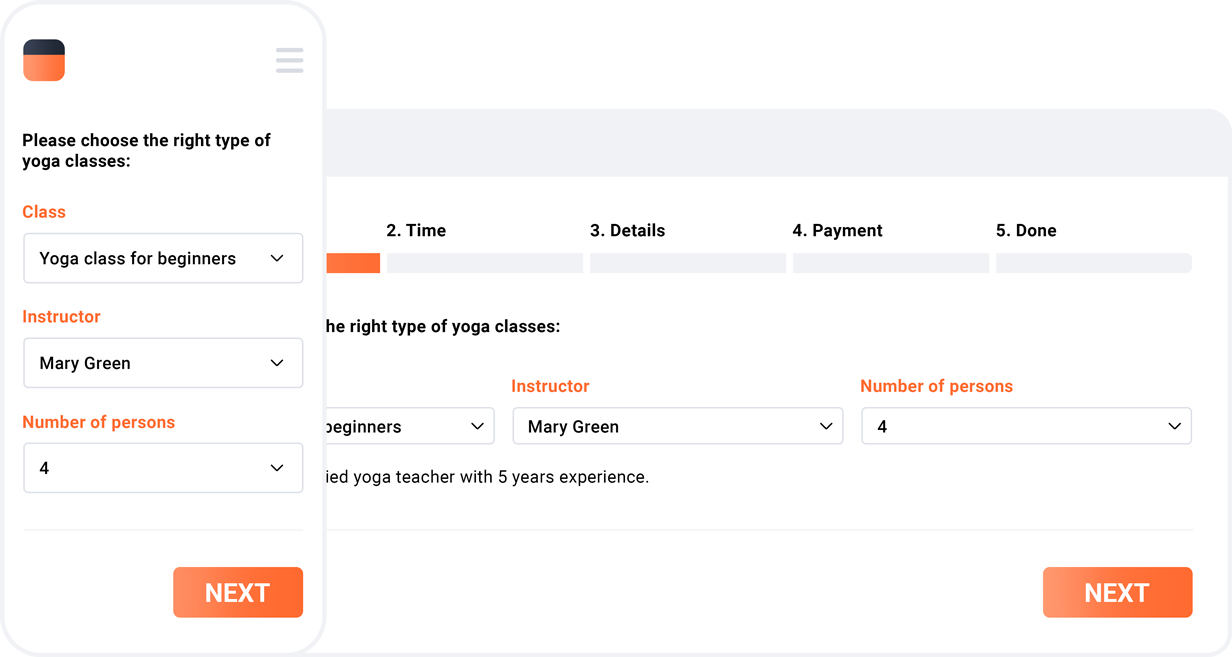 Service Extras, one of our most popular add-ons, allows you to add extra products or services to an appointment. When added, a new step will appear in the booking process, pictured below.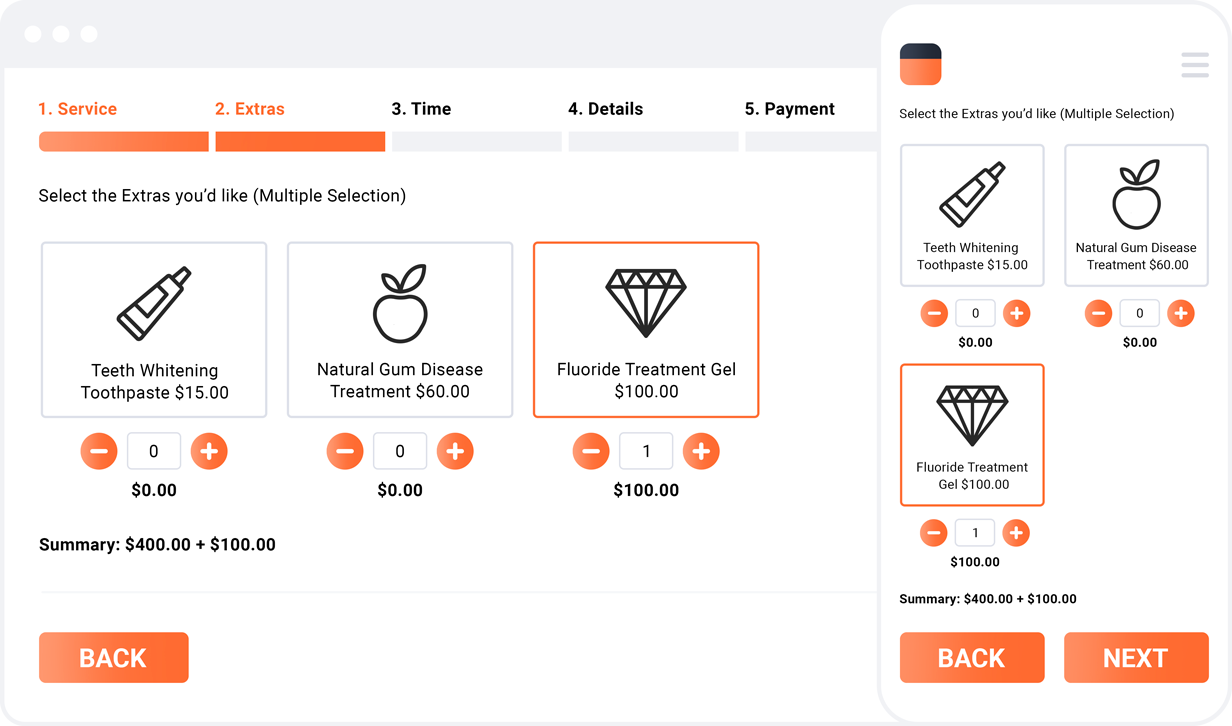 Step 2. Pick a Time Slot
Based on the preferred date & time, the booking system offers a list of available time slots. The customer can browse through the scheduling list and choose the time that suits them.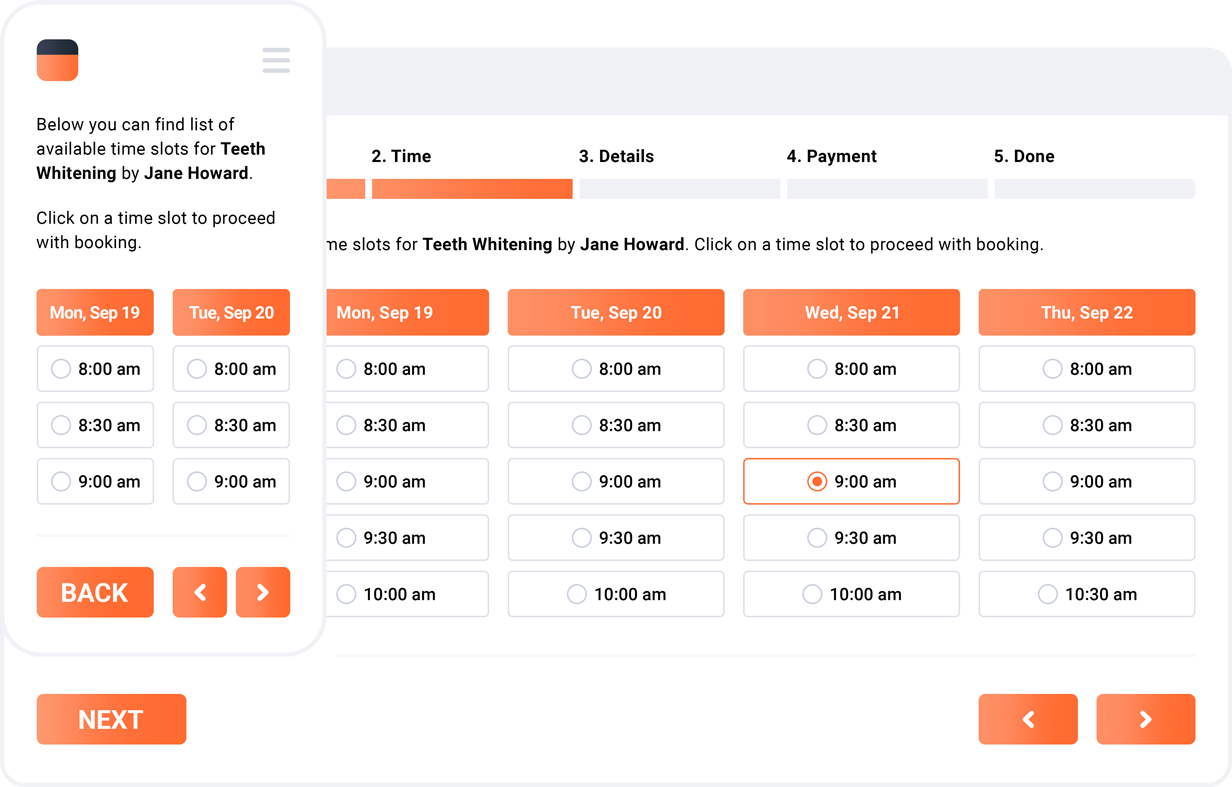 You can customize the available dates that are displayed to clients. You can also change the appearance, like having each day in a separate column. See how here.
Step 3 (optional): Book Multiple Appointments in One Session
With the Cart add-on, your clients can book multiple appointments in one booking session. This feature adds an option to 'book more' right after Step 2. The 'book more' button will bring them back to Step 1, while storing the current booking on their cart (How to set up the Cart Add-on).
Two add-ons are worth mentioning at this point. The Chain Appointments add-on allows the client to book different services in one visit. For example in a dentist's office: a cleaning, whitening and check-up can be booked in sequence.
Multiply Appointments add-on allows your client to book identical services back-to-back. This is useful for group bookings where clients are assisted individually.
All booked appointments will be displayed together with their dates, times, staff members, and prices.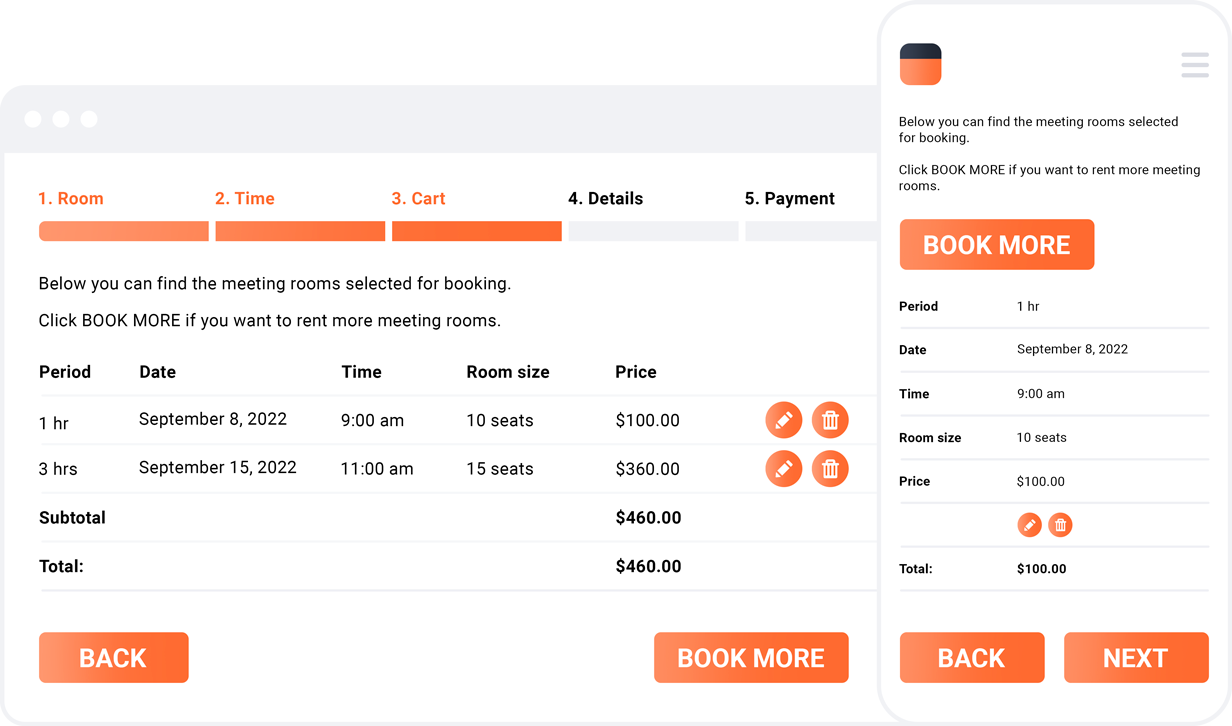 Step 4: User Info
Here's where customers insert info for organizational or marketing purposes. The defaults are name, phone number and email. These fields cannot be removed, but the phone number can be replaced with a Skype ID. More fields can be added as desired.
Your customers can also leave notes here on the booking system. Like their favourite spa cocktail or a request for parking space.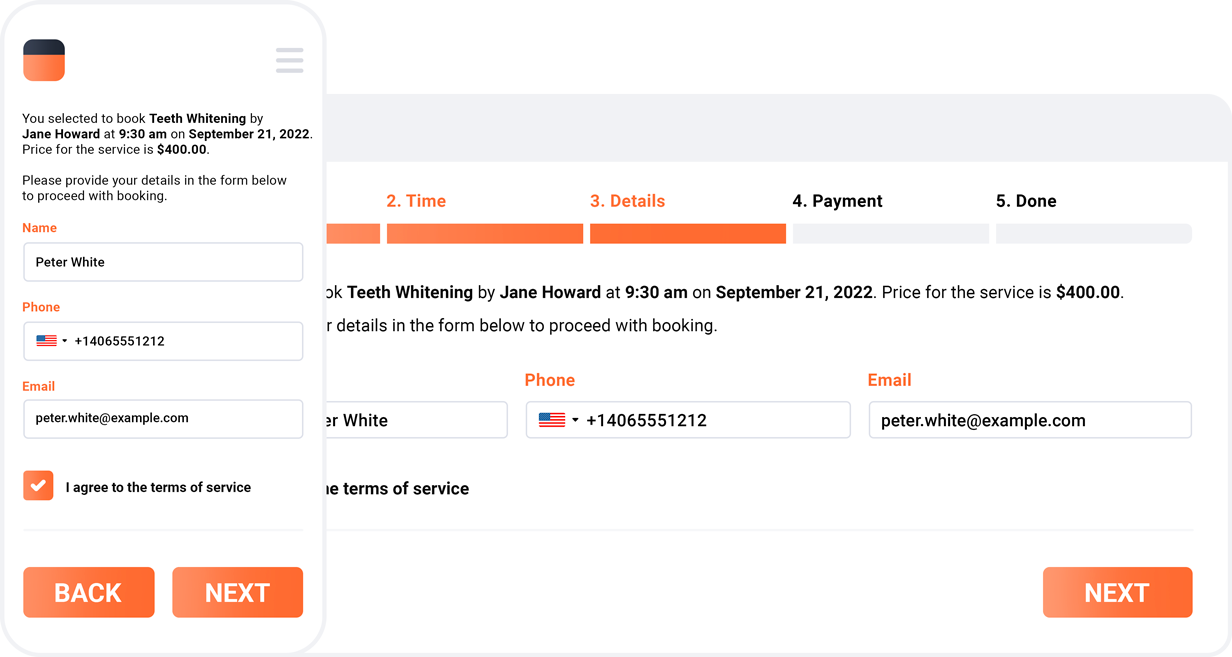 Step 5: Payment
The customer can choose between multiple payment options, including offline payment (cash on arrival). There are 10+ online payment options that you can choose from and enable for your plugin. Read more on these options and how to set them up.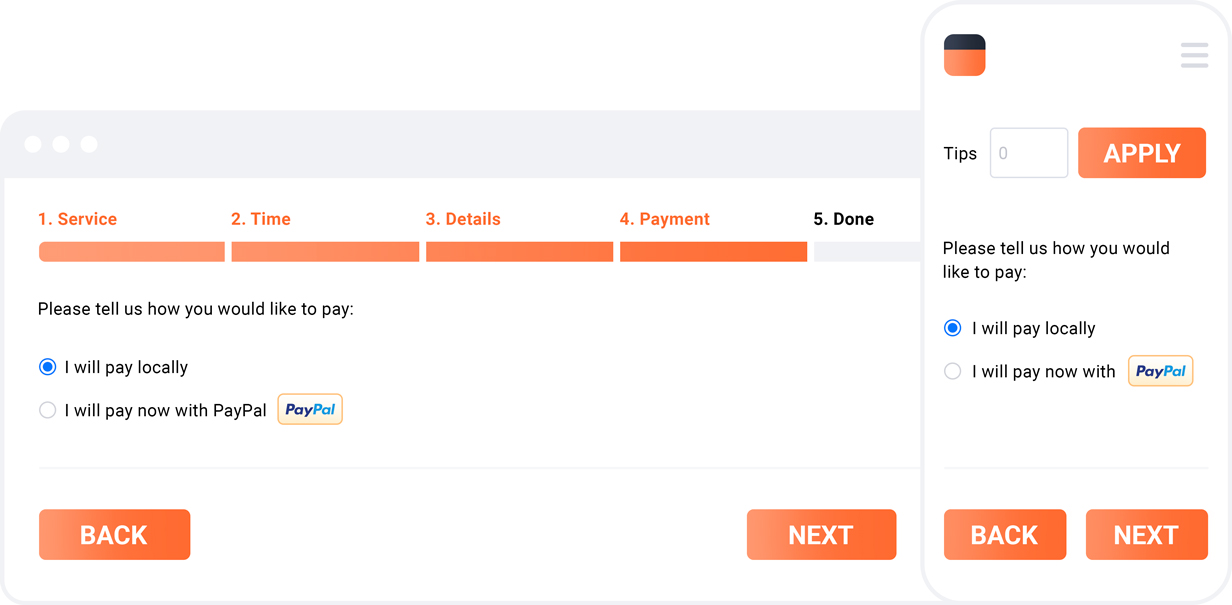 You can integrate and offer coupons, like this.
Should you offer any free services (price set to 0), this step will be skipped.
Step 6: Booking Confirmation
Appointment confirmed. If you've set up notifications (highly recommended), a confirmation email and a text message (SMS) with booking details are sent to the customer. See how to set notifications up with this video, or this help document.
If you have switched on the pending appointments feature, we recommend that you change the wording of this last step. An acknowledgement or heads-up to say that you'll be in touch to confirm the booking would be better.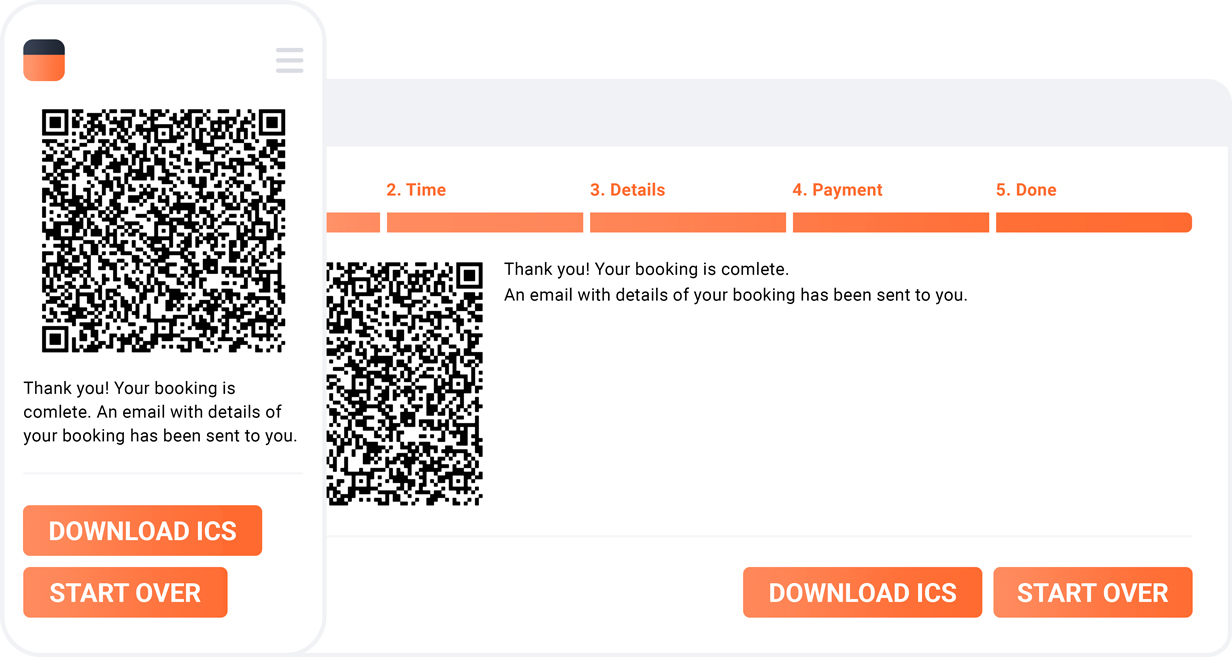 Simple and easy, isn't it?
What makes Bookly different to other booking plugins is our world class support and fantastic customization options. Try Bookly Pro demo for free.
If you need any more information on Bookly Pro, feel free to visit our YouTube page and learn more about our epic booking plugin for WordPress.
We advise getting a quality booking plugin for WordPress. Clients appreciate a smooth, easy booking process.

All you could want to know about Bookly Pro as a WordPress Plugin
You're halfway there, but you need more information to make sure Bookly Pro is the perfect booking system for you. Whether you're a developer or a business owner.
To see others we've helped, feel free to have a look at our reviews section.
Otherwise, read on to wisen up.
What is Bookly Pro?
Bookly Pro is an add-on which requires the Bookly plugin for WordPress websites. With Bookly, your clients can make bookings for service right on your site. No need for time-consuming phone calls or face-to-face meetings.
According to many reviews, Bookly is the best booking plugin for WP. It's a unique booking system that is under constant development to stay on top. Our programmers never stop working to satisfy your requests and concerns.
So if you're ready to automate booking on your (or your client's) website, Bookly could be the appointment software you're looking for.
What you would need to replicate Bookly – without Bookly?
If you wanted your website to accept bookings online, you would choose Bookly, right? But what if you didn't?
First of all, you'd need an expert programmer to set a booking system up on your website. If you didn't wish to keep this expert on your payroll, you'd need to train up one of your current employees to keep it all running. This first step costs time and money.
Next you would have to train each of your staff members on how to use this software. This can also cost a lot of time, depending on how complicated the system is.
Then you would have to hire someone in a secretarial role to handle the bookings and allocate staff members.
It could become quite a messy business.
That's why Bookly is such a great plugin. It takes all of these moving parts out and adds them into a simple plugin with powerful capabilities.
Let's take a look at some of those capabilities.
What does Bookly Pro have to offer?
* Some features require add-ons, but most don't.
* Bookly is in a state of constant development, depending on what the community wants. Thanks to our feature request page, you decide what we develop.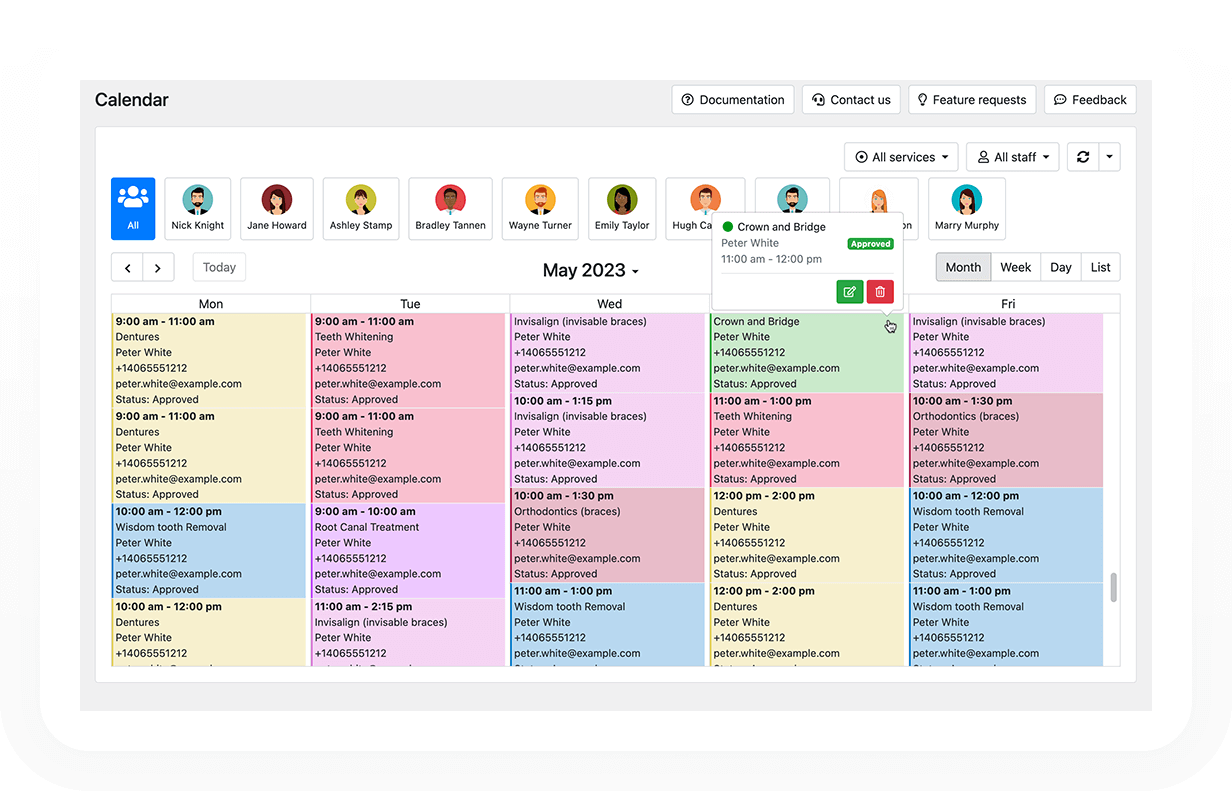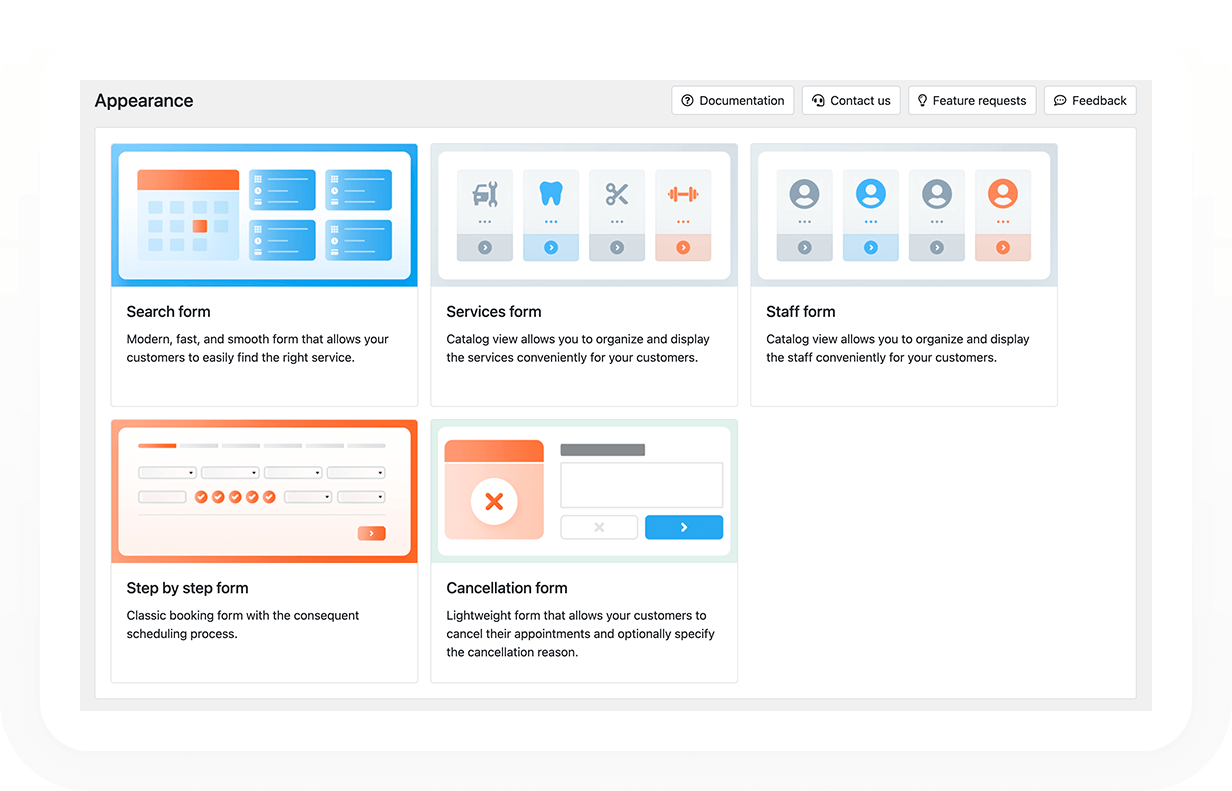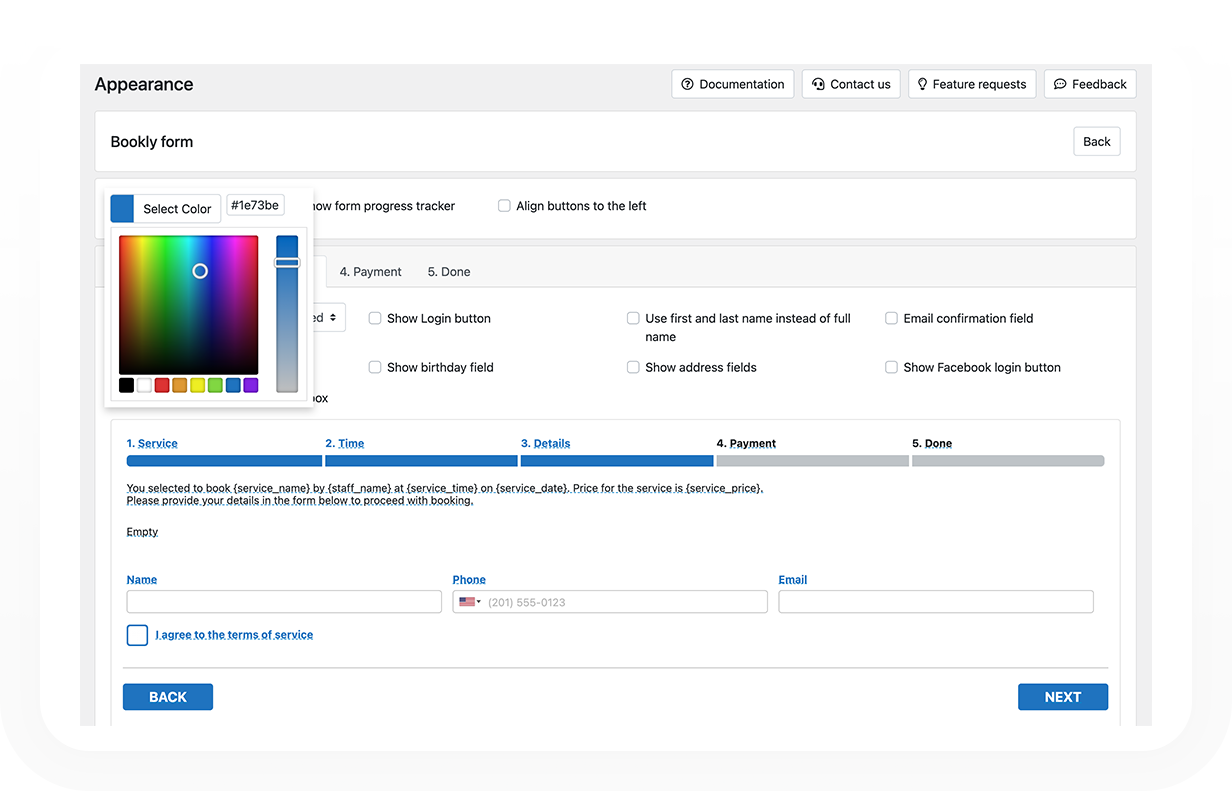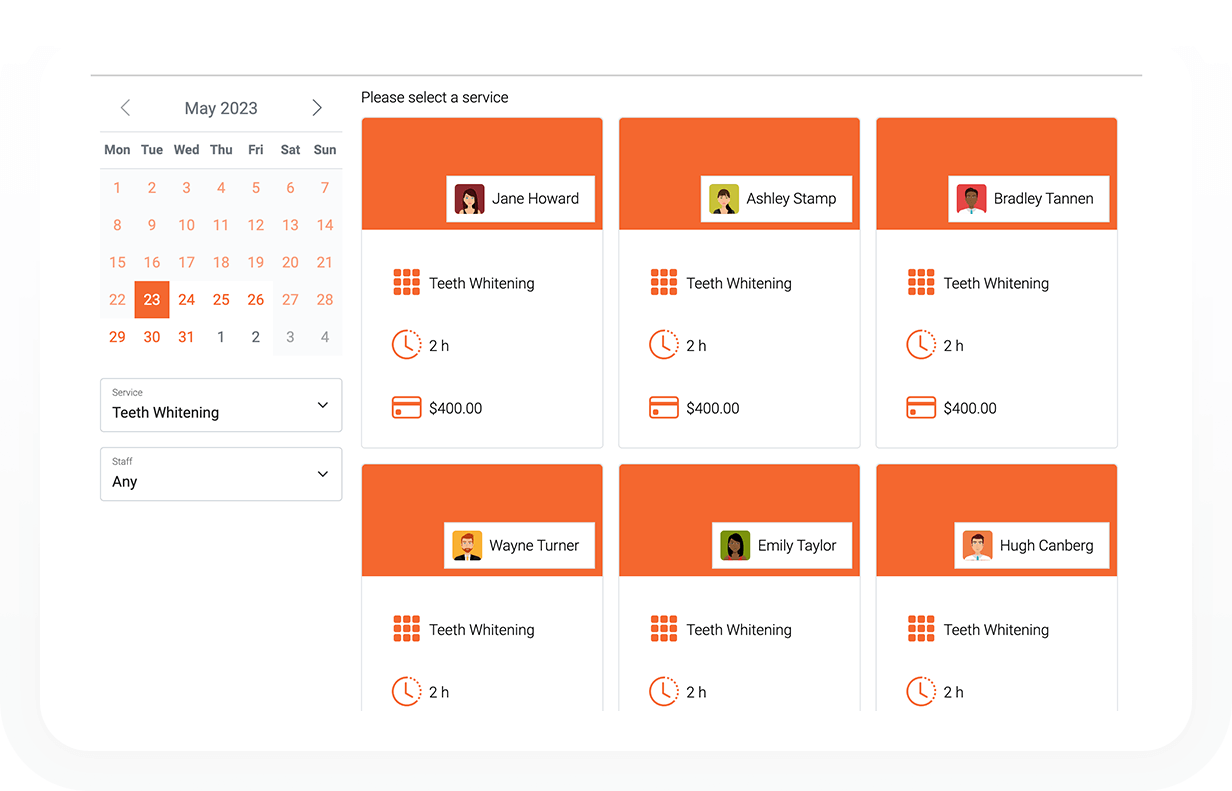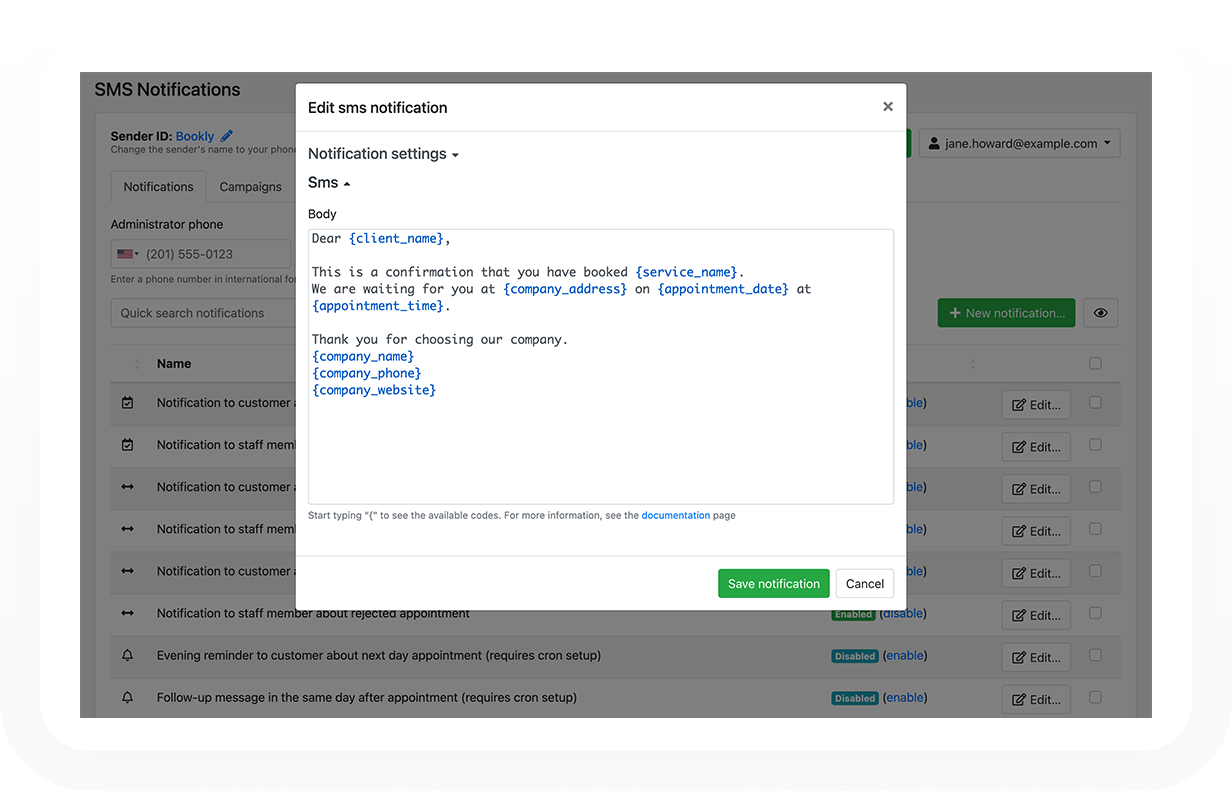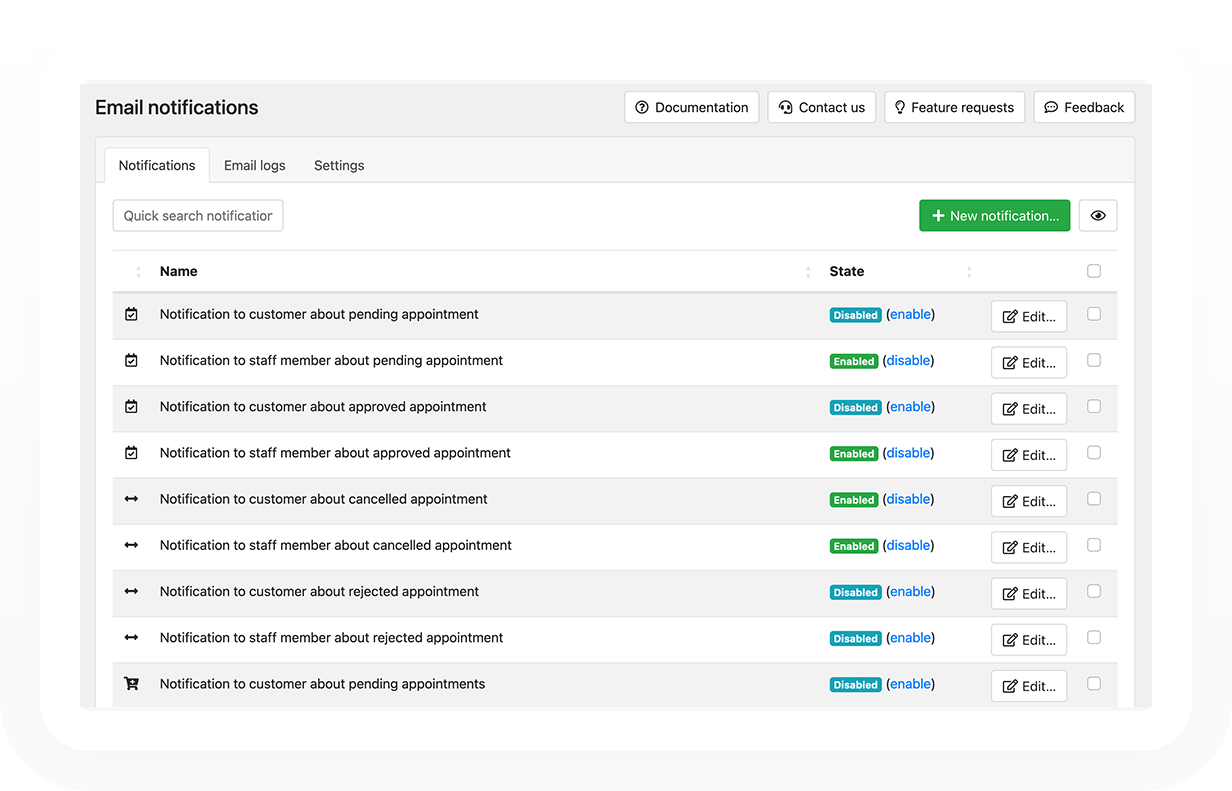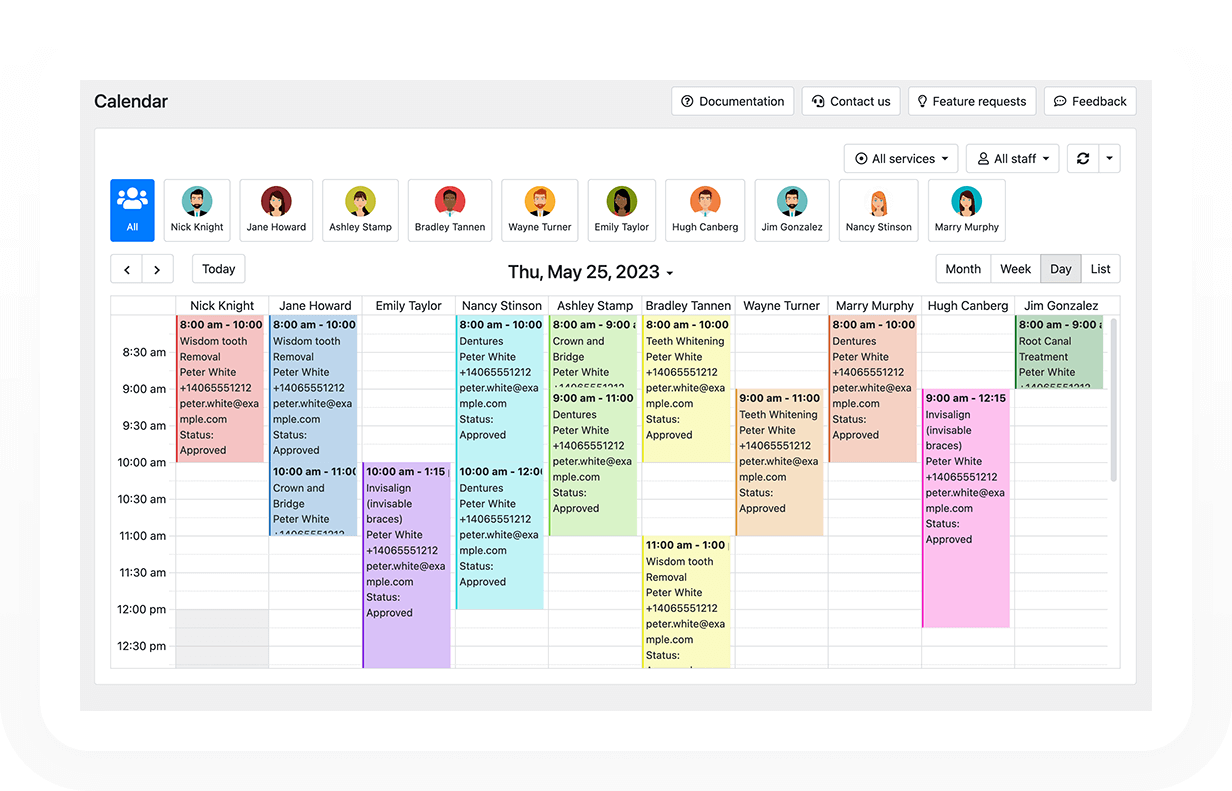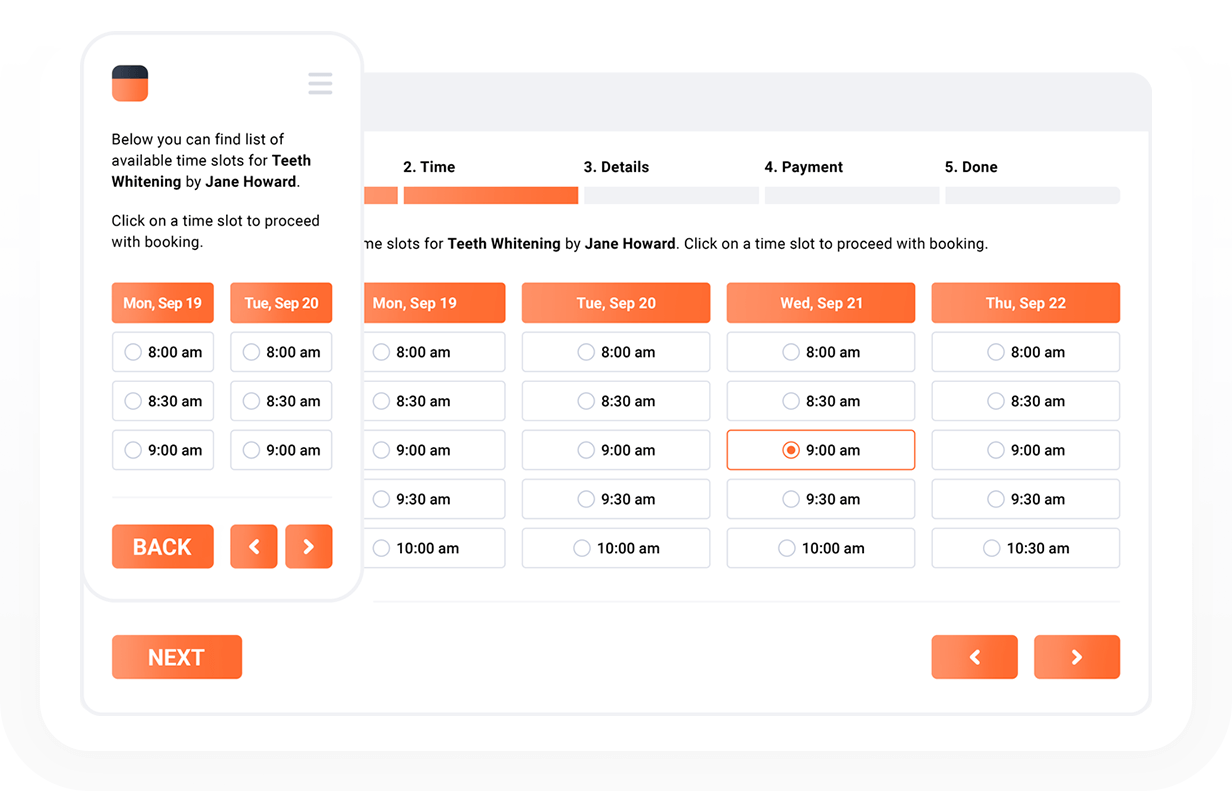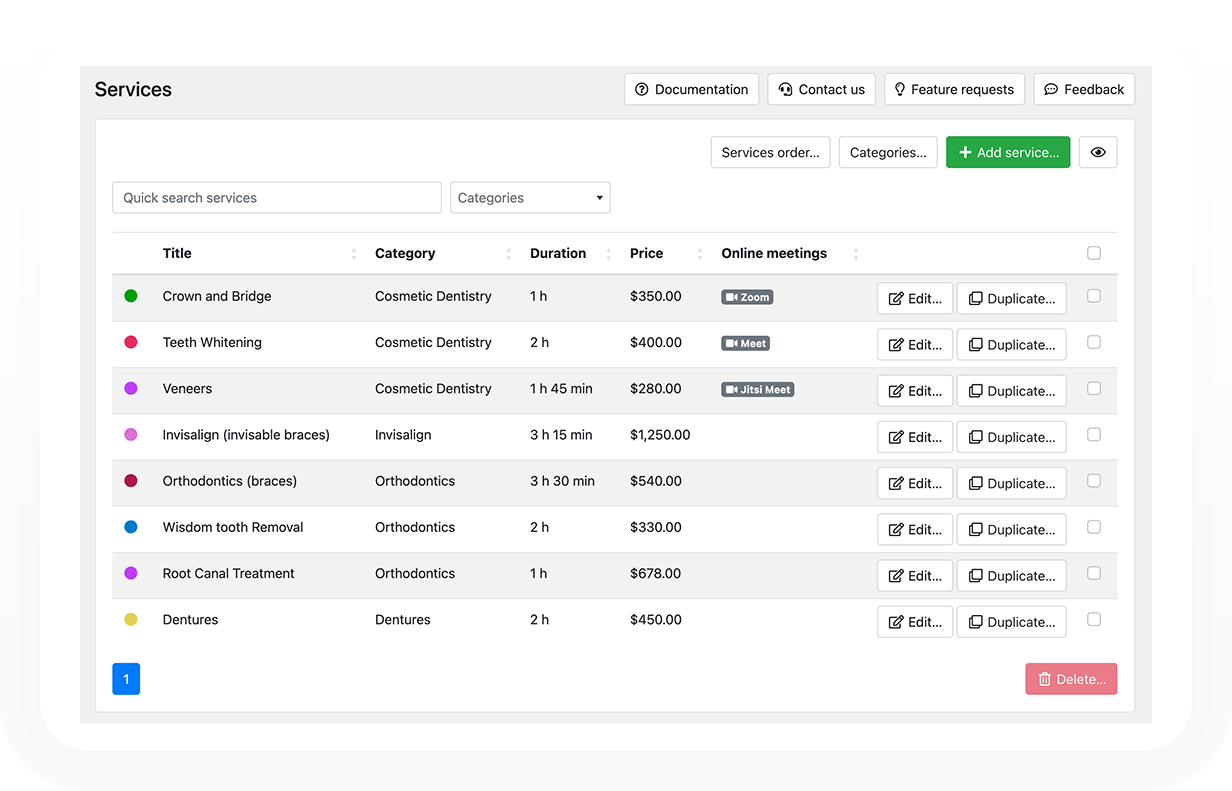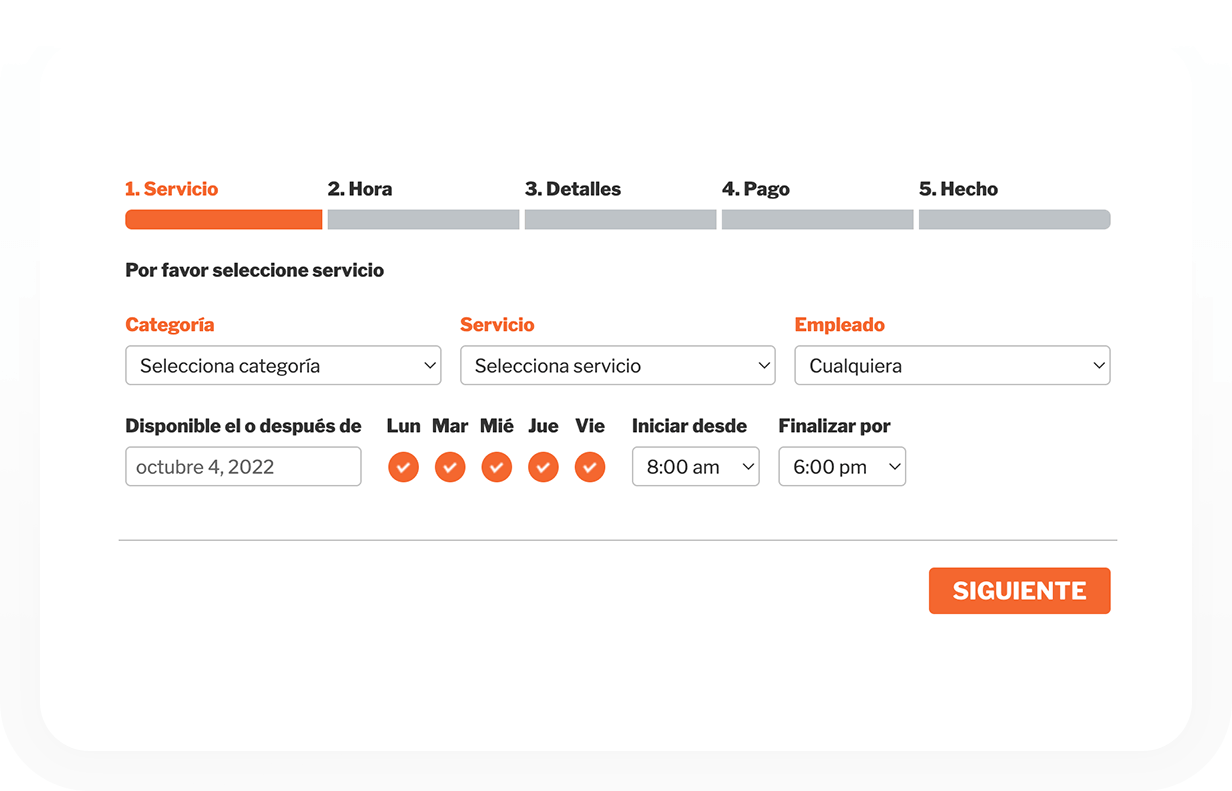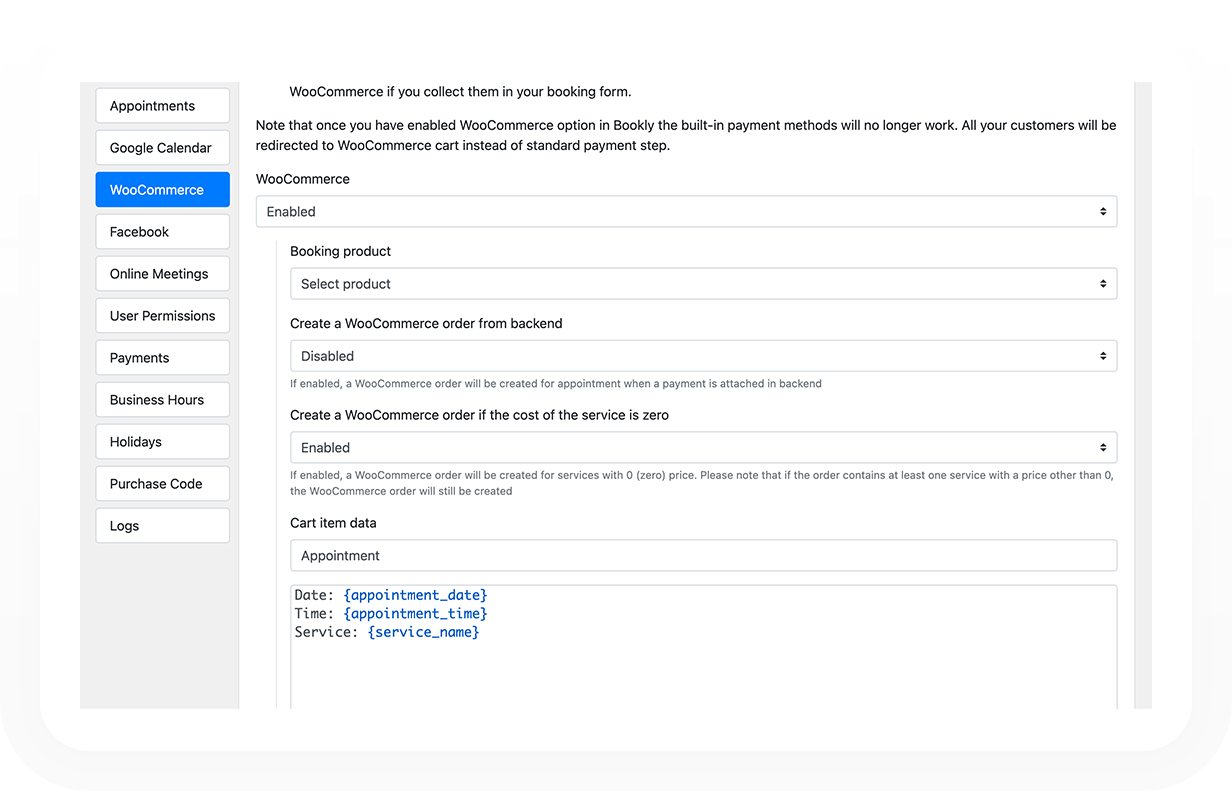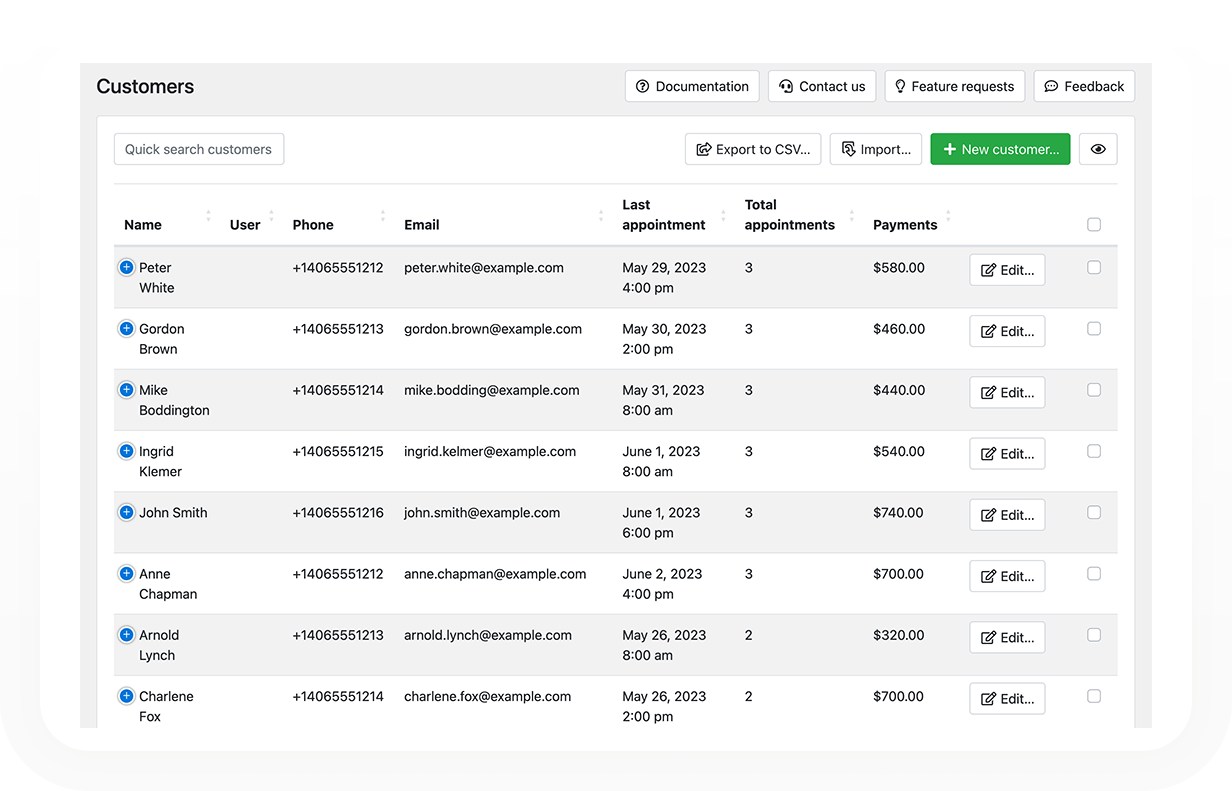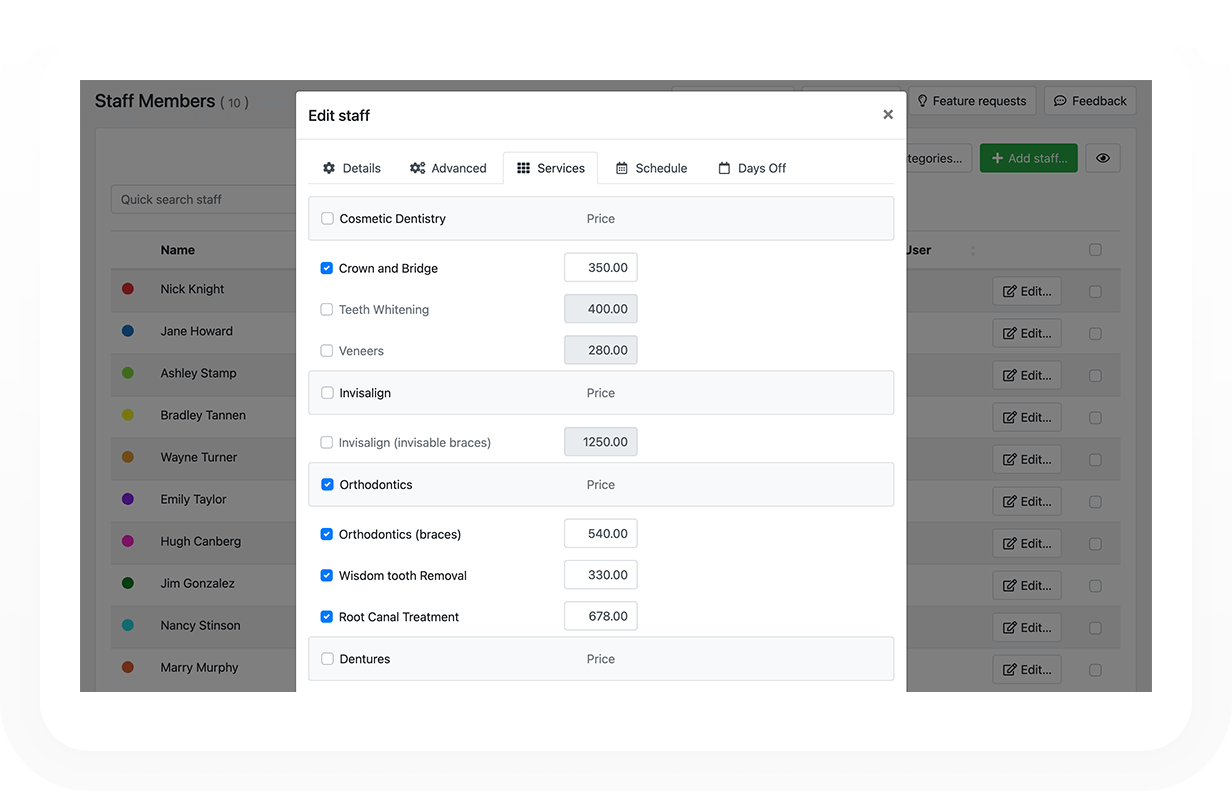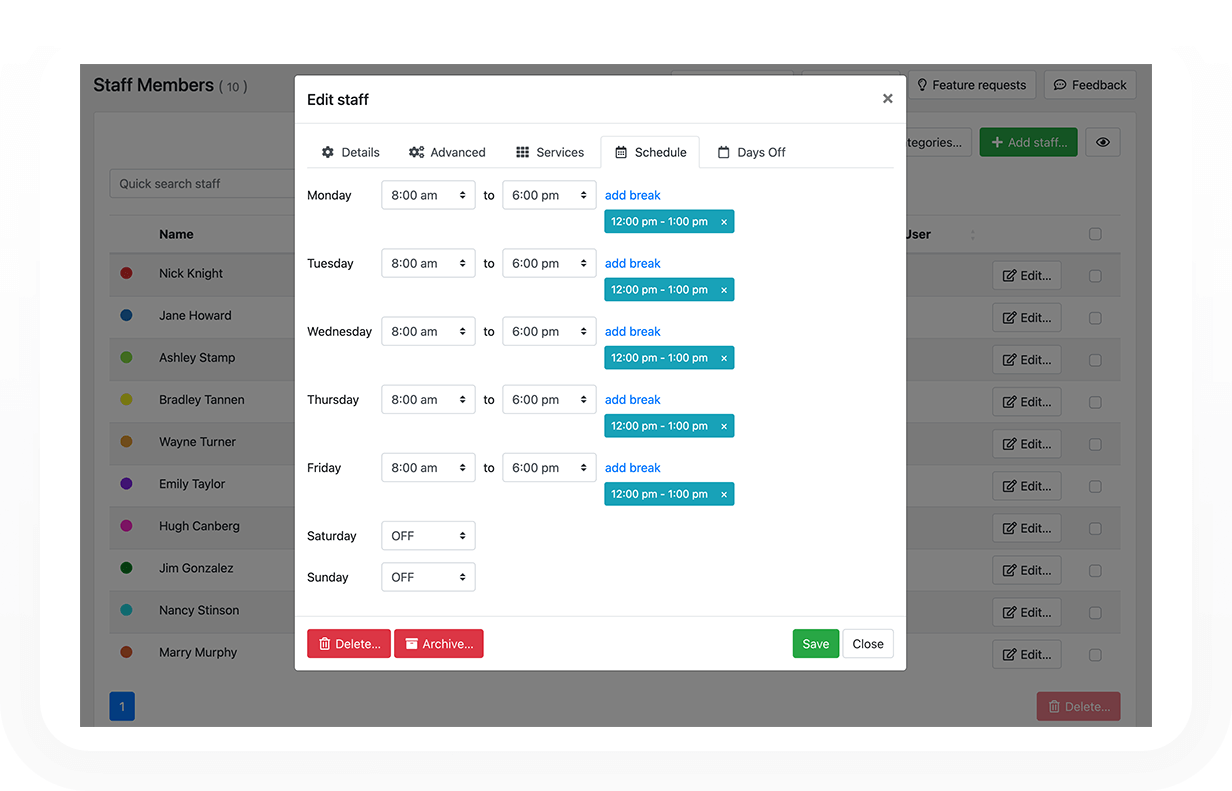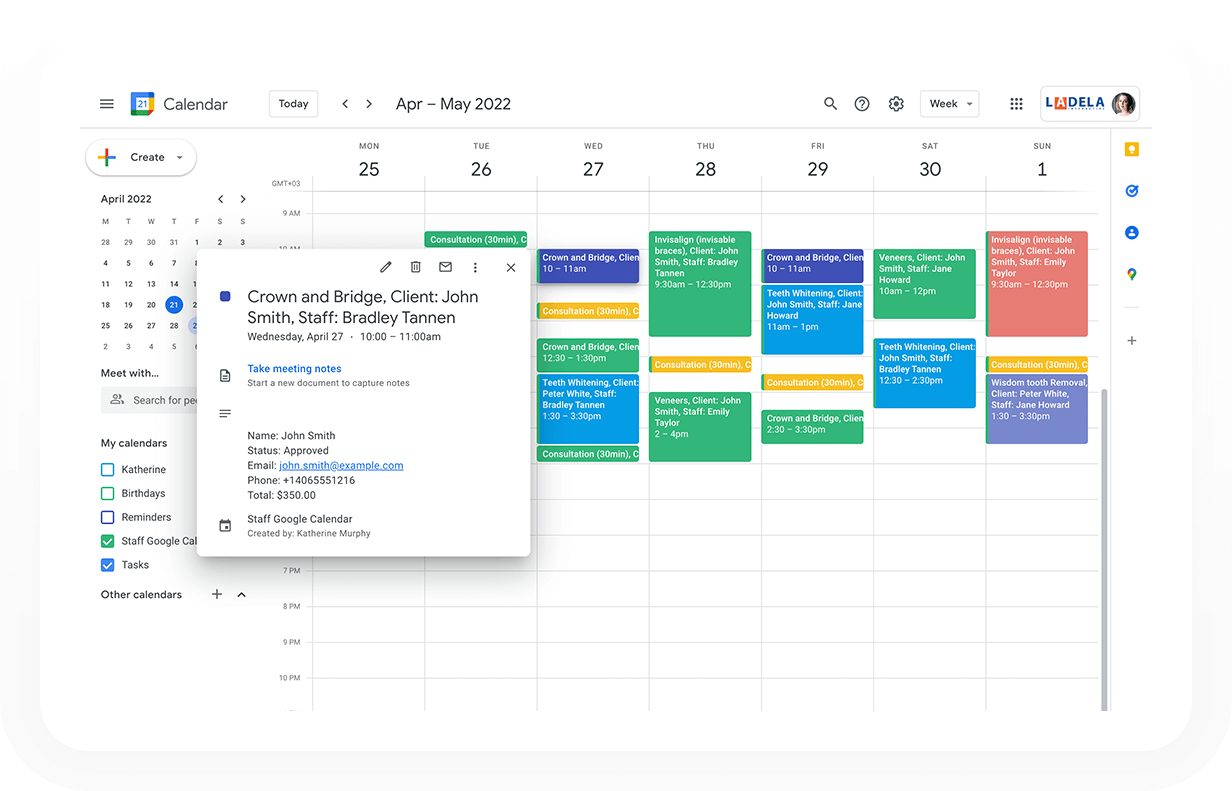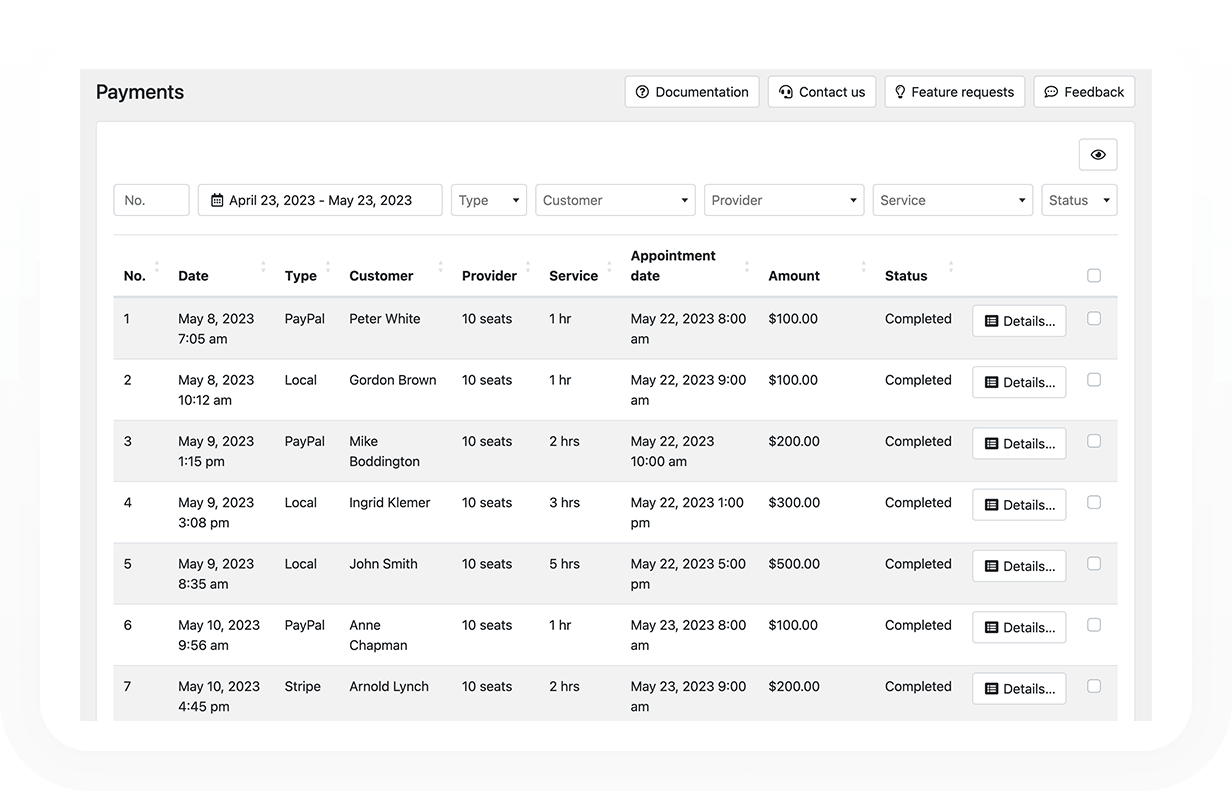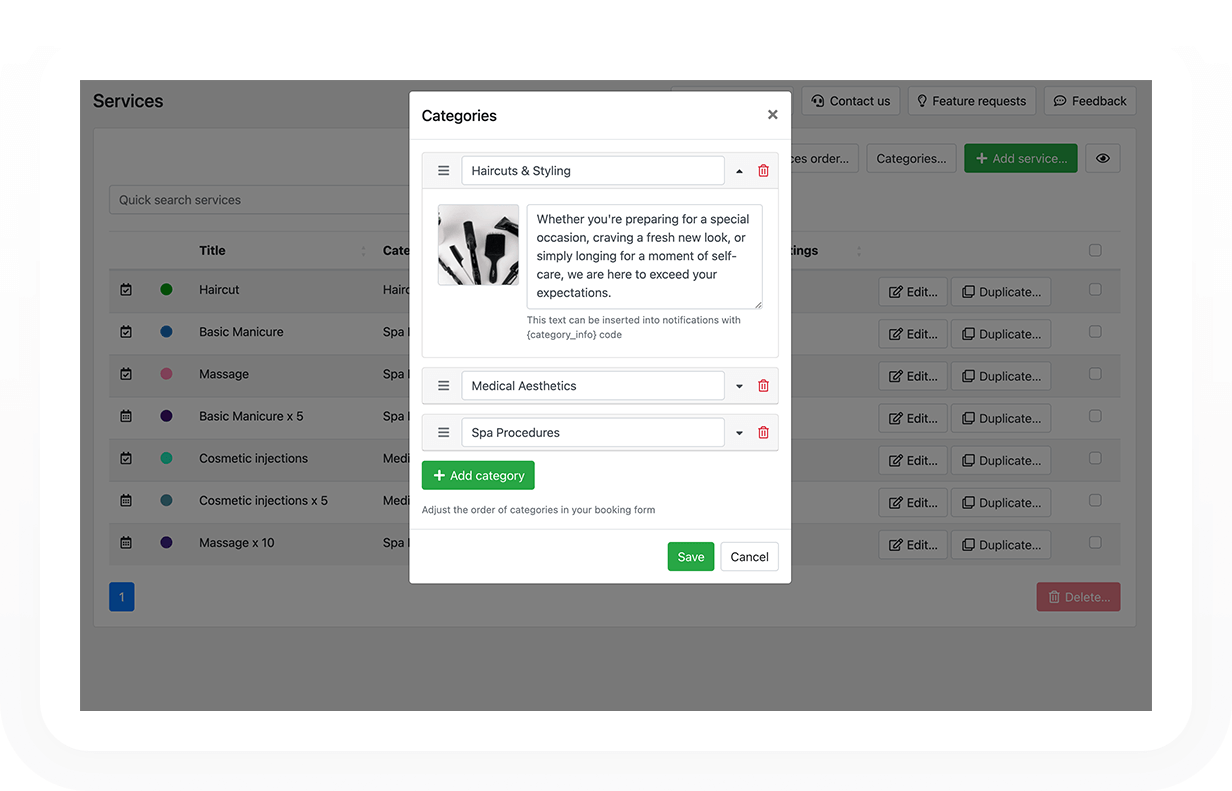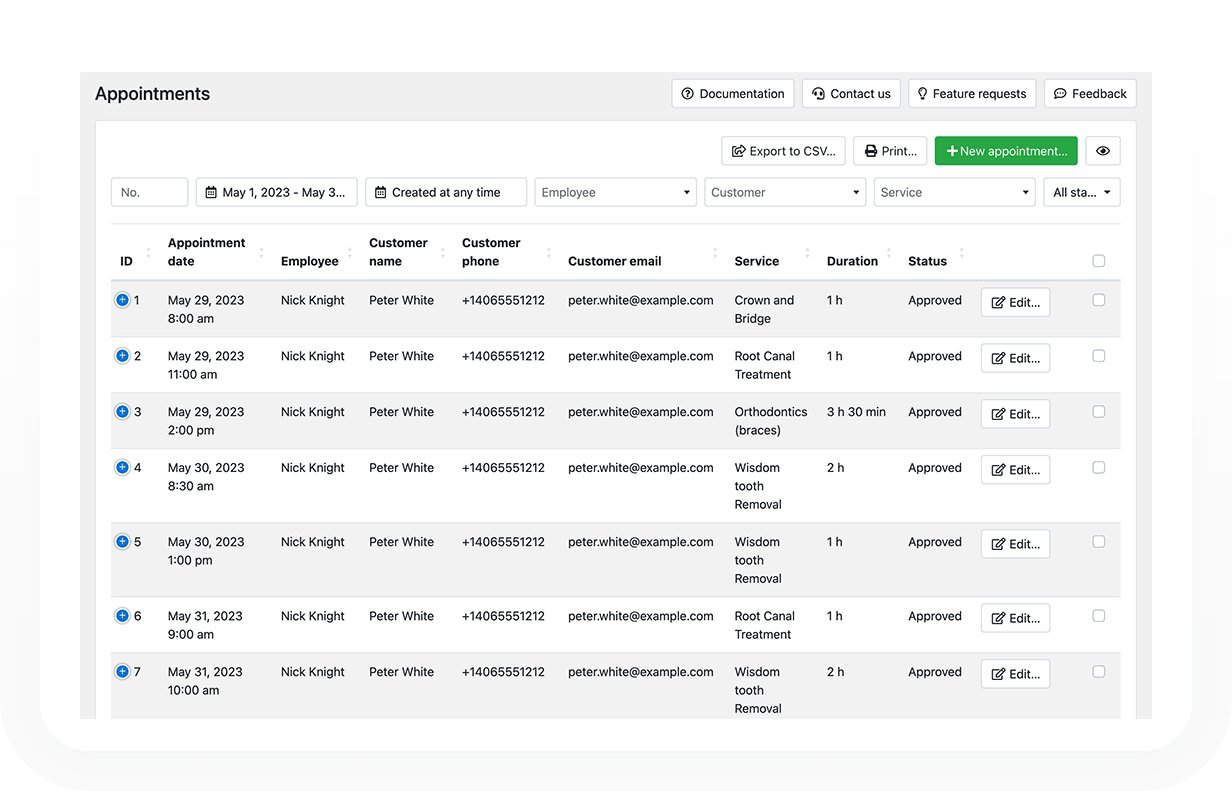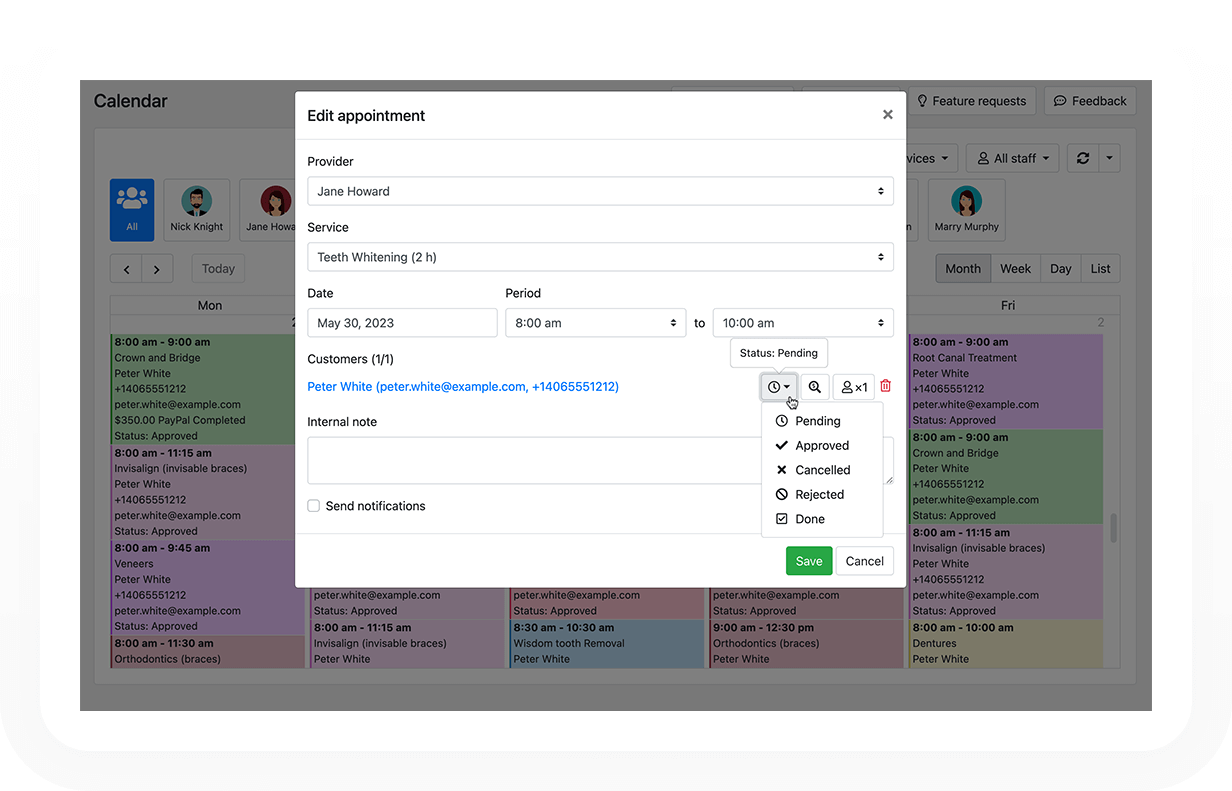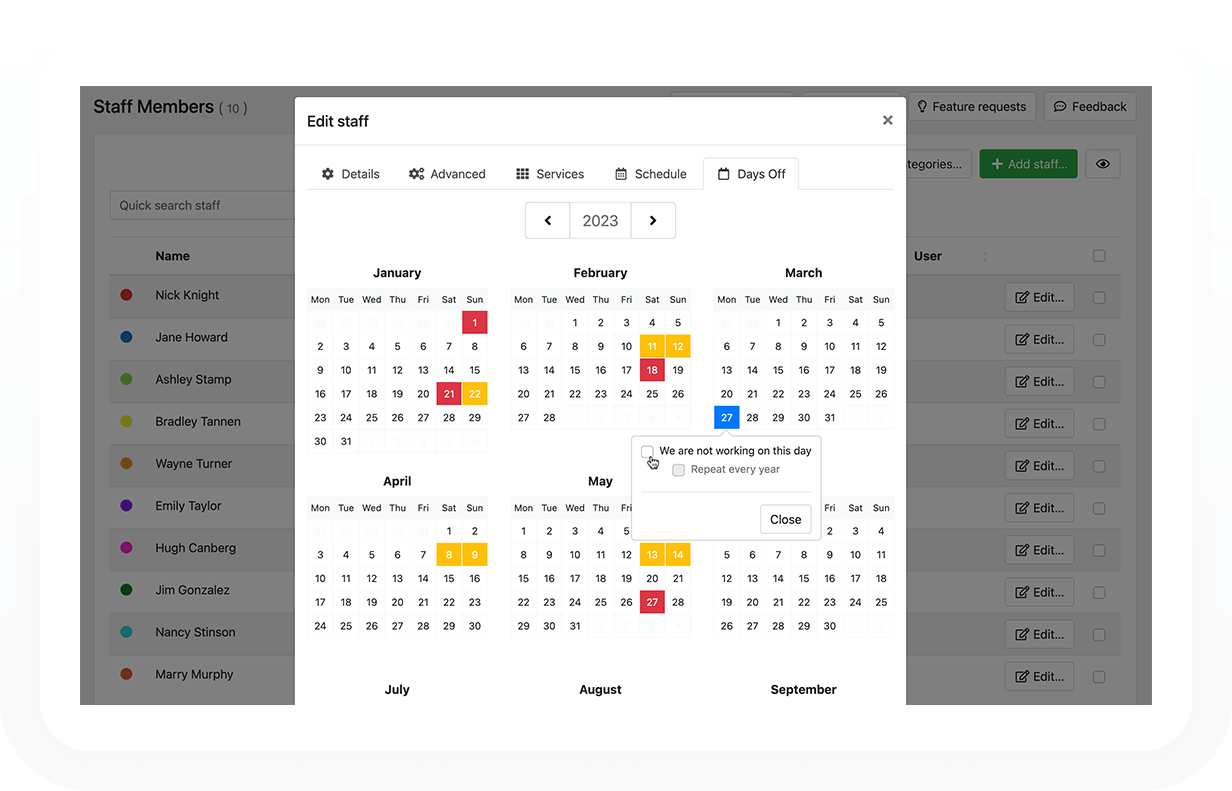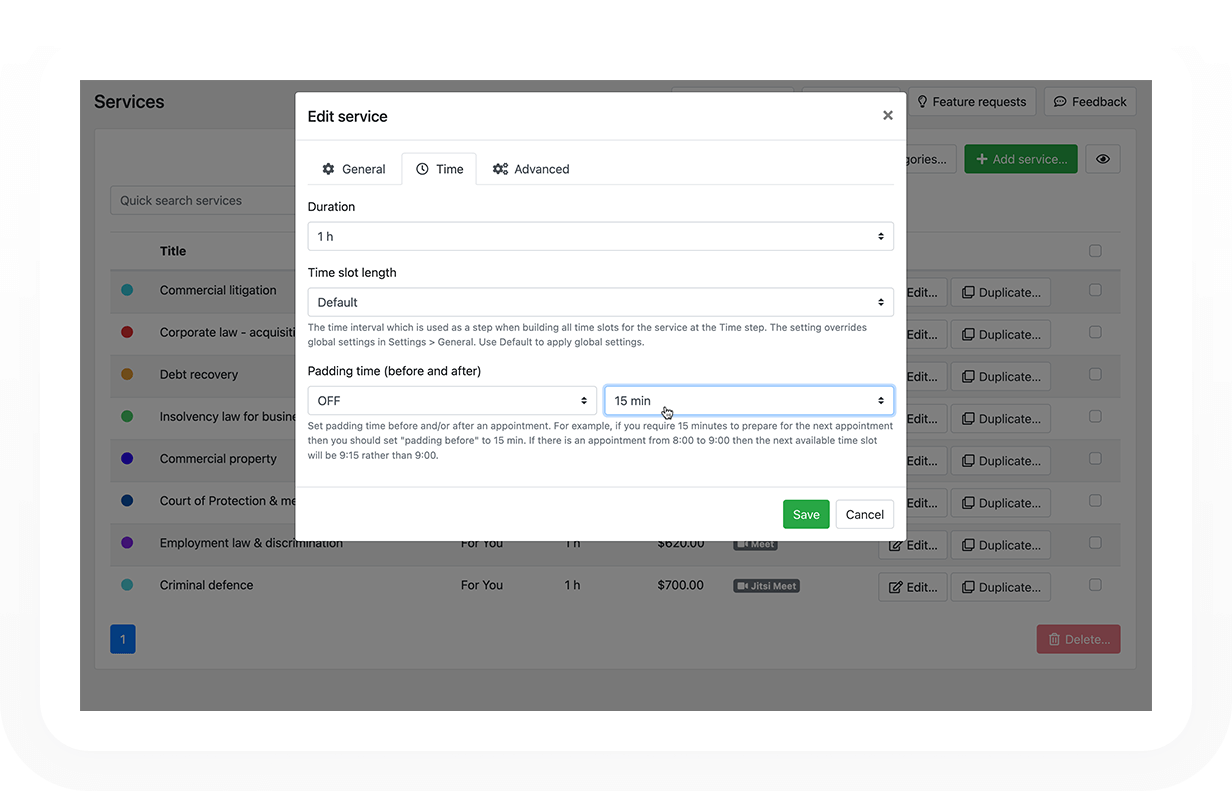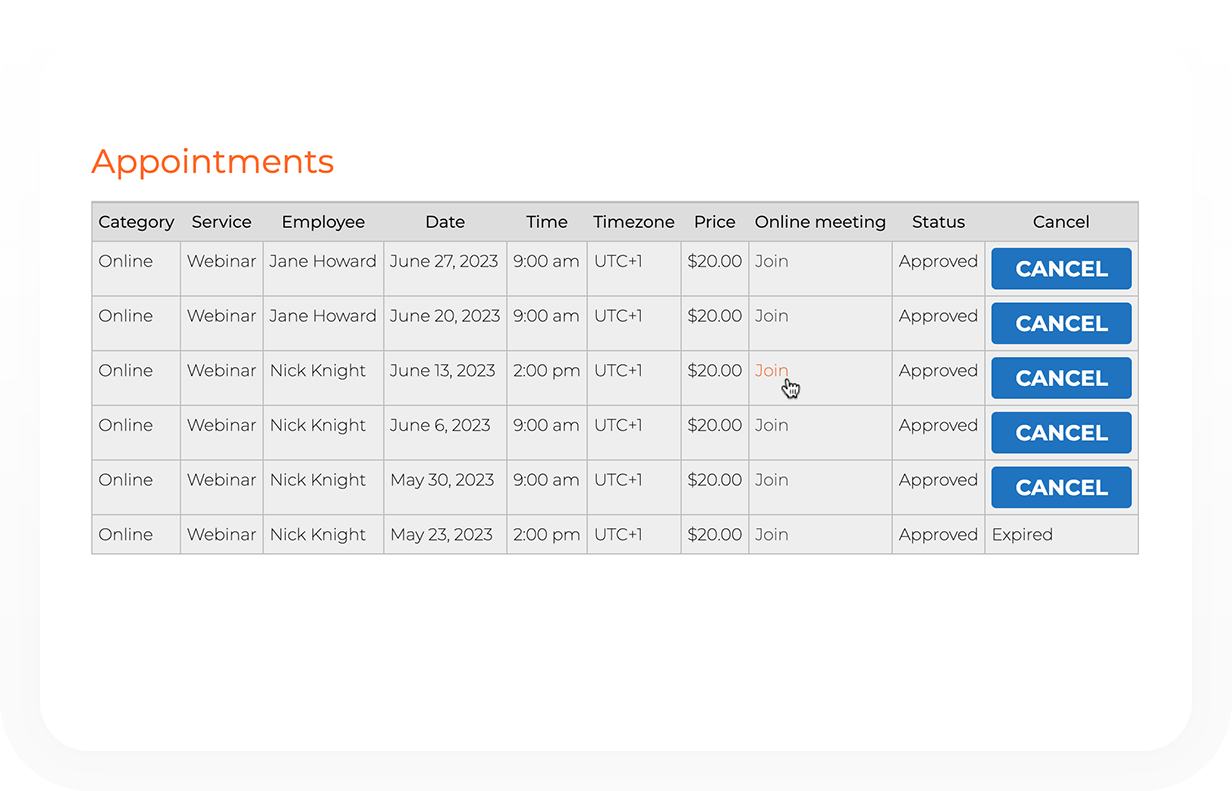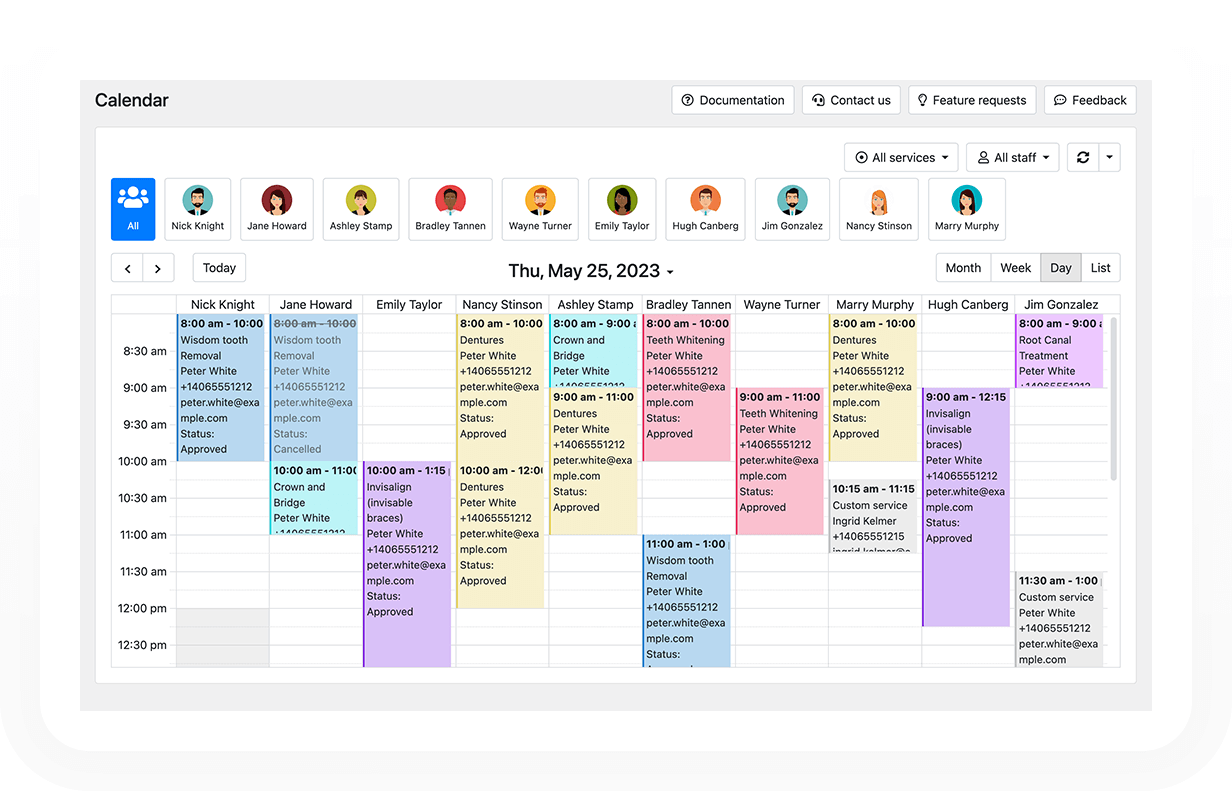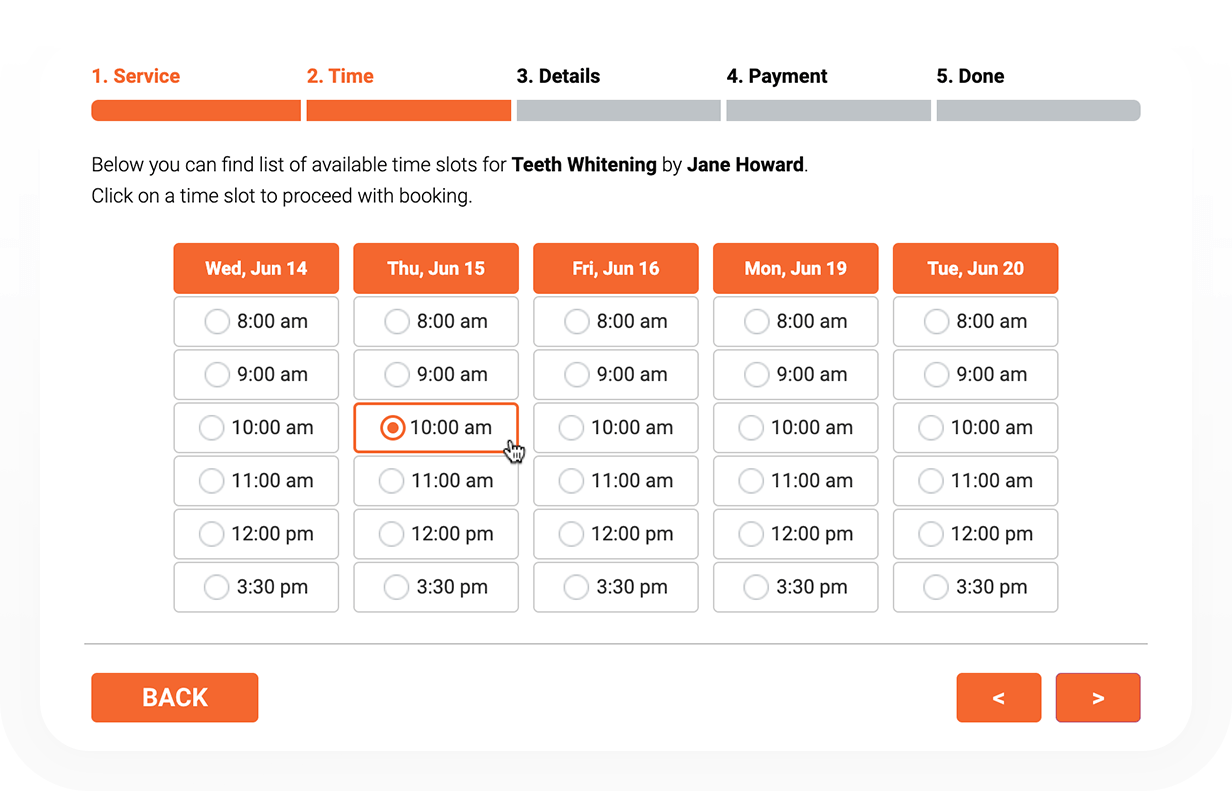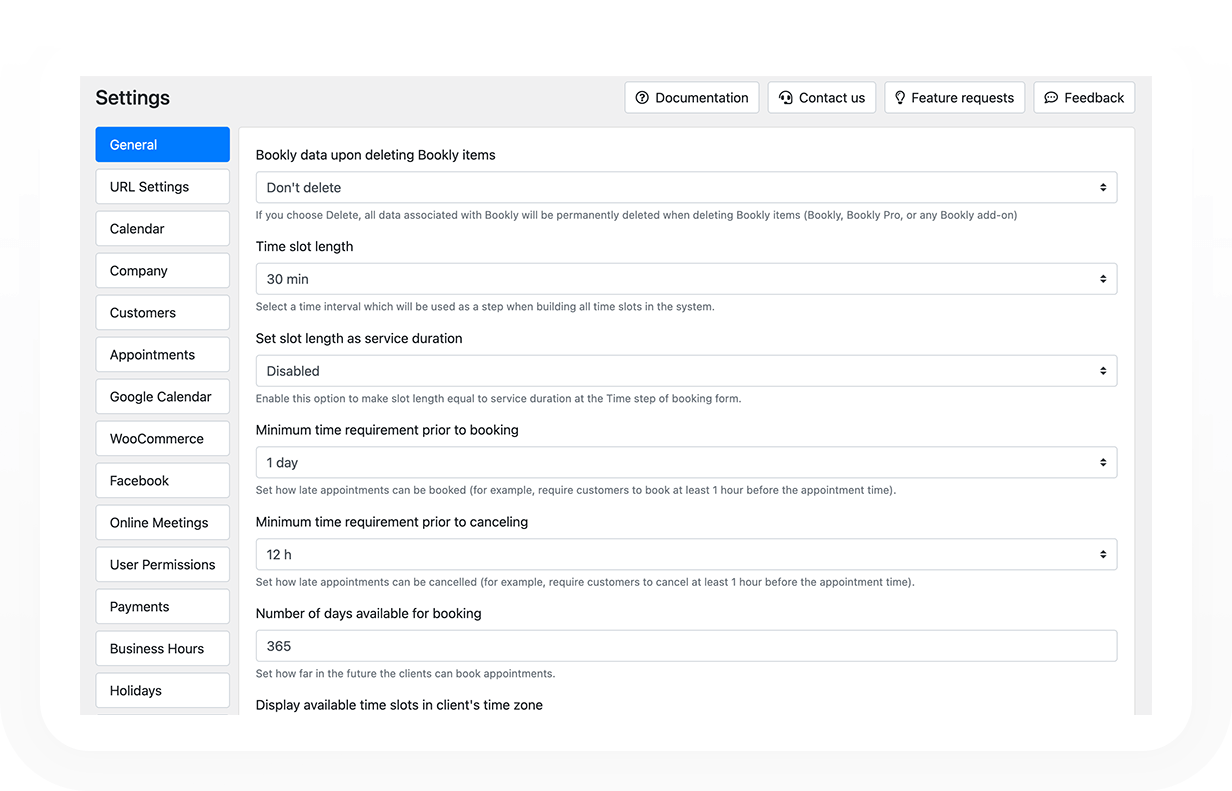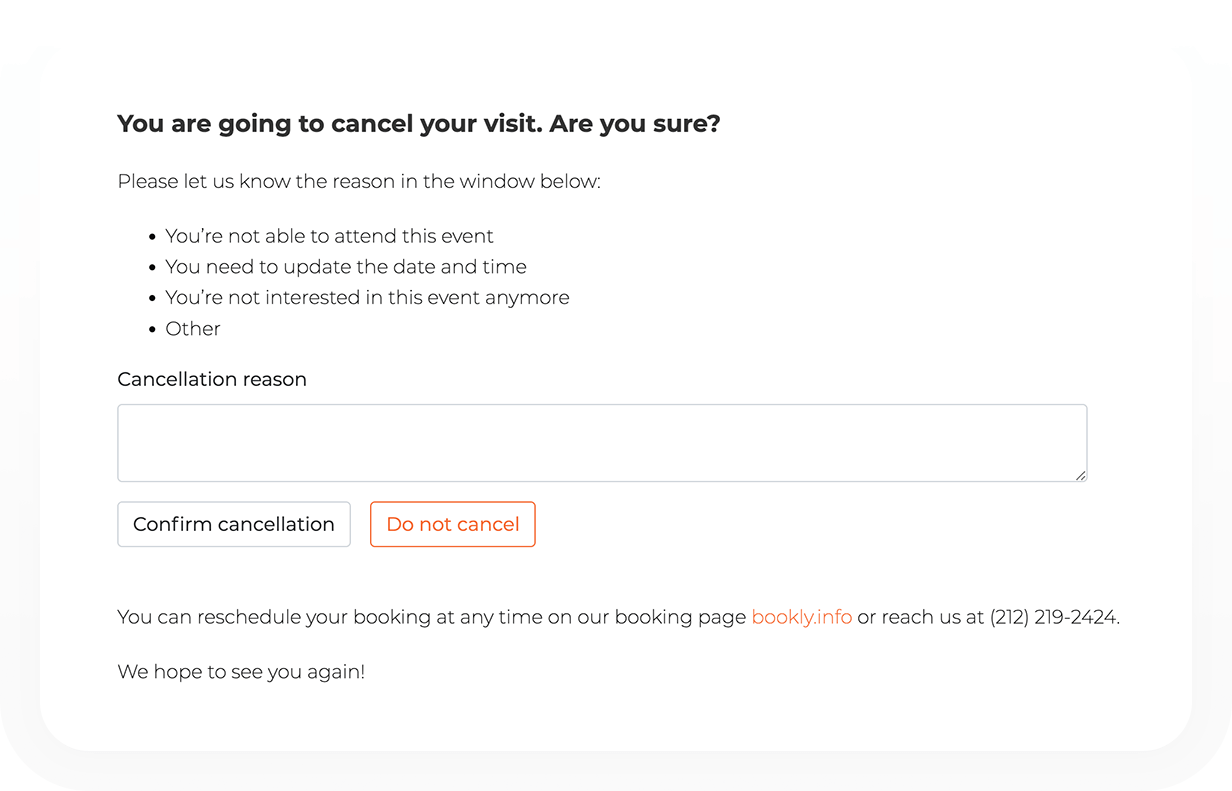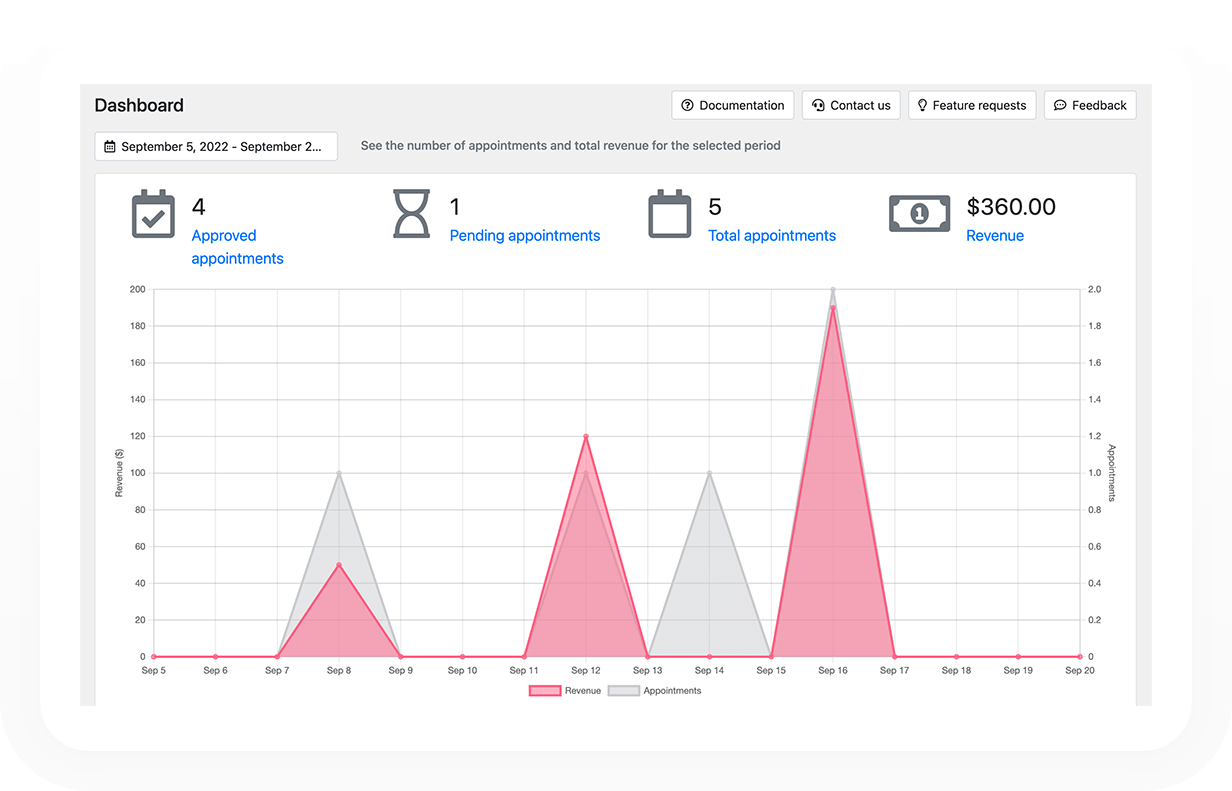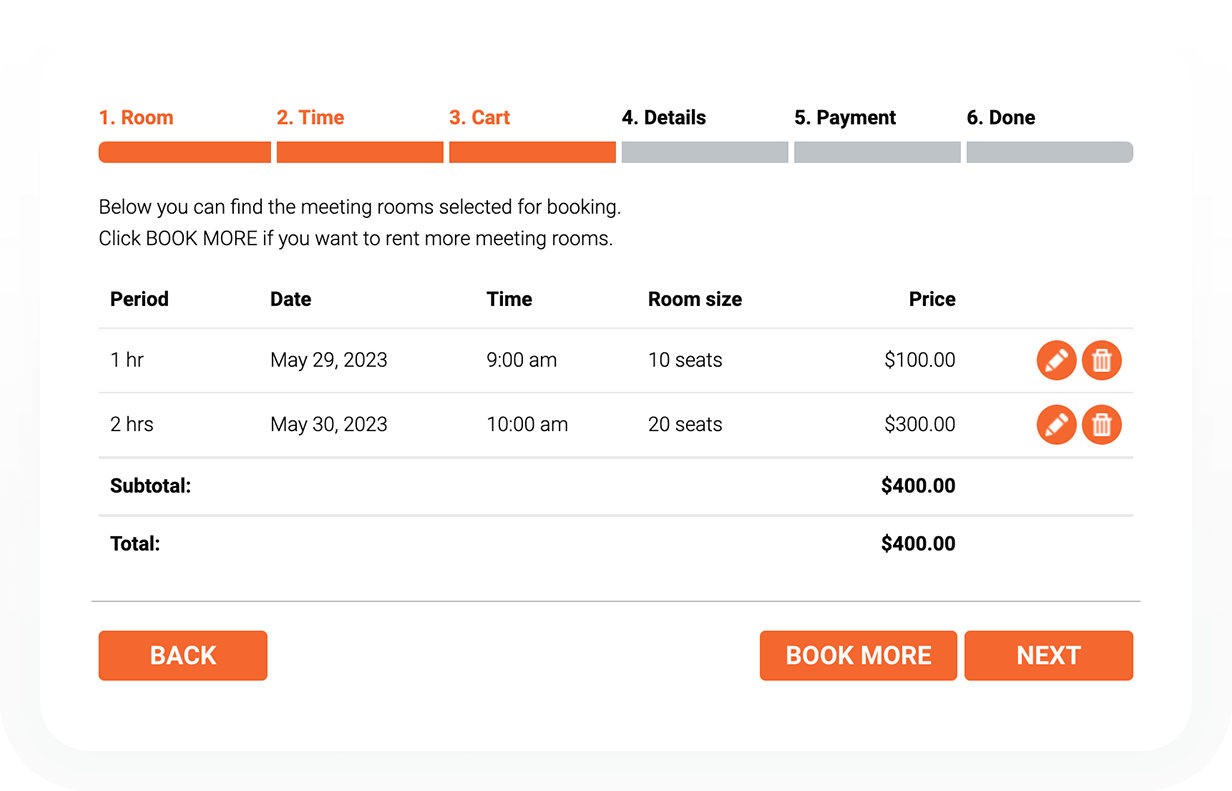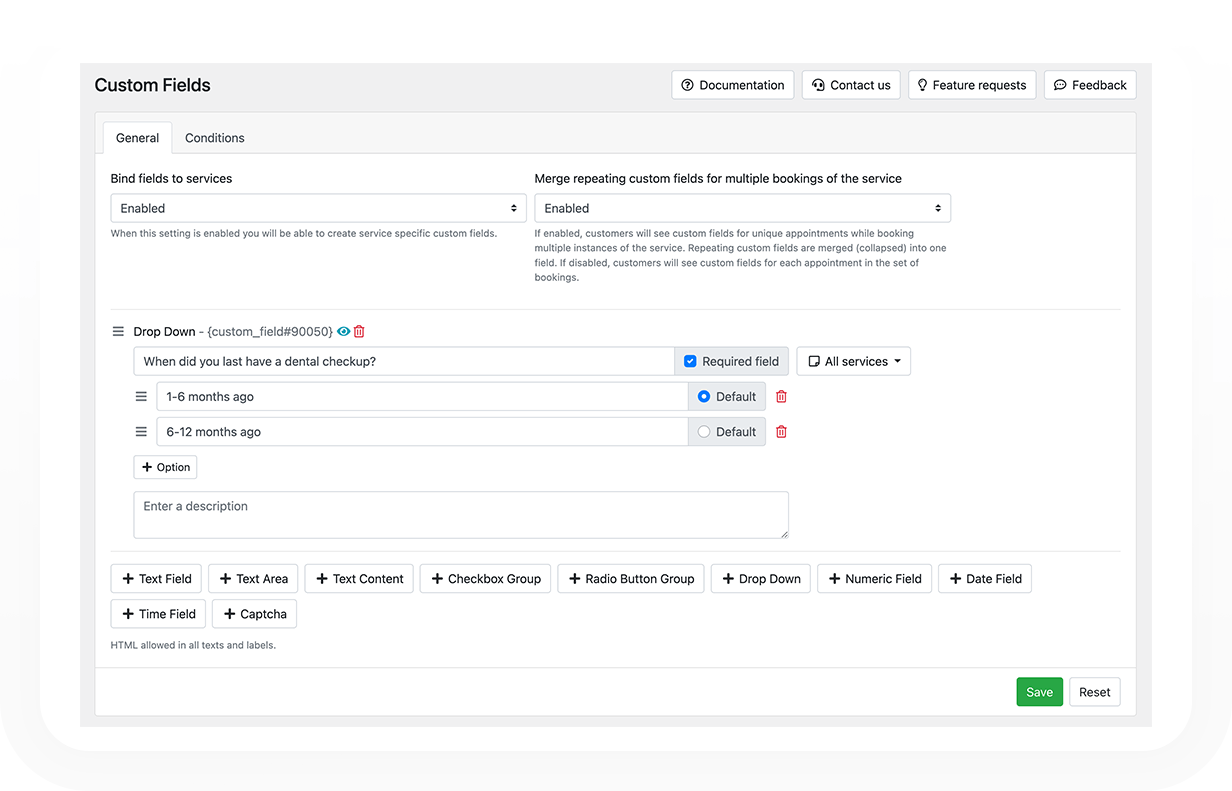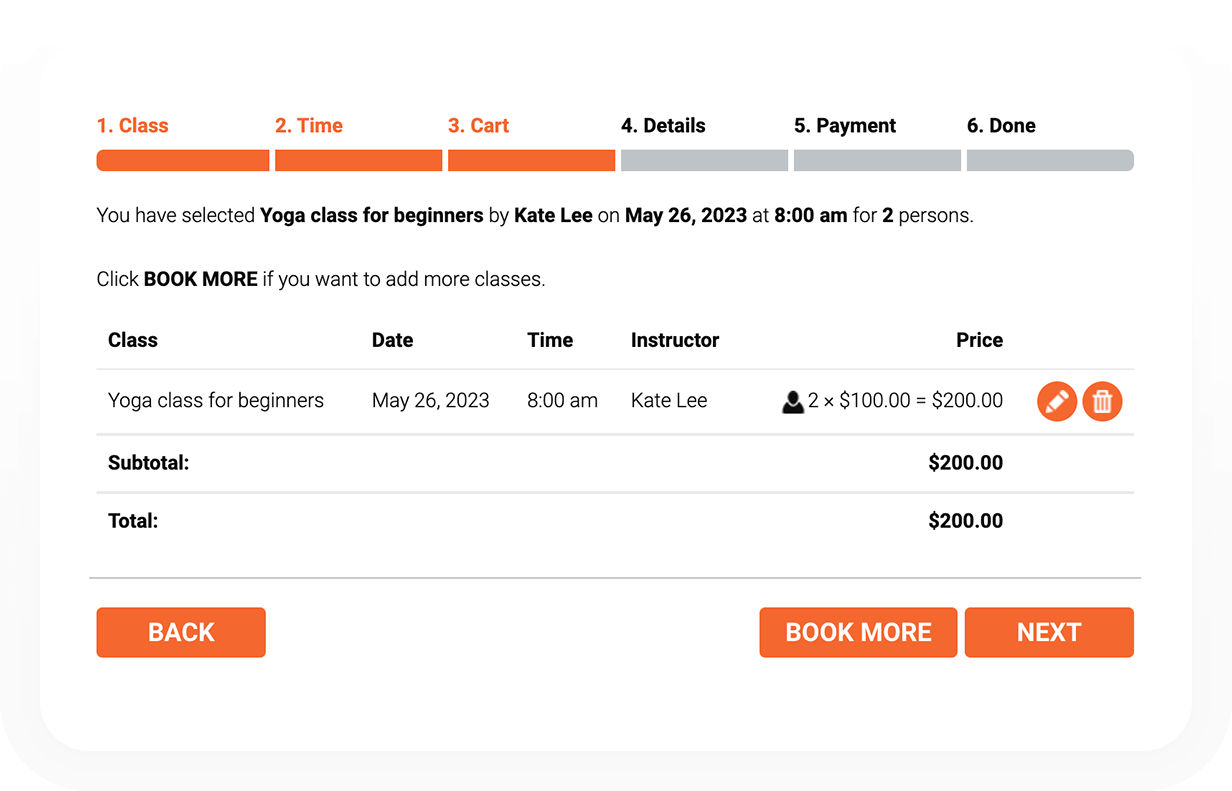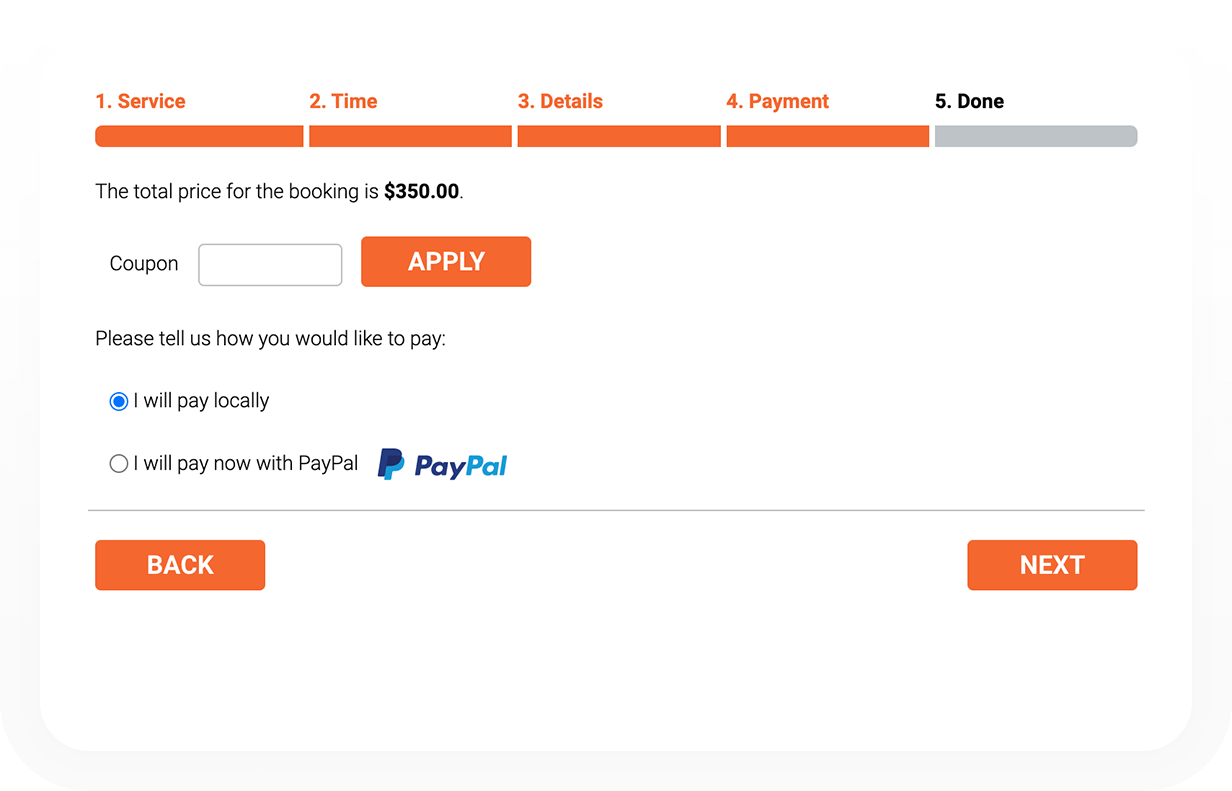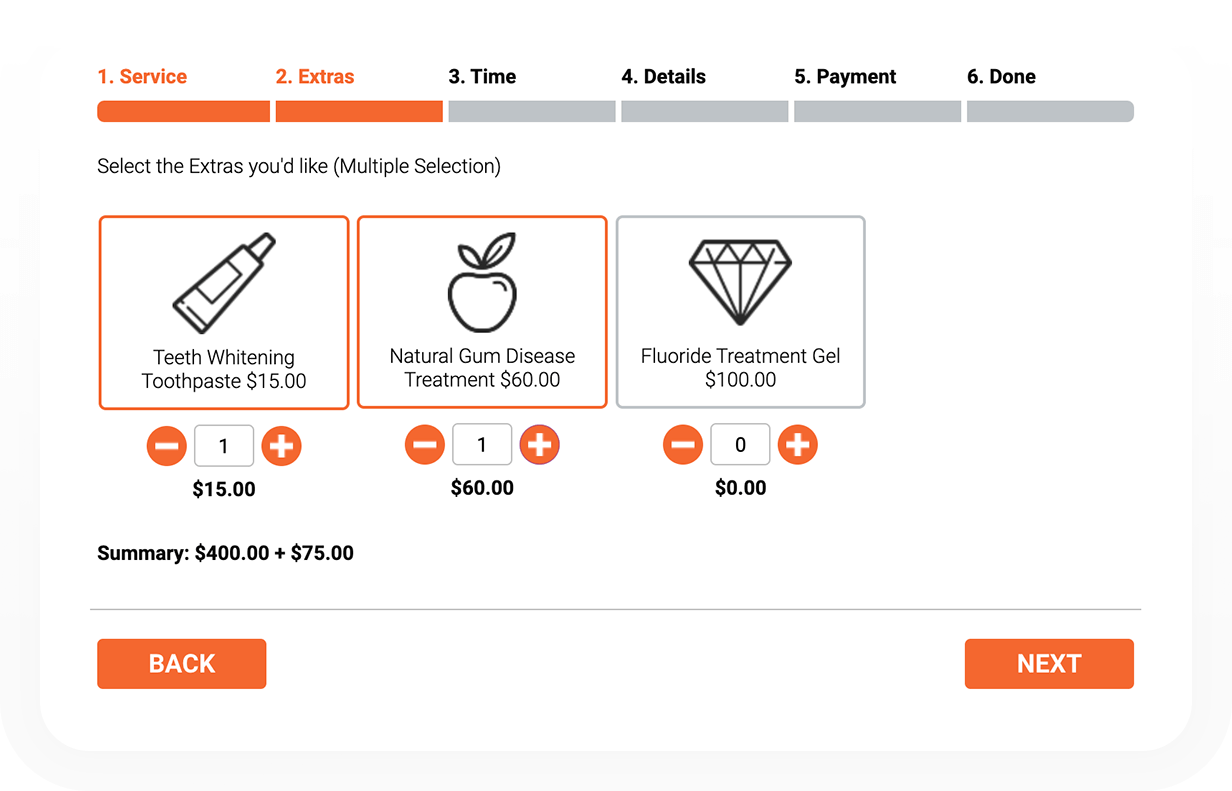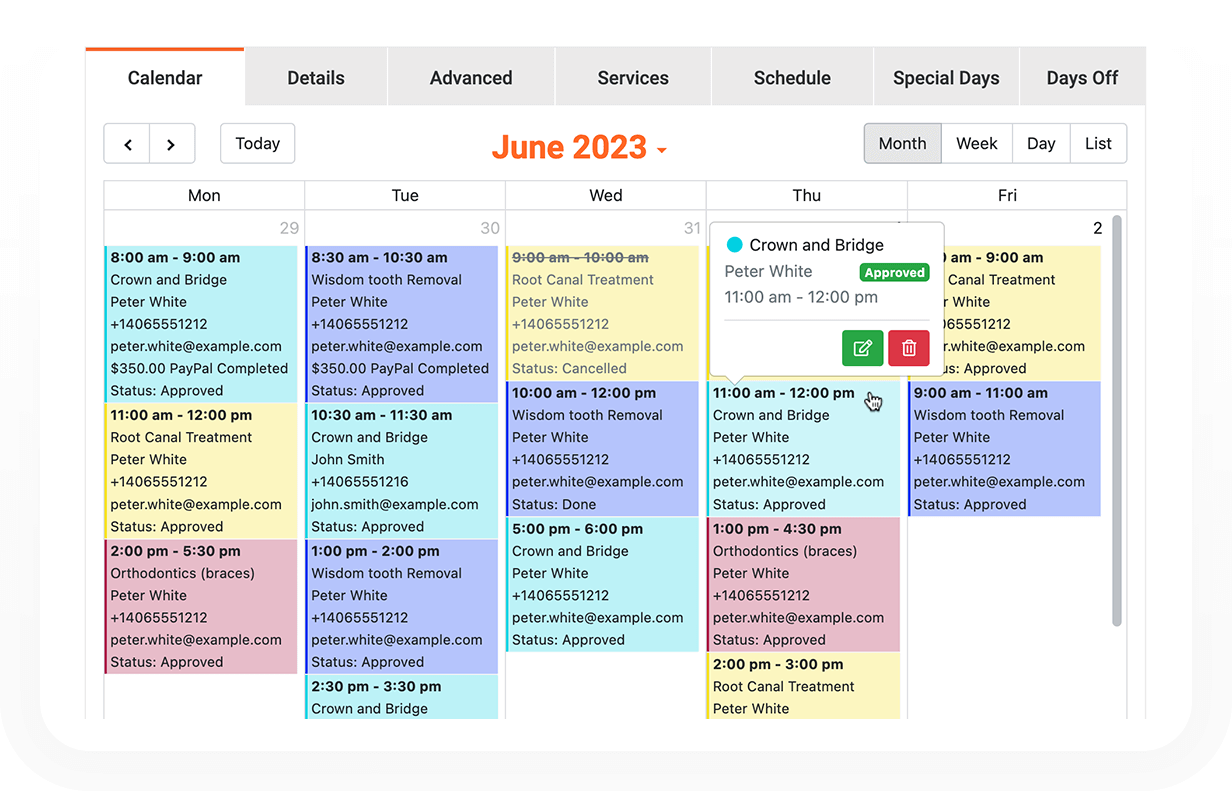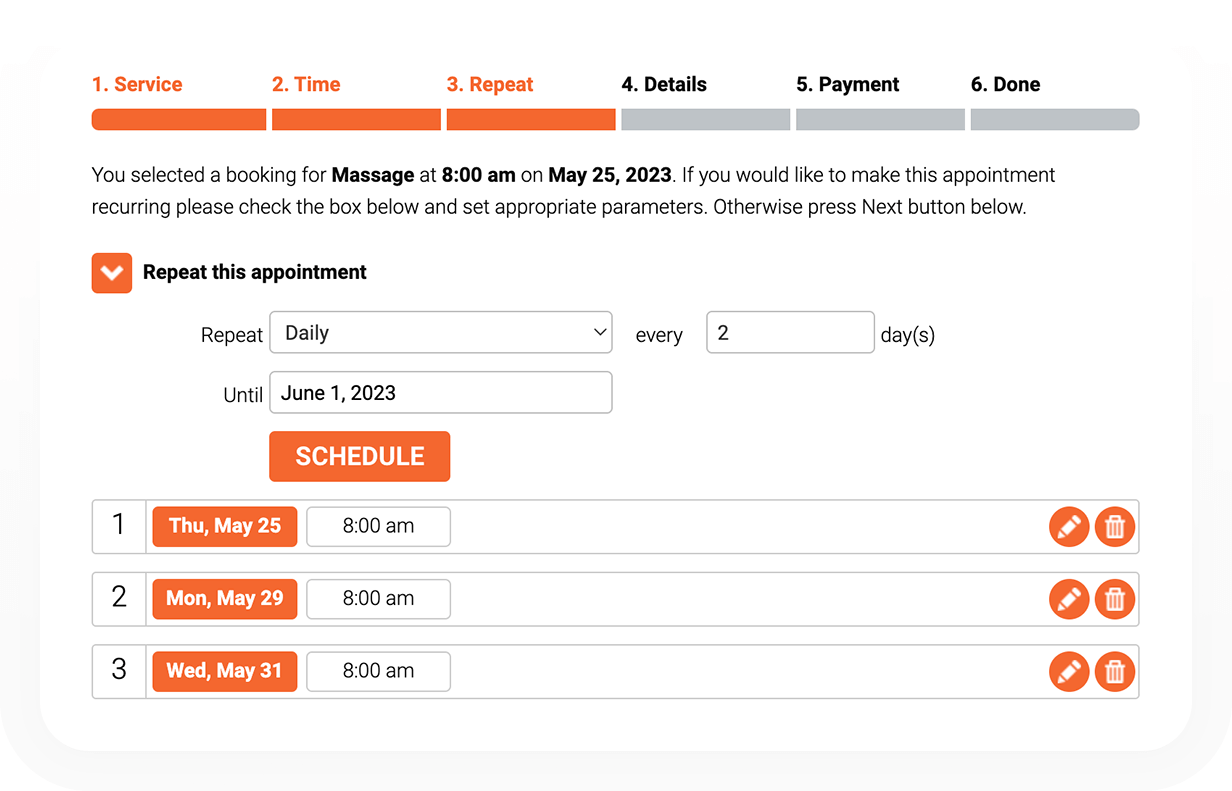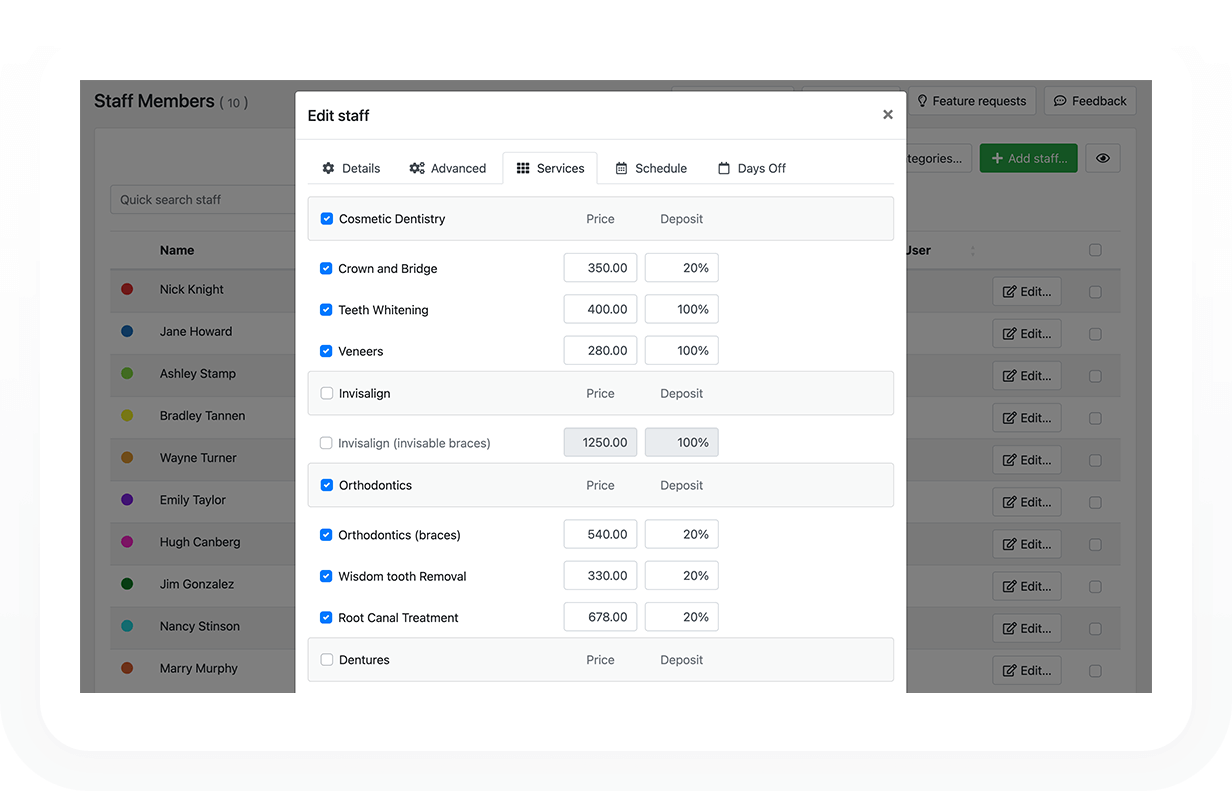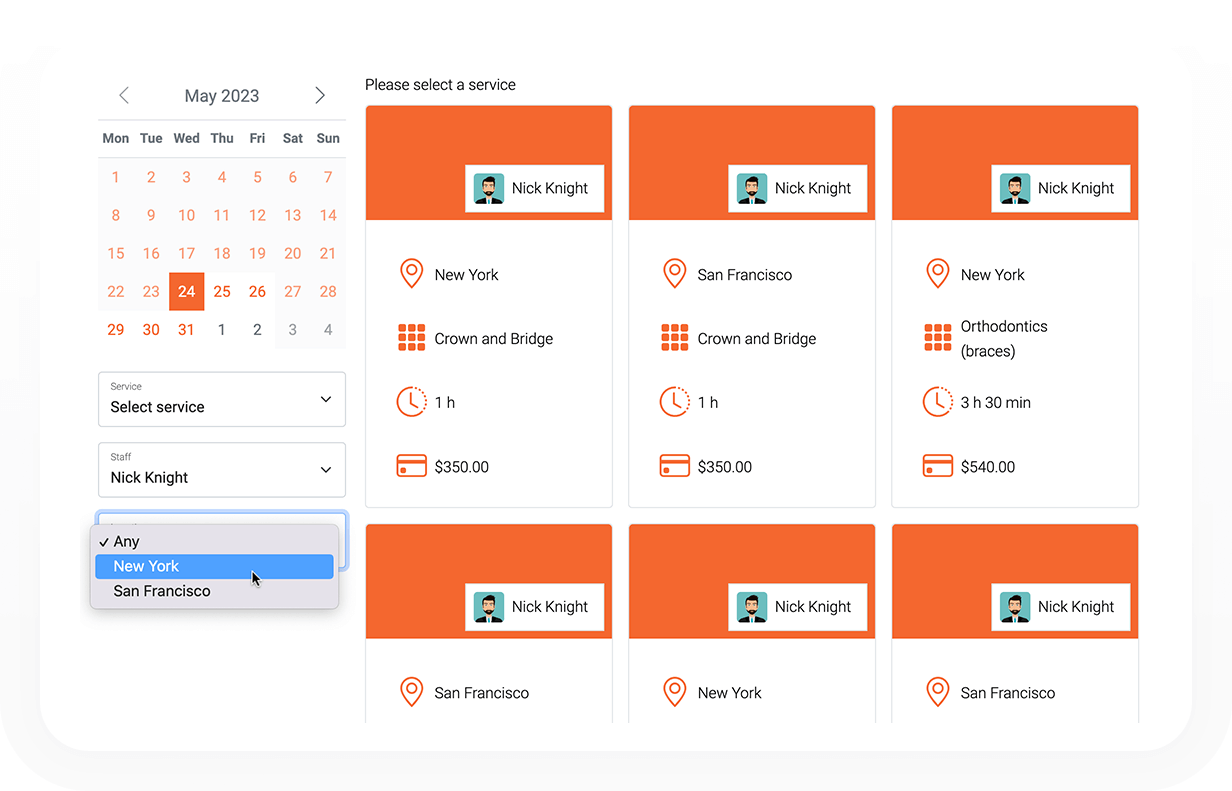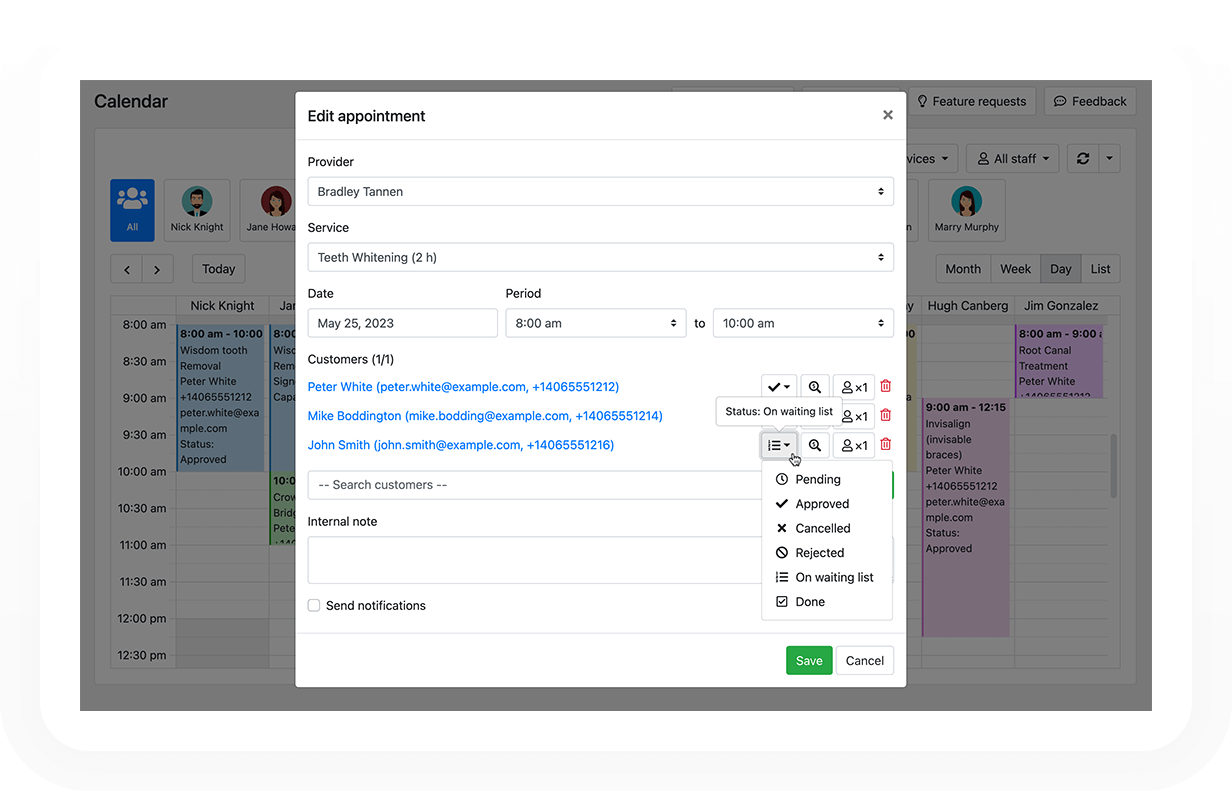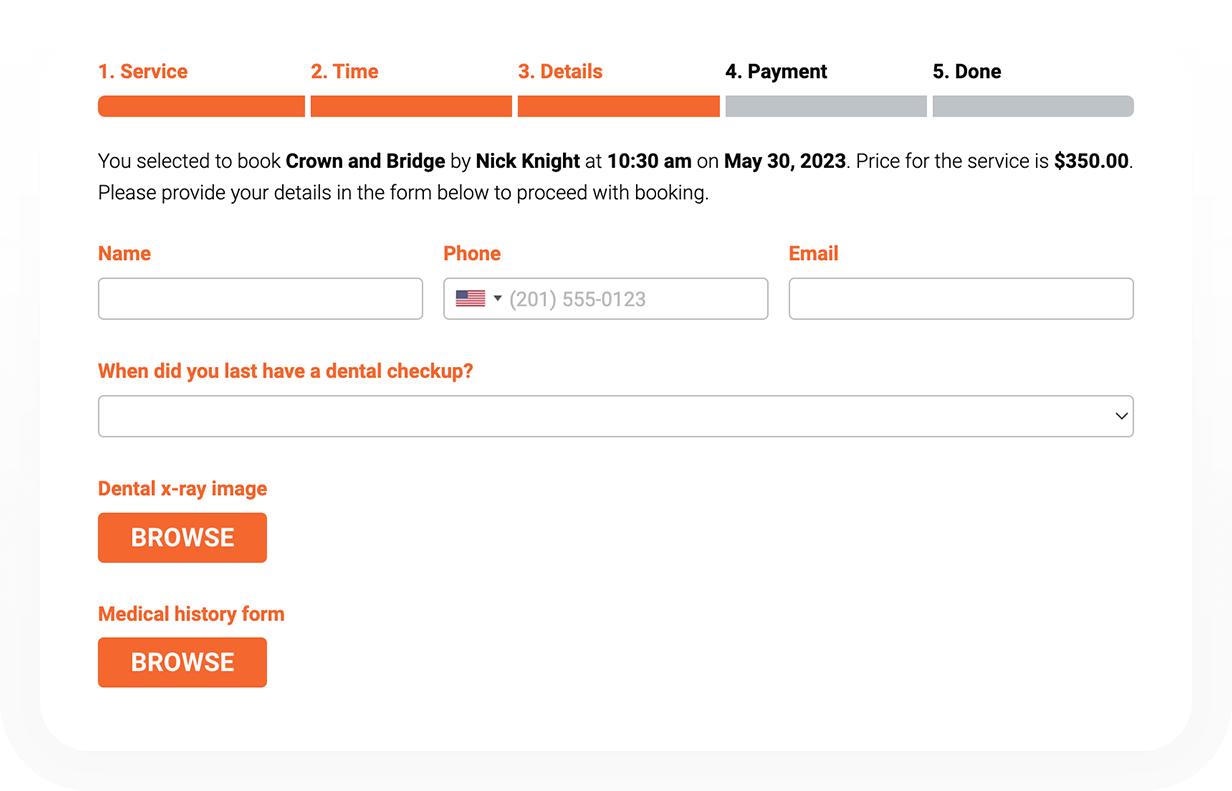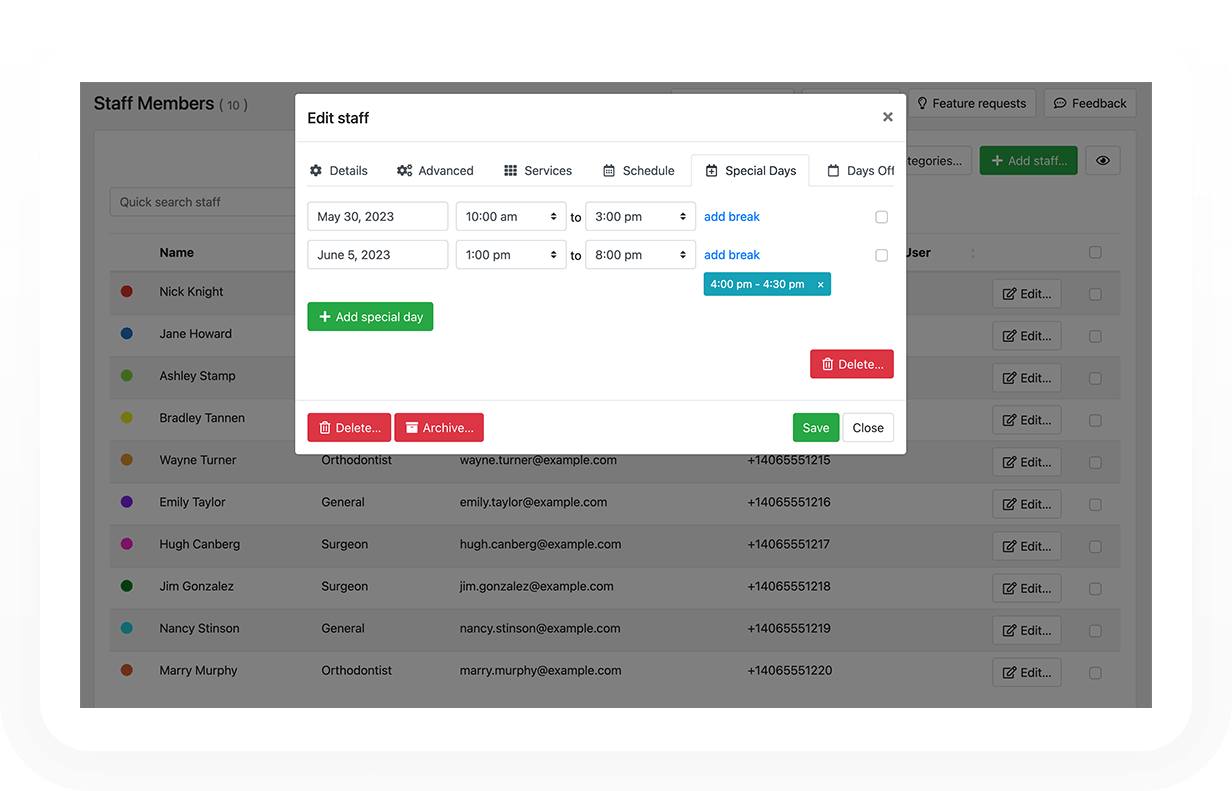 Is Bookly Pro the right booking plugin for your business?
You can only ask so much from a booking plugin, unless you're asking Bookly Pro. Unlimited customization, staff and customer management, fully automated – just a few reasons Bookly Pro is regarded as the best booking plugin for WordPress.
If you're ready to let clients make appointments right on your website, it's time to choose Bookly Pro.